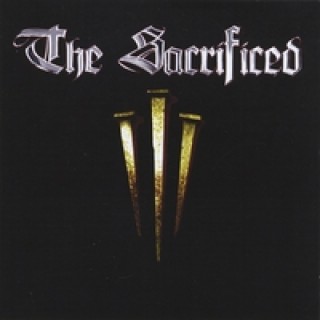 Artist:  The Sacrificed
Title:  III
Label:  Roxx Productions
Release Date:  1/31/2012
Reviewer:  Jeremiah Holdsworth
Tracklisting:
1.  The World Is Changing (Intro)
2.  Falling
3.  Ark Of The Covenant
4.  The Nephilim Agenda
5.  Time's Up
6.  Words On The Gin
7.  Behold The Power Of God
8.  Regeneration
9.  Before The Storm
10.  24
Sometimes I will take the chance and buy a release blindly.  I'm usually content with my purchases, and once in a while, a rare gem will shine through.  That's the fun that makes blind purchases worth while.  I do tend to do this less and less these days.  Money has tightened it's grip around my waste, like it has for so many other people.  Several months after The Sacrificed released "2012", I decided to buy it based on the decent reviews I read, and because it was on sale at the time.  It was a blind purchase that moved my spirit and soul, as "2012" was my favorite album of 2010, and one of my favorites of all time.
Flash-forward to the year 2012, and Lakeland Florida based The Sacrificed, have offered up their 3rd offering titled "III".  Lead vocalist Eli Prinsen continues to lead this band with Jay Williams once again commanding the drums.  Michael Phillips replaces Johnny Bowden on lead guitar, as well as adding Daniel Cordova for bass.
Musically, III, is kicking on all cylinders as Michael brings a level of maturity that shines throughout this album, as he sheds and solos about.  There are songs on this album that are the heaviest this band has made to date.  "Falling" starts out the heaviness with a flurry of off and on double bass and guitar riffs.  The song gets quiet in the middle and kind of acts as an interlude to the second half of the song.  Michael does a great job tearing up the rest with his guitar soloing abilities.  "Ark Of The Covenant" continues the pace with straight-forward metal riffs and plenty of fast-paced drumming.  "The Nephilim Agenda" starts with spoken word and goes into soaring guitar harmonies.  Eli really showcases his vocal skills throughout.  "Time's Up" brings steady riffs and harmonies that flow throughout.  "Behold The Power Of God" moves along with shredding that knocks on thrash's door.  Fast and aggressive throughout with a crazed solo that leaves me wanting more.  "Words On The Gin" is an acoustic guitar lead ballad with a slight southern feel.  I was surprised on how well the song was structured and it adds some nice variety to the album.  "Regeneration" returns to the type of sound that dominated "2012", with classic melodic metal and soaring vocals.  The solo in the latter half has an 80's feel, and the song takes me back to a time, when melodic metal ruled the mainstream.  "Offended" chugs along with classic metal riffs and a melodic chorus accompanying Eli hitting those high notes once again.  "Before The Storm" continues the tradition of featuring a cover song.  This time it's from Queensryche and they do a great job and keep it fairly close to the original.  "24" starts somewhat slow, and builds and builds into an onslaught type breakdown, blastbeating all over in the middle of the song.  Another guitar solo comes in and takes this album to the finish line.  Also, if you love strong christian messages and biblical themes then this album will more then satisfy your appetite.  You can look at it as icing on the cake to the sheer excellency of the music that graces your ears.
My only minor complaint that keeps this album from being perfect are Eli's vocals.  He's an amazing singer and can hit octaves very few can hit.  The problem lies in the way they were mixed and/or possibly recorded.  The vocals should have been more front and center, commanding the musicians.
Overall:  This album features an incredible display of metal from power, heavy, classic and doses of the melodic.  I think I'd have to say that I enjoyed "2012" a hair better, but this album rocked my socks right off my feet.  That's a hard thing to do, believe it or not.  "III" is one of the best releases to come out so far this year!