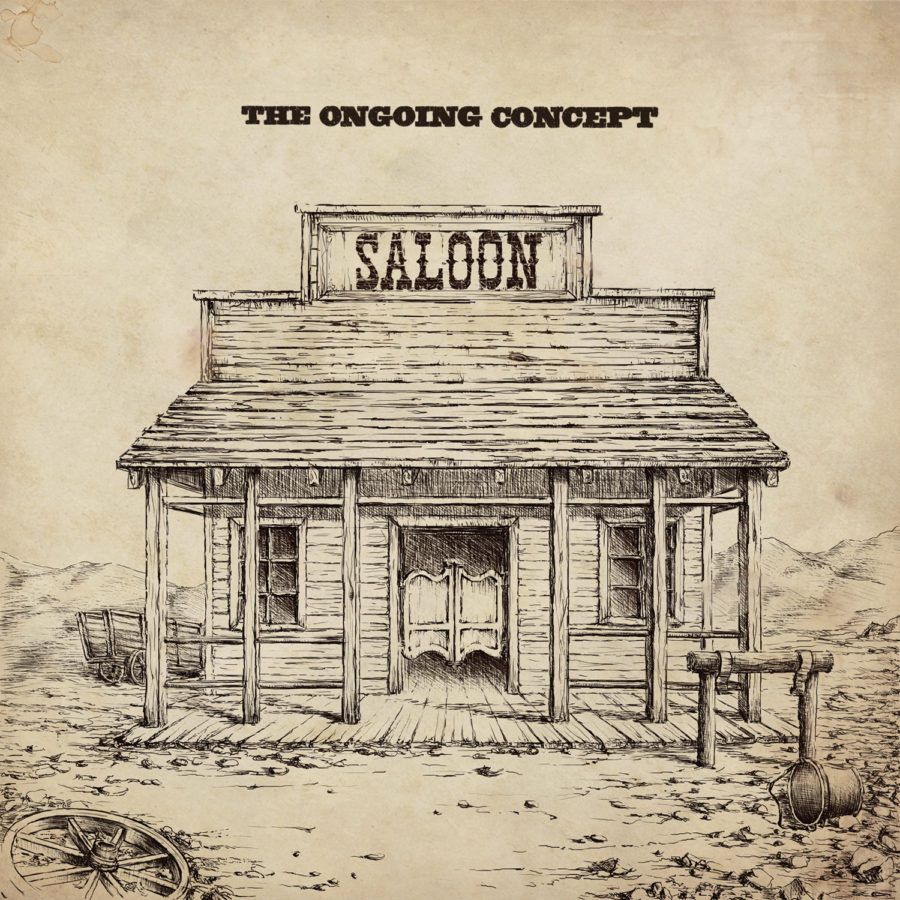 Artist: The Ongoing Concept
Album Title: Saloon
Record Label: Solid State Records
Release Date: 8/20/13
Let's Deal the Cards Again

Saloon
You Are the One
Cover Girl
Little Situation
Sunday's Revival
Sidelines
Failures and Fakes
Like Autumn
Class of Twenty Ten
Goodbye, So Long My Love
Solid State Records has been a label for the last decade that always seems to sign what would become trend setters within a genre, especially to the Christian music listeners.  Bands like ZAO, Norma Jean, Underoath, and Demon Hunter, brought a whole new look to Christian heavy music.  Other bands like August Burns Red, The Chariot, Becoming The Archetype, and Oh, Sleeper have picked up that torch when the other bands either left the label or disbanded.  Now with The Chariot, Oh, Sleeper, off the label, August Burns Red and  Becoming the Archetype having released at least five studio albums since their inception, it is time Solid State looks toward the future and bring in some young blood as they did previously. I am sure the question going around the offices were, how can we sign bands that have a sense of originality yet fit the criteria to provide heavy music for our listeners?  Enter in their latest signing, The Ongoing Concept, out of Idaho.
There has been quite a bit of talk as to what "Saloon" will actually sound like since the debut of the band's music video for their song, "Cover Girl".  A heavy, chaotic song, with a melodic chorus, and a banjo penetrating through the heavy screeching guitars as they claim to be as original as they can be through their lyrics and a call to artists to not "be the print of someone else's painting". Some would say a bold call, certainly from a newer band on the scene to claim.  Some will say that The Ongoing Concept has backed up their talk with a newer, fresh sound, and others will say that they may have tried too hard to be different and "Saloon" falls short because of it. This band may not be liked too much by the more seasoned heavy music listener, but maybe appreciated by those that are looking for something different than the breakdowns and heavy tones as their predecessors.  While listening to "Saloon" a few times, I will say that I am in the middle of these claims.
The first impression from listening to this album is how chaotic this band can be.  The title track "Saloon", "Cover Girl", and "Class of Two Thousand Ten" produce a massive collection of chaotic screams and dissonant guitar chords that a discomfort yet intrigued feeling is felt by the listener.  You mix that in with the chaos, southern riffs, and at times folky sections, the album has what some may call an original sound.
Though I found "Saloon" to sound different from other albums that have come out this year, it feels like something's are little more forced than others.  Some of the melodies are a little rushed and misplaced.  The ratio from screams to clean, is almost equal compared to other bands that tend to be more one sided on which they'd do. So the fact that it feels some of the clean vocals are forced in areas they probably shouldn't be, or can be done better, makes the song writing seem at times, sloppy. The transitions from track to track kind of drag this album a little.  It just feels like there is too much postponing from song to song that impatience develops. The thought of "Get to the point" enters the mind until the music finally picks up.
It might not seem I really have anything nice to say about the clean vocals, but I personally love the tone in Dawson's voice.  He has a "Panic at the Disco" type voice and it fits with what is going on with the music.  Especially when the songs hit the more southern sounding parts, Dawson's voice pops and adds to the rough tones that surround his singing.
When interviewing the band, I got a good idea of what bands they seem to gravitate towards when it comes to their sound, even if they couldn't see it.  One of their influences is Emery, and you can hear that in the screams.  That same ear piercing scream that Toby has been shouting for the last decade, if not a little longer, has been produced by The Ongoing Concept's front man, Kyle Scholz.  And with The Chariot type chaos, these screams are appropriate.  The sound of a man blowing out his vocal chords with thrashing, yet not A-tonal, guitar tones are sometimes what give these heavy bands that fun type feel, as well as giving room for clean vocals to be produced as an outlet for rest from the harsh tones being produced.
Also when I interviewed the band, I learned that they not only wrote this album but also produced the majority of it from their own studio.  All that was recorded else where were the drums, as it a tough deal recording drums as it is.  I will say, after learning that Dawson has no real education or experience, the production on "Saloon" was done well.  Very clean sounds and not as muggy as some in house albums may sound.  It is an impressive feat and proves that though you may not have an education with pro-tools or various recording programs, or producing an album in general, if you have the ear and know exactly what you want your project to sound like, you can do it.  There is no need for these huge recording studios to do anything anymore.
Overall:  The Ongoing Concept, though not perfect, is releasing a very well put together album in "Saloon".  Though some may not appreciate the album for what it is, there has to be some appreciation for the band that produced it. The Ongoing Concept deserves a lot of credit because they did what they said they would do, and that was to be original. Did some things fall short more than others, probably, but they put their hearts into this project. This album most likely won't be a part of my personal Albums of 2013, but it is a nice side note and something that this band can build from in the future.  Personally I think this band has the ability to carry the torched that will soon be passed down for Solid State Records.
Songs to Check Out: Saloon, Cover Girl, Like Autumn
RIYL: Maylene and The Sons of Disaster, Emery, The Chariot, and Everytime I Die.