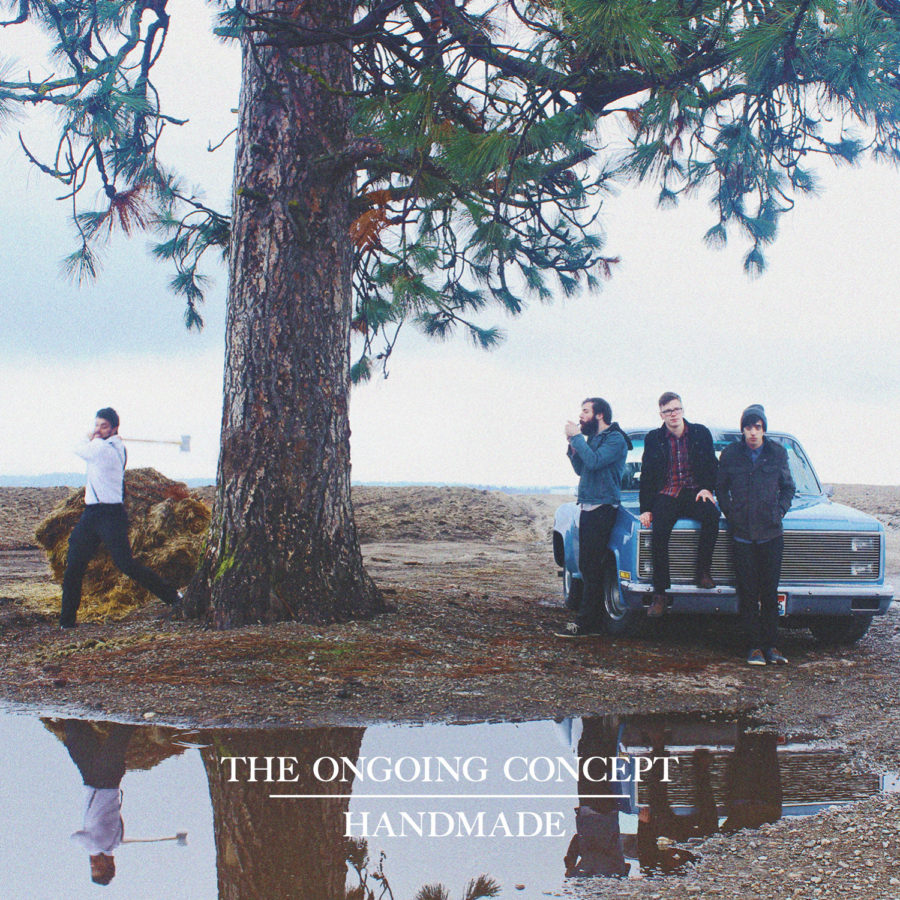 A couple years ago Solid State announced the signing of an up and coming band that little to nothing was known about. The label posted a video to accompany the announcement, which featured a very unique southern metalcore band, banjos, and a school room full of grade schoolers.
Needless to say, pretty much everyone in the music community was stoked. "Saloon", the band's debut on Solid State Records came out several months later and was met with varied reception. Some were in love with the eclectic blend of music present on the newcomer's latest effort, while others toted that the band was too unfocused and lacked any correlation from one track to the next.
I sat somewhere between the two opinions, finding myself thinking that these Idaho natives had some true spunk and potential, while needing to rein their creativity in a bit. The group's second album, "Handmade" addresses nearly every critic's concerns while keeping die-hard fans pleased as well.
"Handmade" opens up with the title track, which features the rhythmic snapping of fingers and the soothing sound of a sharp axe digging into a wood before melding into Amends which hits harder than a towering oak being brought to the ground. Amends features everything we all know and love about The Ongoing Concept plus some.
Dawson and Kyle Scholz switch off frantic to soulful vocal lines with flawless transition while brother Parker keeps his rhythms varied while his technique stays flawless. An improvement I noticed from "Saloon" to "Handmade" is a higher bass volume, which allows Tj Nichols to slice through the mix like a circular saw through warm butter.
Feel is one of my favorite tracks on the album, starting out with funky bass lines and drum beats that will induce finger snapping and toe tapping shortly before inspiring frantic mosh pit beatdowns. One of my favorite aspects of the track is how both Dawson and Kyle echo and harmonize with one another frequently, which makes the song feel larger than life. The riff which features the lyrics, "I feel like hell and that ain't right" sounds huge in all the right ways.
Sure to be a favorite in any live setting, Prisoner comes across with a fury seldom not previously seen from The Ongoing Concept. The track speaks out to those who seek to put on a front of creating music they care about while raking in dollars like leaves in the fall.  "Prey on the minds of the young and defenseless / Watch as they fall for the lies and deception / If you hear a lie for long enough and loud enough / It won't be long until you begin to believe it" is bloodcurdlingly howled amid fist raising gang vocals and rowdy, boot stomping riffs.
Right on the heels of one of the most rowdy and angry songs on the album is Melody. This track is a bit of an oddball on the album, but I loved every second of it. Trading in distortion vein popping screams for clean guitars and soft crooning, Melody sounds like it could be found coming from a band who shares the stage with acts like Rend Collective.
Post Melody is lead single for the album, Unwanted. This track hearkens back to the days of "Arrows Before Bullets" with the inclusion of synths and a catchy chorus section. The last few days, I've woken up with the chorus refrain, "I wanna fall in love and I wanna fall in love with you". Stand out vocal work by brothers Dawson and Kyle appears on Unwanted as they switch off, each taking their stab at screaming and singing to make a fully fleshed out and intense song.
Soul hearkens back to the days of Maylene's self titled album with a spicy southern guitar lick and ho-down, boot-stompin' drum beats. The track even travels musically to hand claps and stomps during the bridge all the while delving lyrically into the subject matter of selling one's soul to the devil.
Survivor is another standout track to me, mostly because of Kyle Scholz and TJ Nichols. Scholz channels his inner Jason Butler of Letlive. on this track, furiously belting out his lyrics in a near hysterical (I mean crazy, not funny) manner. Kyle even throws in some Butler esque improves as he laughs and checks the mic mid song. Nichols also holds his own with slick bass lines that are drenched in distortion. TJ's riffs are often more prominent than the guitar in the song, something which can be refreshing in this genre.
The album closes with a driving piano jam titled Falling. I wa a bit hesitant when the track first started since the closer from "Saloon" never quite clicked with me. However, as the track wore on and the guitars and drums slid in, I began to get in the groove of the song. The band implements some funk elements again with tight drumming, walking bass lines, and shredding guitar licks amidst the smattering of horn sections. All I can say about this track is that it's one heck of a way to end such a great album.
Overall: The Ongoing Concept have delivered another unique, high energy album. The logical continuation in style after "Saloon", "Handmade" features a more reigned in style with songs that work in conjunction and don't feel like a greatest hits album. The only real downfall of the album is how short it is.
The album is so fast moving and energetic that it feels like "Handmade" is over right after it began. This is a small qualm, however, and should not be taken too seriously by anyone interested in giving the album a shot. There are great things on the horizon for TOC, and I will be along for the ride no matter where they decide to go next.
RIYL: Letlive. | Maylene & the Sons of Disaster | Norma Jean | The Chariot