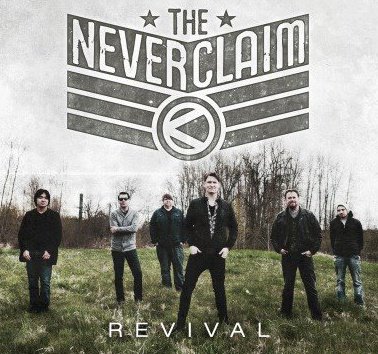 Artist: The Neverclaim
Title: Revival
Label: none
Release Date: 5/4/12
Reviewer: Ryann Kunst
Tracklisting: 
My Soul Longs
His Glory is Rising
Burn
The Bridegroom
Revival
Enthroned on High
Son of God
We Sing Reign
Beyond the Grave
Creator
Those of you that read my reviews, or have followed my writing you know simply, that I am very critical. Keep that in mind please as you read this review.
*sigh of relief* this album is amazing, this album is near flawless, this album needs to be heard by every one I know. I reviewed this album in my car actually, and decided to sit back and relax, but relaxed wasn't the mode I was put into while listening to this album. I wish so badly I knew the lyrics by heart because I want to sing along so bad.
Jeremiah's vocals are so unlike the normal cookie-cutter worship style, that I cannot stop listening. If he was on American Idol, I'd vote for him. Not only that, but the banjo, the southern…uhm…sauce? they put on this album is just PERFECT.
Now, the first two tracks really spin this album into the right direction, but excuse my ADHD or enthusiasm, but I have to skip ahead to track number three "Burn". I cannot tell you how this song is, I cannot say in words what emotions it brings, what thoughts come to my mind, because I would have to write several different posts for that. I can tell you this – I was worshiping, I was singing, I felt joy, I felt that teary eyed moment when you just are in the middle of praise.
Onto track number five "Revival"… This is a song that many worship pastors need to hear and listen to the style and structure of this song. The lyrics are borderline generic, BUT that doesn't matter because the structure of this song is again, near perfect. It is followed by the track "Enthroned on High" which almost sounds like a new style…indie…southern…hymn. No, if needtobreathe were to do a hymn, that's what this track sounds like. I really enjoyed the slowness, but the powerful effort in Jeremiah's voice.
From here the album gets much slower in tone and progression. I want to touch on two more songs before I comment on producing and a few other things. The track "We Sing Reign" is simple, but unique. The overwhelming warmth of the southern style on this track with the power and rust of Jeremiah's voice brings it all together in a unique form. Now the last track on this album is "Creator" it's four minutes and thirty-five seconds of pure enjoyment for your little ears….unless you have big ears, then lucky you.
Now for the hard part, the downfalls of this album are few but they are there. If you read above I mention how the album slows down both instrumentally and in lyrics. I think they could have mixed up this album a little bit more, placing certain songs before or after others making it easier for those who get bored easy. I also believe that they could have put an acoustic song on this album, but that's just my opinion.
The producing on this album was fantastic, I think whoever produced this album did a swell job, and this band should return to that studio!
Overall: I think you need to drop whatever you're doing and pick this album up! I want you to experience what I experienced in this new band, new outfit, new album. I know I may be on a bit of a hype right now, but you listen to "Burn" then criticize my enthusiasm.
RIYL: needtobreathe, Luminate, Hands, My Epic