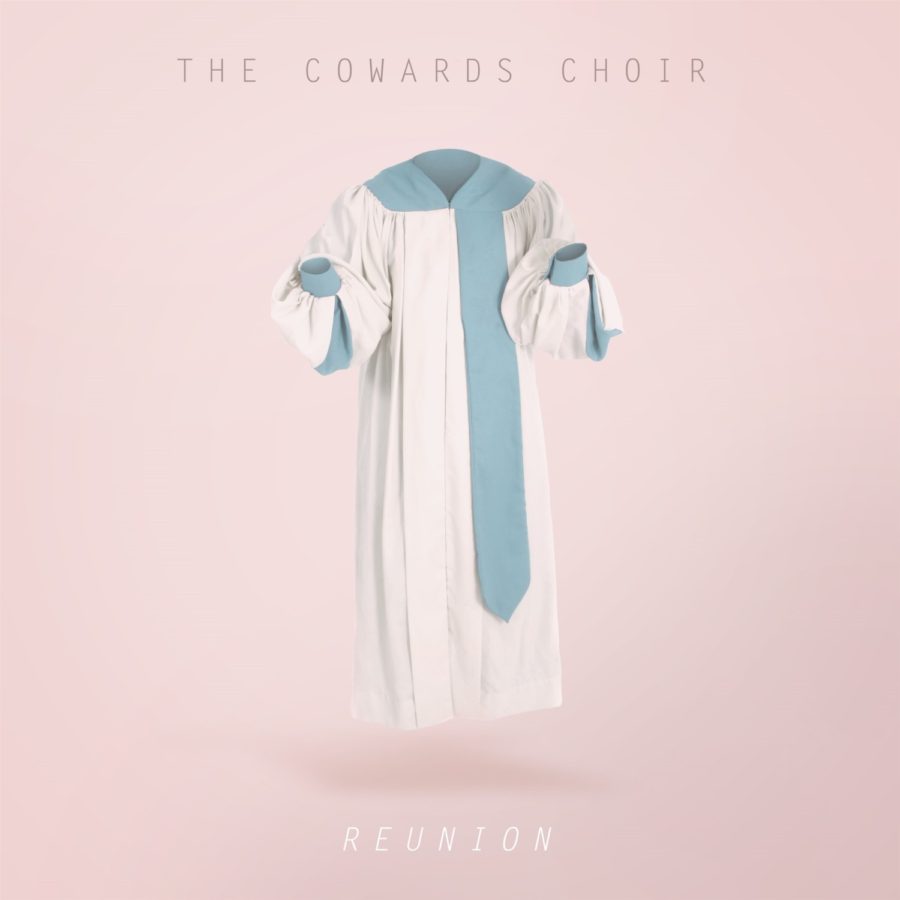 Artist: The Cowards Choir
Title: Reunion
Label: None
Release Date: 08/10/13
Reviewer: Josh Hamm
Tracklisting:
A Better lie
Where The Hand Don't Hold Me Down
Maybe I
This Will Be Our Reunion
In my (admittedly limited) experience of listening to and reviewing music, I have found that there are two primary types: music that is pleasant to the ear, and music which is pleasant to the soul. I can happily share that Mr. Zipf's music falls firmly in the second category. Andy Zipf has been a long time in the industry, creating and performing for the past 10 years. But this marks the beginning of a new era, founded on an identity that he truly believes in. And as a result, he has renamed himself as The Cowards Choir.
Since the day that I downloaded Reunion from Noisetrade, I don't think a day has gone by that I have not listened to at least one of the songs off of it, if not the entire EP.
The music itself is a delightful mix of melancholy and joy. The melodies have a way of striking deep within you, causing you to first feel the music, before the lyrics emanate outwards and you can begin to understand it. Lyrics that doubt without despairing, weep without wallowing, and praise without pontificating. One more thing on the lyrics: these are songs where the choruses are the foundation stone of each song. They are not merely a catchy method of getting you into the songs, they are what each song is about. Normally I can't stand choruses, I view them as a necessary evil in most music, but here Zipf makes them flourish and show the power that they can hold when the right voice is wielding them.
According to Zipf, he considers his first album to be 2011's Jealous Hands – admitting the rest of his catalog before that moment had somehow missed the mark. I cannot help but wonder if Reunion, in one of its myriad meanings, is a synthesizing of his two timeframes of songwriting, pre and post Jealous Hands. His sound is the same that it has always been, only better. The growth and depth of his music is staggering. He's heavily influenced by older music he listened to growing up, and these songs can't help but feel like classics already.
His producer, Jeremy Griffith, (Over the Ocean, Cool Hand Luke, Gasoline Heart, Five Iron Frenzy, Underoath – his resume is beyond impressive) has done a masterful job with the production and mixing, along with Brian T Murphy and Louis DeFabrizio helping out with some of the instruments, as well as Brian Griffin on the drums and percussion. The band backing Andy up is superb all the way throughout.
When you first press play, silence for the first ten seconds on " A Better Lie." Already the album is setting itself apart – it's not instantly gratifying, it requires your patience even before the music begins. Soon thereafter the drums start rolling in, followed by piano, then guitar, before the whole bunch play together with Andy's voice unifying all the elements. What's immediately noticeable is the production value: the song feels alive – it's fleshed out so that it hardly feels manufactured, but just a natural moment of music. If your feet aren't tapping and your soul ain't singing along with the music, then I feel for you, because it's rare for the music in a song – as opposed to the lyrics – to move me as much as this song does. The lyrics are good too though, a look at a sad story between a couple, and this song epitomizes the ability I described earlier of Zipf's music – melancholy joy. The beauty of the melody evokes a whistful nature, as these two characters are in a floundering relationship: "Don't believe you when you said "We tried."/Doubt drippin on the white of your eyes/We're breakin cause you can't decide/to speak the truth, or tell a better lie." The song is my favourite off the album, it's too good not to be.
Another absolutely gorgeous melody is featured in "Where the Hand Don't Hold Me Down," on a sturdy foundation of drumming and a spectacular bass line which ground the song from feeling too airy, too light. It's truly needed, because the song seems to dispel gravity, as it rises up on the ether. The song is about emerging, escaping, rising. Just listen to the chorus "I'm goin where the hand don't hold me down/I'm gone cause the door is open/I'm feelin just a little bit closer now/Breakin out, comin up from the underground." I don't know how the effect is produced, but the music is not separate from the lyrics, the song as a whole unit is cohesive in evoking every feeling it wants to. The sense of hope is palpable.
Reunion moves into a ballad for "Maybe I," and once the song gets settled it feels like a perfect transition. It is a reflective song, as Zipf contemplates his role in this life. But while it does drawn from his own experiences, the song is not about him, it's about these introspective feelings of doubt, of hope, and a glad resignation to the fact that we are all wandering, searching in this life – we will never have all the answers. While the lyrics in the verses are meaningful, this is a song where the point of it all rests on the chorus: "Maybe I'm supposed to tell ya /everything will be all right/but I don't know/How long we're gonna wander/lookin for a steppin stone/some bridge to hope." But, yet again, it's his melody which communicates this message along with the lyrics. I've always loved his care and devotion to crafting a compelling melody in his music, but it wasn't until my recent talk with him that I discovered how much it truly means to him and his music. I think that Zipf could write a book on the importance of melody paired with words to produce meaning, and how they each complement each other. It's not that other artists don't believe the same thing, but he pays so much more attention to it, and his effort shows.
With "This Will Be Our Reunion" we move back into a pace along the lines of "A Better Lie." This track soars and the vocals glide along, drawing you ever deeper and farther in to his music. It's a song, ostensibly, about a reunion. Zipf reveals the range and power of his voice, as he belts out the words from the title, "this will be our reunion." But the entire song is about the power of the music, of melody, of song, to bring people together. I also get glimpses of another reunion, whether intended or not, the song evokes a sense of heaven, of a new life – "They say what has will be again/from the dust, renewed, my friend/we follow the river to meet our reunion." This song is a close second to "A Better Lie" for the best on the EP, as both songs have such a strong emotional resonance and ability to captivate me effortlessly. It ends on a simple piano refrain, adding to the live feel of the album – these aren't just slick tracks all polished up for consumption, you truly get the feeling of a reality to them, as if it's a live album.
Overall: The infectious hooks on Reunion are impossible to deny; and once they reel you in you're lost in layer upon layer of music, carefully crafted over melodies too sublime to ignore. Listening to The Cowards Choir is revitalizing; this is an album that reminds us of the glory around us and the joy of music itself. This is music the way it's supposed to be.
RIYL: Andy Zipf, Daniel Lanois, Paul Simon, Tom Petty, Arcade Fire, Sleeping At Last, Copeland
Buy The Album: iTunes / Noisetrade