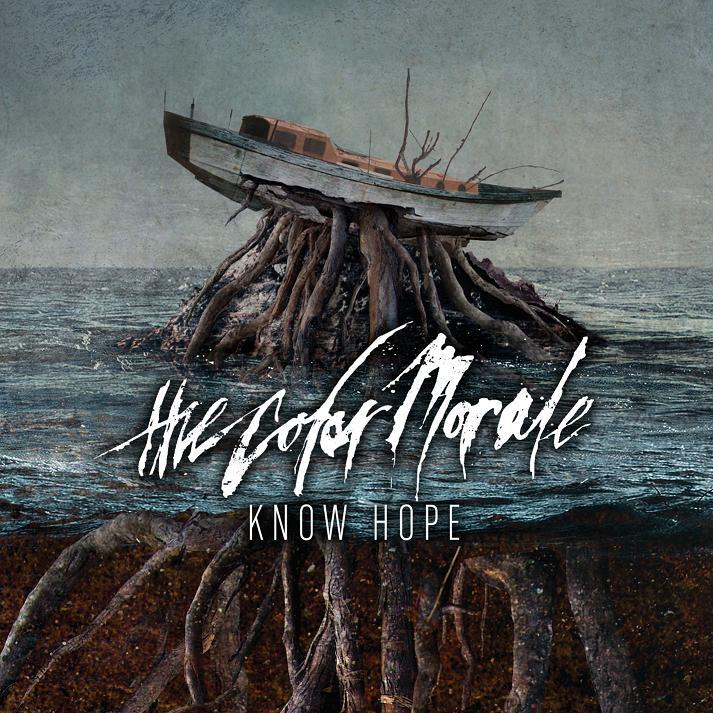 Band: The Color Morale
Album: Know Hope
Label: Rise Records
Release: 3/26/13
Reviewer: Brody
Tracklisting:
Burn Victims
Smoke and Mirrors
Learned Behavior
Living Breathing Something
Strange Comfort
In Light In Me
Silver Lining
Steadfast
Hole Hearted
Saviourself
Have.Will
Never Enders
I'll never forget seeing The Color Morale at the tail end of  last summer. The feelings of both sadness and admiration as front man Garret Rapp honestly confessed he wasn't really sure where he stood in his life at that point. From faith to the most basic things such as how he coped with tour, Rapp expressed brutal honesty as he professed that he did not want to keep anything a secret from the fans. However, Rapp ended his impassioned speech by saying that he still chose to believe that things would work out for the best.
"Know Hope", the band's third full length studio album brings to fruition the emotions of the passionate frontman. All the highs and lows, the doubts and fears, and ultimately the underlying peace with it all, "Know Hope" is a journey of converse emotions.
Within the title of the album itself, the astute listener will see duality. You see, there is quite a difference in how the album is spelled and how the spelling of the album sounds. This trend continues throughout the entirety of the album, whether is be from the contrasting lyrics or the diverse dynamic behind the instrumentation, everything about this album is two sided.
Burn Victims and Smoke and Mirrors are perfect forerunners as to what to expect out of "Know Hope". The both continue the trend set in place on the band's first two releases; perfectly precise metalcore music. You know, the whole screamed verses with sung choruses? Except The Color Morale are able to separate themselves from the pack with rigorous instrumentation and scads of passion.
This passion is exemplified by Rapp's newfound take on screaming. In a recent interview with absolutepunk.net, he explained that he wanted to go for a more organic sounding scream. Something that was more driven and less manipulated. This point comes across well in Smoke and Mirrors as Rapp declares, "You need to get through what you are going through/Some day someone, somewhere will need you".
In a similar fashion, Strange Comfort ultimately speaks of hope. While the majority of the song may come across as rather dark and abysmal with lyrics like, "I know, I know I'm lost/But what scares me the most is I'm starting to feel at home" during one of the catchiest choruses in The Color Morale's history. However, Rapp then goes on to say, "Don't forget everything is ok in the end/ We are not ok, but this is not the end".
Steadfast is one of the "softest" songs on the record. Musically, the song leans much more towards driving post hardcore, abounding with power chords and punk sounding drum beats as Garret Rapp leans heavily on almost and R&B influenced vocal delivery.
Have.Will is one of the strongest tracks on the record, along with one of the most upbeat and toe tappable.  The track keeps the same driving instrumentation as the aforementioned Steadfast with an underlying lead guitar that keeps things interesting. The song truly shines once it gets to the breakdown where Rapp admits, "Sometimes it takes your whole world falling apart to really know what you stand for" and subtle clapping complements the chugging of the guitars.
On the opposite spectrum of more optimistic songs on  "Know Hope" are a few dark tracks where hope seems like the last thing the band is trying to convey.
Chief of these songs is Silver Lining, a somewhat controversial song lyrically as Rapp questions Christianity and religion in general pretty in depth and uses language some readers may find less than appropriate. However the band certainly creates a fitting backdrop for lyrics so pessimistic. To put it this way, musically Silver Lining makes their previous album's standout heavy track, Demon Teeth, feel like a Copeland song. Dischords and feedback run rampant. Drummer Steve Carey is especially a stand out in this track. He implements fills at just the right moment to really add to the chaos. Check out this video and see for yourself.
Saviourself is an especially deceiving track seeing as the music is rather mellow by the band's standards. Melodic guitars and rhythm sections serve more as the backbone to the track than standout elements. In contrast though, Rapp's lyrics are especially dark as he reluctantly admits, "I don't know who I am at the moment and I can't pray" before going into one of the most catchy choruses on the record as he delves deeper into his emotions proclaiming, "I only have myself to blame for losing control/ I always needed something…maybe I needed to be alone."
For all the standout moments on the album, there seems to be one glaring issue in my mind. I have had the record for about 2 weeks now, and it is already starting to lose it's initial charm. Songs are beginning to lose their replay value, and things occasionally start to get dull half way through the record. With this being said, I am afraid this record will not stand the test of time. However, that is not to say that you shouldn't check it out for yourself as it might have greater staying power with different listeners.
"Know Hope" showcases a dark time in The Color Morale's personal lives. The music and lyrics both reflect that to make an emotional ride from start to finish. However within the darkness, there is an underlying hope that things will change for the better. These emotions, whether good or bad, are what make The Color Morale stick out from the rest. And with that, I am excited for what the future holds for this band.