Album Review :
The Classic Crime - What Was Done, Volume 1: A Decade Revisited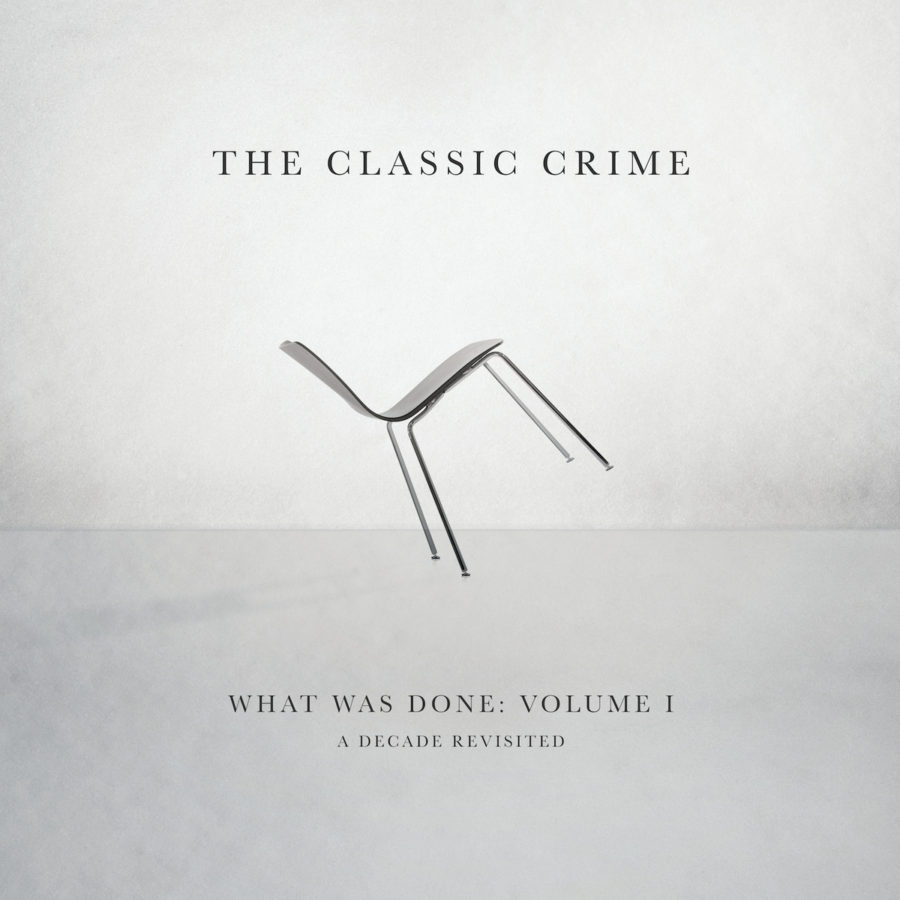 Artist: The Classic Crime
Title: What Was Done, Volume 1: A Decade Revisited
Label: Independent
Release Date: October 28, 2014
Reviewer: Ian Zandi
Track Listing:
All The Memories (Revisited)
You and Me Both (Revisited)
Salt in the Snow (Revisited)
We All Look Elsewhere (Revisited)
Vagabonds (Revisited)
The Coldest Heart (Revisited)
My Name (Revisited)
Who Needs Air (Revisited)
Beautiful Darkside (Revisited)
God and Drugs (Revisited)
Headlights (Acoustic Version)
The Fight (Acoustic Version)
Selfish (Bonus Track (Live in Studio)
Where Did You Go (Bonus Track)
The Classic Crime has always been one of those bands that I listen to, think "HEY! This music is really good! Gee wiz, I should listen to them more often!" and then I forget to play them until they are mentioned or played by an outside force. Aside from my forgetfulness, The Classic Crime has been a constant contributor to the Christian music scene for over 10 years now. While having a few hits on Christian radio, they have never fallen suspect to the ways of CCM *cough* Hawk Nelson *cough*. Fronted by Matt MacDonald, The Classic Crime is a band that I truly respect. Perhaps that is why I contributed to their Kickstarter campaign for What Was Done: Volume 1, A Decade Revisited.
Following up on their incredible Kickstarter for Phoenix, The Classic Crime launched the funding for WWD:V1 and successfully met their goal within the mere 4.5 hours that proceeded it! These two records were the first to be done independently following their departure from Tooth & Nail (On that note, this is the 5th record in a row that I have reviewed with a strong connection to T&N. Weird coincidence). Thanks to the extra monetary support, the band tacked on a few extra tracks than were originally intended (which is both a blessing and curse to this release). The notion behind this album is to revisit the band's discography and select tracks that would get a complete acoustic remake for the band's 10th anniversary. This idea is not unlike Jars of Clay's recent 20. However, unlike Jars of Clay, The Classic Crime has never put out any such release of a large collection of acoustic tracks. At this point, it feels like Jars of Clay has nearly rerecorded their entire catalogue in remixes, acoustic, and live performances. TCC has released the popular favorite Seattle EP but that was comprised of original tracks.
Most of the tracks on WWD:V1 are from Albatross with a few components from The Silver Cord, and even less from Vagabonds and Phoenix. While the Kickstarter contributors did get some input on which songs where included, I am sure that the band intentionally chose to focus on their earlier discography. The newer tracks that are included ("Vagabonds", "You and Me Both") sound like carbon copies of their companions, just replaced with acoustic guitars. Despite that, they are both solid tracks and bring out the best in the band. "Vagabonds" does include a bit of banjo towards the end of the song that is either not as prominent or non-existent on the rest of What Was Done. I would have liked to hear more of the instrument for diversity, but perhaps that is too Mumford-y for the band's tastes.
Two of the band's biggest singles, "Salt in the Snow" and "The Coldest Heart", were played on repeat like no other on radio stations such as Air1 a few years back. The songs translate well into acoustic rock-ballads. With the orchestration of violins, cellos, and other such string sections, the songs are given an emotional weight that would be required without the full band backing. Matt's falsetto vocals are given front and center spotlight here. It is quite clear that his voice has matured and improved over the years and can reach different registers while still distinctly sounding like himself. On "Salt in the Snow" does feel a little colder and empty without the call-and-response portion of "Are you listening?". Its an open-ended question that given no echo. Hearing the song played so many times over the years, it strikes me odd to hear this variation.
Two tracks that I would deem "fan favorites" are a mixed success. "Who Needs Air" seems to be a track that is often requested based off of social media (Example: "CAN YOU PLEASE COME TO AUSTRALIA AND PLAY WHOO NEEDS AIR?!?? PLZ LIKE MY PHOTOS lol jk XD ! WILL YOU AUTOGRAPH MY PET LLAMA? ITS HER BIRTHDAY AND THAT'S ALL SHES EVER DREAMED OF!").  The song is stripped down to the good-ol basics of being a primarily guitar-driven track. It feels like it would be perfect for some campfire sing-alongs.  On the other hand, "The Fight" has been slowed down dramatically and does not evoke the same aggressiveness as its original.
The last two tracks "Selfish" and "Where Did You Go" are two bonus tracks that are brand new additions to The Classic Crime's discography. Though they are both acoustic in nature, fitting in with the rest of the record for consistency, "Selfish" is recorded as a "Live In Studio" track. I don't know exactly how the band made the production on this song different than the rest. It feels so much more raw and real than the rest of the tracklisting and makes me wish that all of the songs were done is such a way. "Where Did You Go" returns to the prior production and is lined with a riff that feels nearly identical to Kutless' "Smile". I actually had to listen to the songs back to back to hear that wasn't the case. They are similar, but not the same. Both of these acoustic originals would have fit in perfectly with the rest on the band's Seattle EP.
Overall:  Continuing the band's legacy, this acoustic record serves as a 10th year bookmark. There are a few hiccups and flaws but nothing to tarnish the memories of the solid tracks that they represent. In the next installment of WWD, I would hope to see my personal favorite TCC song "Abracadavers" (from The Silver Cord) make an appearance.
RIYL: Emery, Vocal Few, The Almost, Anberlin