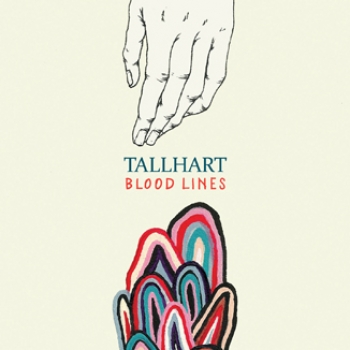 Artist: Tallhart (formerly Marksmen)
Title: Bloodlines
Label: Rory Records/Equal Vision Records
Release Date: 4/10/12
Reviewer: Carter Fraser
Tracklisting:
Fever (Sister of Mine)
Blood Of My Blood
Brooklyn Is Burning
Drunk Kids
Wolves
Holy War
Bloodlines sees Tallhart (formerly Marksmen) maturing well past the horizons laid out by 2011's debut LP Sister of Mine. While it's unfair to say that a jump was entirely unexpected, Sister failed at times in trying to achieve the same effect that the Tampa natives' clear influences such as Manchester Orchestra had achieved. But the parts were all there—the well above-average, charming front man (who does look and sound a great deal like MO's Andy Hull), generally thought-provoking lyrical themes, a good deal of energetic instrumentation, and a terrific live show. Sister's fault was quite simply the songwriting. It was present enough to show potential, as "No Sound For You" was one of the better tracks to be released last year, but Bloodlines displays a band just beginning to settle in with their identity and finding a significantly more developed sound than initially heard.
I suppose we should have taken other's observations into consideration as well; Tallhart recently signed to Max Bemis of Say Anything's new imprint Rory Records under Equal Vision. Combine that with the fact that the band has recently opened tours for Hawkboy and Say Anything, and drummer Reed Murray is a member of Carrollhood (featuring members of Underoath and Anberlin), and things get a bit more interesting. So maybe it's by association that Tallhart have achieved their new success. The developments are immediately apparent on the re-record of Sister of Mine's title track, now titled "Fever (Sister of Mine)." Where the original was a bit under-progressed despite having a solid basic melody, the new version is fully fleshed out. The change is indicative of Tallhart's overall growth from Marksmen; every moment is now brought out further. The songwriting is more dynamic, displayed in cuts like "Brooklyn is Burning," which effectively rises from its acoustic beginnings to a full-on driving, yet tender climax in barely over three and a half minutes. "Drunk Kids" is perhaps the strongest cut on the EP, and perhaps of Marksmen/Tallhart's career, with its dancy, southern groove that would fit seamlessly on a Manchester Orchestra album. The classy guitar bridge is an excellent example of Tallhart's new future: a band poised to emerge from the multitudes of rising alt rock groups.
The few lapses in songwriting are more excusable this time around, such as the slight weak spot of "Blood Of My Blood" which meanders around as a generally average melodic, mellow rock song. It does, however, show Tallhart singing more candidly about their faith, saying, "now I can know the peace You possess and call to it by name / You bridged the divide and You ransomed my pride / You're the blood of my blood." While Tallhart is certainly more prone to tackle more indirect issues such as familial struggles, it's interesting to see them addressing more worshipful themes on a prominent secular label. Overall their lyrics have improved all around, evident in lines like "how come every time I try to make a difference I get left behind / standing in the doorway like some young doe-eyed school-boy waiting for the chance to move" and "how come every time I try to get my things together I have less than I did before?" Tallhart's latest batch of tunes is bound to turn a few heads with their clever, introspective lyricism.
Overall: Bloodlines is a striking step up from the young Floridians. If you liked Sister of Mine then there's almost no chance that you will be disappointed now, and if Sister was not your cup of tea then I'd encourage you to give Tallhart another try. It's difficult not to be at least intrigued by the time rocking closer "Holy War" hits full stride and Tallhart's furious howls go silent.
RIYL: Manchester Orchestra, Brand New, Anberlin, Edison Glass