Album Review :
Strengthen What Remains - Turning a Blind Eye
By Keith.Settles in Reviews | Comments closed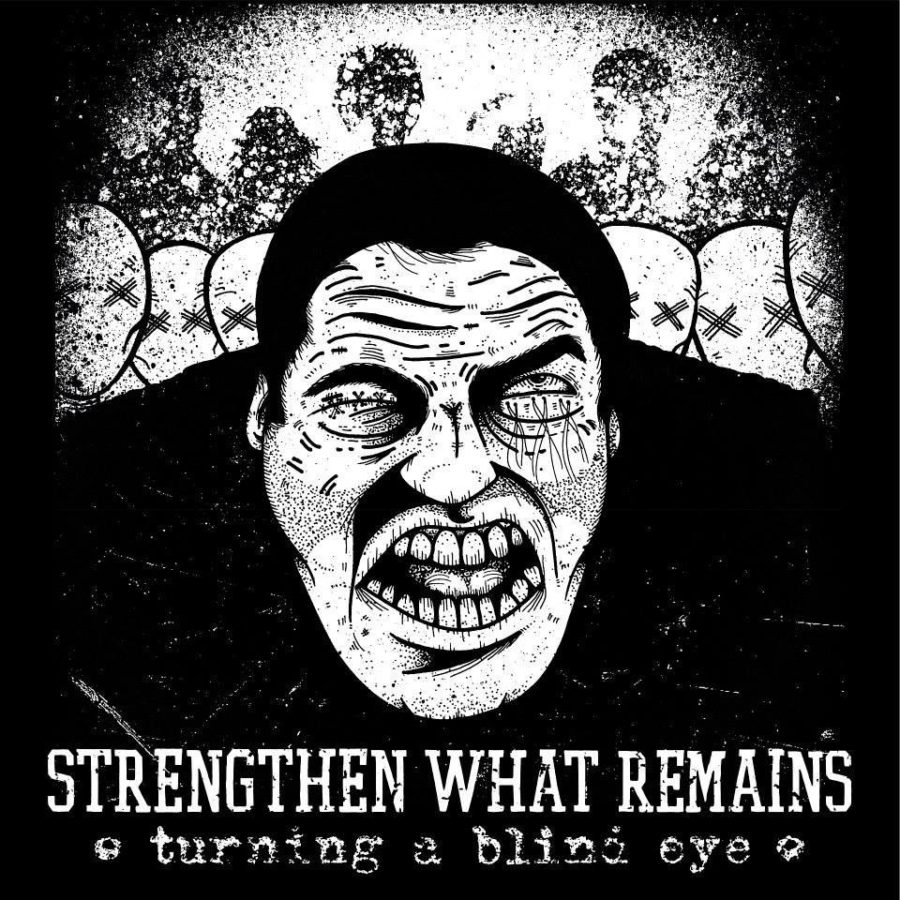 Artist: Strengthen What Remains
Album Title: Turning a Blind Eye
Record Label: Blood and Ink Records
Release Date: 8/13/2013
Reviewer: Keith Settles
Positive Outlook. Negative World.

The Narrow Path

Turning a Blind Eye

Humanity is My Stumbling Block

Gouge It Out

Disregarded

Some Things Change

Indoctrination

The Noble Lie

Least of These

Even the Elect

Blackened Skies
We always learn in school, to not judge a book by its cover.  You never know what you are going to get out of anything unless you open it up and give it a chance.  Our first impressions can sometimes be wrong and, that is why as a web site and as reviewers of these artist's art, we are accountable to not only our readers, but the actual bands that we talk about.  To be able to get into their art as much as we can and to give fair criticisms as to what can be done better, and what is already good.  Scores are meaningless unless it is justified in the writing of these reviews.
The thought process going into reviewing a band like Strengthen What Remains, releasing their debut full length "Turning a Blind Eye", was a tedious task until the nooks and crannies of this hardcore band were found.  The question was how this band can be separated into its own realm so that they can be given a fair shot.  The well has been dry from this genre for years when it comes to being creative as a hardcore band.  Most will tell you, and I agree, that what separates hardcore bands from other genres is the passion, the heart, and the heavy infrastructure put into their songs and that is why they sound more developed.
Strengthen What Remains is, by far, not a terrible band.  After the first few listening cycles, the content grows on you. However a twelve song album that runs for twenty three minutes is not exactly the easiest to get into. The first three tracks on this album equal to a little more than three minutes if combined. I get that stylistically, this is not a new form of writing. The power in this album is the passion that is presented through the heavy guitars and tough guy screams. If this was review was based on basic song writing, hardcore or not, this score would be lower.  It is difficult to get into albums where the first half of the songs are less than two minutes long and the last half contains the meat of the album.  I understand that it is a part of the genre and style but sometimes bands need to take responsibility for their art and produce some originality.  Even, and especially, when the well of originality is all but dry.
The production quality of "Turning a Blind Eye" is basically what you would expect from a hardcore album.  With muddy guitars and distorted screams, the Production is a little higher in quality then Advent's, "Remove the Earth".  It is clear enough you can hear all instruments pretty clear, depending on what speakers you play the album through.  There was some production put into this album and you can hear it.  Although the songs may be short, the power Strengthen What Remains is brought to the forefront in this album.  Listening to this album makes it seem like this band is a must see and a fun band to see live.
Overall: I did something that, as I said in the beginning, should not be done.  I judged this album for the cover. After the first cycle through I deemed this album a lost cause because I couldn't understand the quality that slept beneath the surface.  After a couple of cycles through, the sound grew on me and I will say that if you are a heavy music enthusiast then this can suffice as background tunes if not an album you can get heavily into.  The best albums are the ones that, in my experience, grow on you other than the ones you love right off the bat. I must say that Strengthen What Remains has released a fairly decent album in "Turning a Blind Eye".  There is nothing to special about it musically, however in sound, tone, and overall production quality, this a great start for the trio out of Tampa, Florida.
RIYL: Figure Four, Terror, Advent, Downpresser