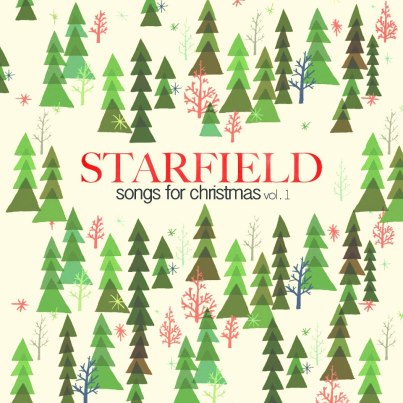 Artist: Starfield
Title: Songs for Christmas Vol. 1
Label: independent
Release Date: 11/13/12
Reviewer: Jonathan Andre
Tracklisting:
O Holy Night
O Come, O Come Emmanuel
Go Tell It on the Mountain
Angels We Have Heard on High
What Child is This
Hailing from Winnipeg, Manitoba and charting successful singles like 'Rediscover You', 'Everything is Beautiful', 'Filled With Your Glory', 'I Will Go' and recently 'The Kingdom of Our God' on both the Canadian Charts and the U.S. market, Canadian band Starfield have always placed worship at the highest of priorities in each of their albums, providing listeners with albums full of passionate praise with a guitar driven edge. One of the most underrated bands of the decade, though there have really been only two full-time members throughout their whole career- brothers Tim and Jon Neufield, with a continuous revolving door for the drummer and bass player; Starfield's presence within the musical industry is still prominent, with both Tim and Jon giving listeners hope personified through song- some of my favourite worship songs are from the band- with anthemic melodies like 'The Hand that Holds the World' and 'Obsession' some of the best worship songs from their album Beauty in the Broken, as well as their rendition of Hillsong favourite 'Hosanna' of the best renditions I've ever heard. Now releasing their first Christmas album, an EP titled Songs for Christmas Vol. 1 in 2012, these 5 songs, though carols that many other artists have sung time and time again; Starfield have given their own interpretations towards these melodies, even adding the refrain 'oh come let us adore Him' as a medley with 'Go Tell it On the Mountain' (even though both these songs are a change of pace, both songs fit well together!). With acoustics, snare drums and an eerily refreshing vocal from Tim Neufield, Songs for Christmas Vol. 1 is sure to be a must among Starfield fans and fans of Christmas albums alike!
'O Holy Night' is most possibly my favourite Christmas carol ever written. Reminding us of the night of Christ's birth, and placing a worshipful slant on a carol sung by many around the world (regardless of its 'religious' message); Starfield starts off the song with a rousing electric guitar melody pluck with Tim's eerily soothing vocals describing Christ's birth and how '…long lay the world in sin and error pining til He appeared and the soul felt it's worth…' A song primarily about redemption rather than condemnation, 'O Holy Night' gives us a reason to indeed fall on our knees in reverence before the holy King. With a great guitar riff, the only downside seems to be the omission of the second verse and chorus, which is possibly one of my favourite moments in the song. The possibility of Tim crying out '…Christ is the Lord, oh praise His name forever, His power and glory ever more proclaim…' is certainly sorely missed on a nevertheless seemingly flawless track, showing Tim's vocal range and passion for His King. 'Angels We Have Heard on High' is another song that is one of my favourites, and with an interesting guitar riff introducing the song that reminds myself of the many renditions of this song, Starfield's rendition is one that lets Jon sing a few lines (not sure if it is Jon, but it's certainly not Tim for one of the verses!). Though only 3:09, I am able to continuously worship with the lines '…gloria, in excelcius deo…', in a declaratory moment as I praise the King, just as the angels did on that day too. Well done Tim and Jon for such compelling Christmas songs of hope and joy.
Starfield's 3 remainder songs offer up a unique, tranquil and acoustic experience to those who listen, giving listeners some of their favourite carols to share this Christmas season. 'O Come O Come Emmanuel' was and still is one of the lesser known Christmas carols, yet Starfield provide us with a stirring rendition filled with a strong drum beat and acoustic guitar plucking to remind us of how Christ came to us to redeem us back to Himself. As Tim declares for us to '…rejoice, Emmanuel…', we are met with a man who's only yearning is for God to be lifted up, even during the season when busyness and chaos may often ensure above the true reason for the season. 'What Child is This' is often known as the original lyrics added to the 'Greensleeves' melody, yet this song has become an anthem for many during Christmastime, with its central message becoming a declaration to assert Christ as Lord and Saviour of the world. As Jon takes the reigns at singing this song, I can't help but sing along with him across the light acoustics, proclaiming that '…this, this is Christ the King whom shepherds guard and angels sing…' 'Go Tell It On the Mountain' is by far my favourite Starfield rendition of these 5 Christmas carols, complete with 'oohhh' backing vocals and a great acoustic undertone, with a rousing chorus full of drums, hand claps and feet stomps as we are encouraged to tell of Jesus's birth to everyone we meet. The bridge of '…oh come let us adore Him…'- the chorus of 'O Come All Ye Faithful' is a nice addition to the acoustic anthem, and though a slower change of rhythm and pace, Starfield have created a medley that almost makes me curious to see what other Christmas carols 'fit' together. Well done Starfield for such a riveting anthem; and one of my favourite renditions of the carol along with version from needtobreathe, Tenth Avenue North and BarlowGirl.
Overall: Starfield have always been on the outer when it comes to popular worship music, though I'm not totally sure why. With many listeners favouring Chris Tomlin, DC*B, Jesus Culture, Hillsong, even Rend Collective and Gungor of late; Starfield seems to slip by on people's radar, producing albums that many may not have possibly heard before, or in a long while. Currently independent, their last album The Kingdom was beautifully crafted for such a record (done independently) and this Christmas album is another great testament to their talent. Creating 5 tracks that are great in replay value as well as a timely reminder of Christmas's true value, Tim and Jon have given listeners songs that speak to the heart about the Christmas night, as well as adding their own worshipful spin on songs that prove to listeners why some of these Christmas melodies are timeless, as well as their praise element in each song, reminding creation to '…go tell it on the mountain that Jesus Christ is born…' ('Go Tell It On the Mountain'). Well done Starfield for such an enjoyable and memorable album experience.
RIYL: Chris Tomlin, David Crowder Band, Jeremy Camp, Aaron Shust
Buy the Album: iTunes/Amazon mp3