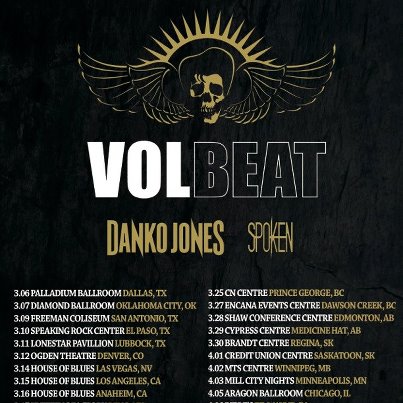 Artists: Spoken, Danko Jones, Volbeat
Tour: Volbeat headlining tour (no official tour name)
Venue: The Diamond Ballroom, Moore, Oklahoma
Concert Date: 3/7/13
Reviewer: Lee Brown
When we first posted Spoken's upcoming tour schedule, there was a comment from "Phil Metalhed" that he wished Spoken had chosen better supporting bands. I think this sentiment was shared by many, not realizing that it was actually Spoken supporting Volbeat on this tour. In fact, as Spoken finds themselves at a point of redefinition in their careers, what many likely expected from this tour have been flipped on its head.
Prior to the concert, I talked with "Scoop" (Guitar for Spoken) a little about the show and mentioned that some of our readers were thinking this was a headlining affair. Scoop talked a little about how, for the band, this was a new day. With the new album and playing with bands they never have in the past, they're now reaching a crowd that's never heard of Spoken before. In many ways, he noted, Spoken really is the "unknown" opening band on this tour.
As the show started, I found this to be very true. Though I had never heard of Volbeat (they sold out the show, so they are apparently a big deal), it was apparent that most of the crowd was seeing Spoken for the first time. As typically happens with opening acts, the venue was still filling up, the people were tentative and unengaged for the first few songs, and I couldn't see too many people singing along. As Spoken's rather short set (also typical for opening bands) progressed, the fans really started to get behind Spoken, however. I'd say around the end of the second to the beginning of the third song, people started moving their heads and pumping their fists more than most opening bands are able to elicit. Still, the involvement never reached the level Spoken deserves. I don't think Volbeat really knew they were getting such industry vets to open for them.
As mentioned above, the set list was abbreviated and entirely pulled from their newest album Illusion. Keeping in mind their position on the tour, this makes sense. Spoken needed to support the new release and most of the crowd was completely unaware of their past work. While I would have loved to hear some past jams, I think Spoken absolutely made the right move. Not only were the songs for this show entirely new, they were also dominantly leaning towards the heavier side of Illusion. There was no "Calm the Storm" to be found on this night.
While this may disappoint some, the short amount of time given to the band simply could not have allowed it. This was a heavy music show and Spoken simply didn't have the time to really or properly set the tone for the beautiful softer side of their masterful new album.
For those curious of the band's intentions, Matt did use his time on stage to share with the band that Jesus Christ loves them and that they exist for Him. In a sea of Rob Zombie and Five Finger Death Punch shirts, the statement was met with only a sparse amount of cheering, but was not heckled by anyone visibly. To that end, Spoken used their time at the merch booth to follow up with anyone curious to hear more.
I talked with Matt (Baird, vocalist) for a while during Danko Jones's set (more on this below) and he explained that this was a different opportunity for the band. Playing two consecutive sold out shows in Dallas and OKC brought in more people in two nights than Spoken may play for in an entire tour run. Having that opportunity to plant a seed in the hearts of these crowds, and even the other bands, was on the forefront of Matt's mind that night.
I must note, as well, that due to the space requirements of Volbeat for they MANY MANY amps, Danko Jones' equipment and etc, that Spoken was given only a few feet of space for their part of the show. With each band's equipment stacked in front of the others (and removed once they were finished) Spoken was left with only a table scrap's worth of usable space. With this in mind, in addition to their relatively unknown status during the show, I felt Spoken did a fantastic job of standing out.
Spoken opened the show with "I Stand Alone." In their typical crowds, this track would have (and should rightly have) electrified the audience. In this case, this was the perfect song to show up and prove their mettle. I heard more than one "these guys are really good" (mixed occasionally with an expletive thrown in as an adjective)  come from people in the sold out crowd around me. Unfortunately, the band was having some mic issues where it would cut out when Matt started to really push his vocals to the height of his range. Though this happened sparsely throughout their set, it didn't ruin anything, but was unfortunate nonetheless.
For their second song, the band unleashed "Don't Go." Rather than exposit about the song, however, why not show you my experience with it? (Note, this is my personal recording):
After "Don't Go," the band unleashed their first single, "Through it All." At this point, the crowd seemed more behind Spoken, though it was still "opening act" level excitement for many. From there, the band moved into the stellar track "Beneath the Surface." Again, here's what I saw (again, my personal recording):
After "Beneath the Surface," Spoken played "Take it All," and then closed with the riotous "Accuser." Prior to "Accuser" Matt briefly shared (as mentioned above) the band's faith in Christ and that God loves them. They also took the opportunity to point out the merch booth and had the crowd repeat their name back to them. In all, it was a good set. Given the caveats above, Spoken made wise choices across the board.
Though this abbreviated set with no past material may be a disappointment to long time fans, the outreach it provides and the expansion of Spoken's platform is well worth it. I highly recommend anyone able to attend the remaining dates (this was only the second show, see our posting of their official dates and venues, linked above) and support Spoken.
Danko Jones: Being as there were just three bands on this particular tour, Danko Jones and Volbeat were given the lion's share of stage time. I was not (nor am I truly now) familiar with Danko prior to the show and I should note that I spent much of their set having a conversation with Matt about his possible involvement in my upcoming WestBow Press book Here's How: An Introduction to Practical Discipleship (Yes, I did just shamelessly drop that mention).
In light of that, I only caught two of Danko's jams. I did, however, leave my musician friend Rob Grams (Ex: Broken Few) in the audience and later grabbed his impression. Overall, we agreed that Danko merely was serviceable, but that their drummer was rather amazing. The lead singer worked well as a front man, though he has the tendency during heavier parts of his songs to open his mouth as if they were the gates into Narnia to produce a rather interesting warble to his vocals. Though I have been to my share of shows, I've never seen another singer quite get that much expanse out of their mouth while singing. The sound it produced, however, was compelling.
The only other impression I was left with of Danko was a moment from stage where the frontman bemoaned the fact that due to this being an "all ages" show, he had been banned from using the F-word from stage. In fact, he repeated that grumble several times in the short span I was attentive to their set. This was apparently a memo Volbeat didn't get before taking stage, however.
Volbeat: It is undeniable that the crowd was out en masse to see Volbeat. While sitting with Matt in Spoken's van (directly next to Volbeat and Danko's massive tour busses), he noted his amazement that midway through the event people were still streaming into the sold out show. He also mentioned his amazement at the fact that fans of Volbeat lined up some 200 deep for hours to get to their merch booth from the moment the doors opened (in Dallas and OKC) until the doors were finally closed.
Both Rob and I agreed that it was apparent why Volbeat had become a headlining band. At one point, Rob simply said "these guys are incredible" as he watched their technical ability during the show. Since neither Volbeat (nor Danko Jones) are faith based bands, my official coverage will remain sparse (I am also unfamiliar with the bands and therefore unable to provide much depth). The band played several of their own songs before taking a mid-set diversion into some Johnny Cash and Motorhead jams. Initially, Volbeat's singer/guitarist played Cash classically beat for beat (Playing "Ring of Fire" and other songs you'd see in the Walk the Line movie). Mid-way through the second Cash song, however, they transitioned them into somewhat impressive metal covers.
After playing some Cash, the singer began aping Lemmy from Motorhead (talking like him) rather impressively. If I had not been paying attention, I could have easily thought there was a guest appearance going on. From this point, Volbeat played "Ace of Spades" (still sounding remarkably like Lemmy), before returning to their own fare.
Overall: Fans of Spoken may initially balk at the abbreviated set-list of strictly new songs, but once they see the outreach Spoken has been given on this tour and understand the factors involved, this makes perfect sense. Spoken was on point this night and produced a great show in the limited time and space they had.