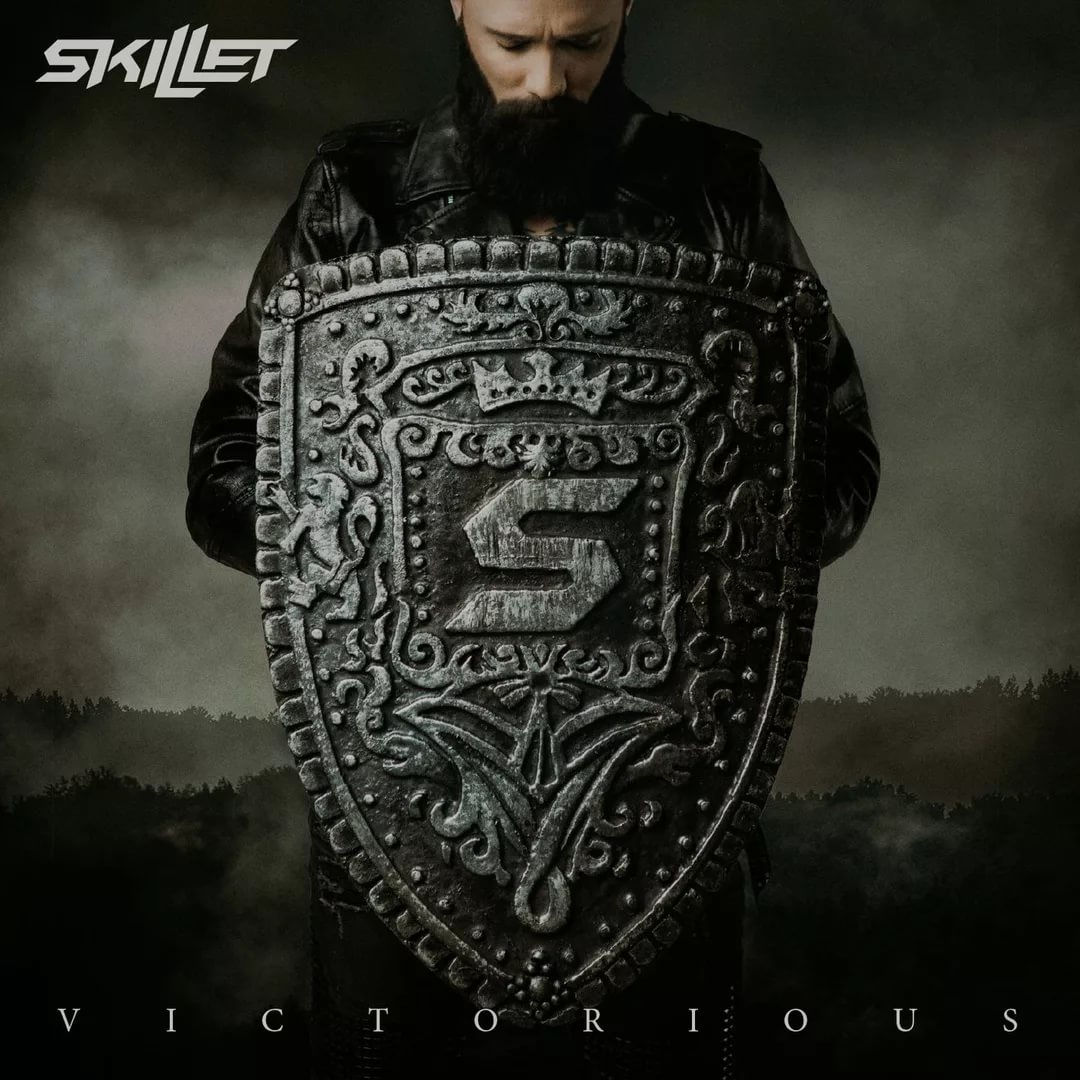 I got my first taste of Skillet in the early 2000's just after I came to know the Lord. I was drawn to their raw, gritty, heavy sound because, musically, I heard some similarities to Marilyn Manson, a band I'd been a tremendous fan of in my B.C. days. As the years went by, as is to be expected, the band's sound changed a bit, mellowing here and there, adding string sections, adding electronic sounds (or at least making them a bit more prominent), having a much more produced sound, songs that are more radio friendly…the list goes on. While some of these changes have garnered praise from a portion of their fanbase, it left yet another portion longing for the days of old, skeptical as to whether those days might now be forever gone.
With the release of the band's follow-up to 2016's "Unleashed" coming up this next week, many are eager to know what to expect. What I can confidently tell you, is that the highly anticipated "Victorious" is an album that is certain to appeal to fans of the band from every era. This release shows that Skillet is a band that not only can (and does!) still bring it, but are also unafraid to implement new ideas, successfully upgrading their sound, and are more than capable of improving upon ideas and endeavors of the past that may have left a little something to be desired. I've been trying to intentionally avoid going track by track through albums I review, but I feel it's warranted here. That said, let's take a look at "Victorious" and see what we have to look forward to this next week.
The album opens with the first single released, "Legendary". This particular track is the one I would point to as perfectly representative of the album as a whole. While some songs may be more aggressive and some softer, this is the perfect medium, making it THE track to open "Victorious". It is heavy, yet maintains some semblance of a song you'd expect to hear on rock radio, but I seriously can't shake the thought that this would be the perfect song for WWE for a while; it just feels like the perfect fit.
This past week, the band released a lyric video for the next song "You Ain't Ready" and it's a really fitting title for the track. It shot me back to the old Skillet feel, while adding some freshness to it. The bass driven verses are an excellent precursor to the crushing choruses that feature a really original sounding chord progression.
"Victorious" follows and brings back the string sections reminiscent of "Comatose". The track is a mellower departure from the first two, with a ballad-type feel to it, but is very well executed in comparison to other tracks of theirs from the past that had a similar sound/feel to them.
A song that is very different, "This Is the Kingdom" is pretty laid back and the song that features the most electronic feel to it and comes off as a very safe song for them. It feels like something you'd likely hear on your more mainstream Christian radio. I've never really been a big fan of the vocal melody the song kicks off with, but it seems to be popular with mainstream radio. It wouldn't surprise me in the least for that to be exactly what happens with it.
"Save Me" is up next and could be my favorite track off the album. I love the heavy, gritty feel it carries, and the palm muted, heavy as dirt verses just make the track for me. And man, that bridge! Well-orchestrated and briefly shows off some of Seth's chops. Fans of Skillet's older material are going to love this one, no doubt about it.
The anthemic "Rise Up" is very upbeat and an excellent example of how Skillet has taken elements of their varied styles over the years and blended them together perfectly. Pick something they've done over the years and you'll find it here, all dwelling together in perfect harmony. It's aggressive, heavy, with just the right blend of electronic sounds. Great track.
A piano introduces the song that follows, "Terrify the Dark". The song, to me, is very worshipful and therefore a bit mellower than most of the songs found on "Victorious". It reminds me of "Stars", which I loved. This song is so well written and is very moving. I believe strongly that Skillet is highly capable of writing worship songs that are well above the quality of the ones typically sung in church on Sunday. This and "Stars" are perfect examples.
After the beauty of "Terrify the Dark", "Never Going Back" smacks us right in the face with more of the heavy, aggressive sound that is found so often, and done so well, on this album.
"Reach" starts off with some very fast paced riffs and the gritty vocals of John Cooper. The song continues with the fast pace and is something of a deviation of what Skillet fans are accustomed to. It's new ground for the band and as different sounding as it is for them, it fits on the record quite well. I would wager that musicians who are fans of the band will especially like this one.
When I first heard "Anchor" I was a bit put off, to be honest. The most mellow track on the album, "Anchor" is piano based throughout the verses with a hint of acoustic guitar. I think the song is also a pretty worshipful track, but it's one that I just failed to connect with at first. Over time though, after numerous listens, it's really grown on me.
"Finish Line" is the most electronic song on the album and is by far the song that feels the most different from the rest. It's kind of like a mash up of "American Noise" and "My Religion" with the emphasis on the later. One of the weaker tracks on the album.
"Victorious" closes with "Back to Life" which has a really nice heavy vibe to it, featuring a lot of low tuned, palm muting in the verses that open up for really driven, heavy choruses. The song ends with an instrumental, showcasing the bands musical abilities very well. We're treated to a little double bass from Jen (which I really wish she'd use more, because it sounds really good), a bit of solo work from Seth…an excellent way to end this album.
For me personally, one of the things that stood out was that the mixture of the electronic sounds with the instrumentation has improved by a great deal. For the last album or two, I've felt that the electronic aspect was a little too strong for my liking, but here the mix feels just right.
The Bottom Line: The new Skillet album is very well written, well executed, and shows that the band hasn't lost their edge whatsoever. They've put together an album that is certain to please fans from all eras of the band's existence. There are songs reminiscent of each album of the band's already impressive catalog as well as some new ground that they've set foot on and it works very well. "Victorious" is very aptly named, as the songs deal with a number of subjects such as overcoming fear, depression, betrayal in one way or another and serve as a victory cry over it; the album gives a sense of hope that in any circumstance, we can be victorious. Make sure you pick up "Victorious" by Skillet this Friday, Aug 2nd. You'll be glad you did.