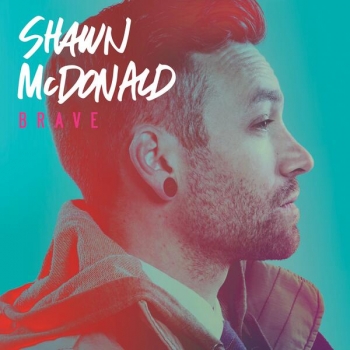 Artist: Shawn McDonald
Title: Brave
Label: Sparrow Records
Release Date: 4/15/14
Reviewer: Jonathan Andre
Tracklisting:
We are Brave
The End of the Day
I Can't Imagine
Firefly
Hope is Right Here
Learning How to Lose
World's Apart
Flower in the Snow
Through it All
Compass
Your Love is Saving Me
Releasing four studio albums throughout his almost-10 year musical career, folk-acoustic artist Shawn McDonald has had much commercial and critical success through songs like 'Free', 'Gravity', 'Captivated', 'Times' and more recently from his latest studio album Closer, the title track and other chart topper 'Rise'. Since releasing his analogue album in 2013, a best-of album with some of his biggest hits recorded again using analogue techniques for the recording process like tape/film, compared to digital ones like the computer; fans of Shawn McDonald's earlier work were able to jump at these new, different and unique renditions of these songs as they provided a brief snapshot of his career, intriguing many newer fans of Shawn (like myself) and giving them the ability to listen to some of his hits throughout his career, and then explore the rest of his songs that make up the last four albums of his music career so far. Now back and ready to release his new album Brave on April 15th, Shawn's slight departure from folk/acoustic/pop and movement into CCM/pop territory may baffle some of his diehard fans, yet nevertheless, Shawn's music, heart, passion for encouraging melodies and inspirational songs has never been more enjoyable, accessible and poignant on this album as compared to albums previously. As Shawn gives us a sneak peak about his thoughts behind the album, and how '…I may have started with just an acoustic guitar and some simple stories, but I've since sought to create art with meaning, messages, thought and depth. This record feels like the deepest I've ever dived in that direction…[and] there is definitely an increasingly noticeable electronic element on top of the acoustic foundation…'; we (at least myself) are able to hear some of Shawn's most heartfelt, honest, vulnerable and poignant work he has ever done in his whole career. From the quasi-title track 'We are Brave', encouraging us to be brave and keep moving in this life because of the grace and love poured over upon us by Christ Himself; to the electronically remastered 'Through It All'; Brave is a standout album in 2014, akin to many electronic/CCM albums like Satellites and Sirens's One Noise and David Thulin's Reconstruction, and certain to be purchased and liked if you like artists with a similar style, from Jimmy Needham and Steven Curtis Chapman, to Dara Maclean, newworldson and Chris August.
Remastered to give more of an electronic/pop field instead of focussing on the looping percussion/acoustic nature, 'Through It All', through originally from The Analogue Sessions, fits right at home on this album release. With the album as a whole telling a theme of us being brave in the face of adversity, 'Through It All' encourages us with the comfort that '…You love me through the highs, the lows, the fights, the blows, the hurt, the pain, every tear that falls like rain…', and while the song may be slightly on the CCM/radio friendly side, the message of the melody is nevertheless encouraging. God loves us through everyone we have ever done and will ever do, and through the echoing reverbs of Shawn, vulnerability and emotion are able to be brought to the fore, even with all the layered instruments (frankly, the song employs too much electronics for my own personal liking, yet the message is undeniable). Despite this alteration (I rather enjoyed the versions on The Analogue Sessions– and if 'Through it All' was digitally remastered and placed on the album, why not 'What Are You Waiting For?'), 'Through It All' encourages us to believe and understand that God will love is despite and in spite of what we do or say.
'We are Brave', the pseudo-title track that encourages us to believe in what we do have (heart, style, grace) that will help us keep going through the tough times in this life. With gang vocals, electronic keyboards and an upbeat melody beat, Shawn invites us all to hear his declaration, that '…hey, when we go through the fire, heart in hand, hope alive, it will be ok, hey, when we walk across the wire, we won't back down 'cause we are brave…' Being brave isn't necessarily in the absence of fear, but rather, it is when we step out in spite of our apprehensions and worries, because we know that Christ beside us, around us and in us, is able to make us much braver than we ourselves can be on our own. Still infusing folk/acoustic into the underlying electronic/CCM music atmosphere, 'We Are Brave' is an anthem and declaration of who we are- brave in Christ! Inviting us into a piano led electronic anthem 'End of the Day', Shawn encourages us all to be all that we can be in Christ- thus continuing the underlying theme of God making us braver than we currently are. While still holding on to the fusion of folk/acoustic meets CCM/electronic, Shawn poignantly reflects on how he longs to '…be the man I'm meant to be, You've got the best of me, all I've got is today and tonight, I don't know 'bout tomorrow but I'm jumpin' in with all my heart, I won't wait another day to start…', reminding us of how we ought to just start doing what is being prompted on our hearts to do, rather than just waiting for confirmation if it is the right thing for us, or even worrying what may result of us stepping outside the comfort zone we can frequently be in. With 'Through it All', 'End of the Day' and 'We Are Brave' being some of my favourite Shawn McDonald songs, not just on this album but overall, Shawn ought to be commended for these three, standouts on the album and standouts amongst pop/CCM songs for 2014 so far!
Written as a love song, 'I Can't Imagine' is full of electronic goodness as we hear his heart for a special someone, with Shawn declaring to '…take my hand, let your feet go, just let love take control, fight for our heart, this is the start, I can't imagine my life apart from you…' While 'I Can't Imagine' is speaking about love between men and women; I can't help but think of God, and how as our love for each other is a mirror of Christ's love for His church, He could be singing this song over us right now (or even vice versa). 'Compass' unveils to us more of a love/worship song compared to 'I Can't Imagine', and while both show us the heartfelt and emotive nature of love at its core, 'Compass' is much more accessible, singable, and more worshipful/melodious. With big drums and an acoustic flair, Shawn urges us to believe and '…let love be the compass, love, when the skies grow dark, and the ways unknown, come awaken my heart and guide me home, cause You are the lifeline for my soul…', and with such an acoustic presence, Shawn's fun-filled yet equally worshipful song is one of my personal highlights, and maybe even one of the most vertical songs Shawn has done in his whole career. With an acoustic guitar and distorted vocals, Shawn invites us to partake in 'Hope is Right Here', a 3 minute pop-acoustic melody that reminds us that hope can often be right in front of us and we don't know it- as Christ resides in us and around us, we can call on Him to give us the hope needed for hopeless situations. While holistically I felt this song was a tad short (maybe 30 extra seconds would be great), 'Hope is Right Here' nevertheless is bold in giving us reassurance that '…because His love is alive in us, hope is right here…'
Shawn also draws on personal experience, stringed instruments, looping percussion and keyboard effects to show us 'Firefly', a song that invites us into the understanding that with storms come a silver lining at the end of the journey and the hope that '…you were born to fly, like a firefly…lighting up the sky, you were made to soar, you were made for more…'; while 'Learning How to Lose' continues to incorporate electronic keyboards at the forefront of the melody as Shawn presents a theme of losing gracefully as we realise that sometimes in order to learn what God is wanting for us to understand, we have to lose at the things that mean the most to us so that we can realise that what we have been striving for is nothing in comparison to what God has in store for us. 'Flower in the Snow', with strong drums used as a baseline where all instruments build from (with unique electronics), is a great encouragement, just like how a flower is in the middle of snow and winter. The prospect that something so beautiful and inspirational can grow in the harshest of weathers is what the song encourages us towards, with Shawn inviting us to believe that '…heaven's gonna shine through when your world's on fire, love's gonna cover you…if you're lost I'm gonna find you, cause a part of you is a part of me…' While this song could easily be sung from a friend to another, 'Flower in the Snow' is just as much an encouragement to each other as it is from God to us. Ending the album with 'Your Love is Saving Me', an upbeat rap-like melody where Shawn tries to sing-rap his verses a la someone like TobyMac, we are met with a mis-mash of sorts- while I applaud Shawn for bringing some diversity to the album, the fact that Shawn hasn't done something like this before makes the recording a little forced to me (even if it wasn't his intention). As Shawn reminds us of how '…Your love was my departure into the great unknown, You are my heart's content, You are my home, Your love is saving me, Your love is the air I breathe…', we are able to rest in the fact that God continues to save us time and time again, even if we don't deserve it or don't even realise that He's there doing the saving. While an upbeat track is odd for the last song on the album (usually last songs are reflective and much more mellow than 'Your Love is Saving Me'); Shawn's 11th track, while I'm sure it's not going to be universally liked (I myself am still on the fence with this one), is nevertheless still going to give us comfort and hope, knowing that our lives a being given hope, even when we don't know it!
Overall: '…if I'm honest with myself, this is by far the closest thing I've ever come to making pop music, although I'm sometimes fearful to even say that word. I don't know what it is in artist culture, but pop doesn't always have the greatest reputation, but the reality is, that's what this is. I love music with a contagious melody, strong songwriting and a timeless appeal. In the past, I've probably been too melancholy to fully do the pop thing, but I promise it's still full of depth and heart instead of being fluffy…' Shawn's fifth studio album (and first album exploring the genre of pop/CCM rather than his usual folk/acoustic pop) is sure to be met with acclaim and praise from critics and listeners alike as we hear the album that is the greatest departure from what we're used to by Shawn. As Shawn continues to let his presence be known within the Christian music industry, his music is a great alternative to all the radio single music playing on the radio, or for those who are just wanting to listen to something new, invigorating, fresh, exciting and different from the original songs. While Shawn McDonald may not necessarily be an artist that I would gravitate to before boldly listening to this album (and his 2013 acoustic/analogue record); I'm glad I did, as I am able to sit back and listen to some of the most heartfelt CCM/pop melodies in 2014 so far. While he's not that publicised even on Sparrow Records (maybe in favour of other more popular artists like Mandisa, Britt Nicole, Matthew West and Sanctus Real), Shawn's music will be a blessing to anyone who listens. Well done Shawn for releasing an album that's new and different from the style everyone is used to!
RIYL: Chris August, Jimmy Needham, TobyMac, MercyMe
Buy the Album: iTunes/Amazon mp3