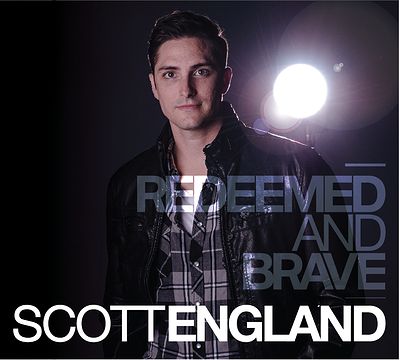 Artist: Scott England
Title: Redeemed and Brave
Label: independent
Release Date: 9/10/13
Reviewer: Jonathan Andre
Tracklisting:
Live It Out
Alive
Psalm 63
This is the Day
Sanctuary
'…the title 'redeemed and brave' came from one of the lines in one of the songs. It says, 'we walk by faith, redeemed and brave, cause today's the day the Lord has made'. And so I thought, 'what a cool title'. It kinda sums up the whole idea of the record, we are sons and daughters of God. He's redeemed us, he's set us free from ourselves, and not only we can walk in that, we can go and we can live that out with bravery, knowing that he's going before us, and that it's all Him being alive, living and breathing within us…' Independent worship leader Scott England from Atlanta, Georgia has been around the worship scene for more than a decade. With his ministry first and foremost about the church and his calling to lead people into corporate and individual worship, Scott has released his newest worship EP, simply titled Redeemed and Brave. Even though he may not be a household name like Chris Tomlin or like how Kristian Stanfill will be within a few years, Scott's undeniable passion in his music is one of his strengths as this EP captures worship in both a rock and independent sound. From upbeat to reflective tempos, we are reminded throughout these 5 songs who we are in Christ, and the permission given by God to walk confidently in our identity as sons and daughters of Himself. As England continues to use his music to promote a lifestyle of worship (as modelled through Romans 12:2), we are met with a message of unashamed boldness with his writing style. While this album being released on the same day as Newsboys' Restart, The Sonflowerz's Love Walked In and Jimmy Needham's The Hymns Sessions Vol. 1 could potentially be a bad move for publicity or even popularity, Scott's music is still a blessing to those who hear it. Even though I am a new listener to Scott and his music, I can say that after hearing Redeemed and Brave, I can definitely see him being at least one of the forefront worship artists in months and years to come.
'Live it Out' is the first song on the album, and while the start of the song reminds me musically of Abandon's song of the same name (that was quite popular during its time on the radio in 2012), we are presented with an upbeat guitar driven worship melody rather than the electronic melody that Abandon had delivered a few years back. With a pulsating drum beat, Scott declares right from the first verse his intentions with the heartfelt and poignant words of how '…we come to You, in spirit and in truth, right from the start, capture our hearts, Lord we are here for You…', something that we all can hopefully declare right alongside Scott as we ourselves continue to deepen our own relationships with Christ. With a vocal sounding like a cross between Australian Nathan Tasker and American Jason Roy of Building 429; Scott's powerful ethereal vocals is a great highlight to the album as a whole, and just like how both Nichole Nordeman and Mac Powell have distinctive voices that set them apart than any other artist, Scott's distinct voice also is also a trait that will be used to identify him from other worship leaders, both now and in the future. As we are met with a message of living out and letting our expression and living of our lives be a form of worship unto God our Father; 'Live It Out' is one of my favourite tracks, and a great way to start the EP as we become motivated to prioritise our lives better as our understanding of God and His sacrifice for us journeys deeper.
Throughout the rest of the album, Scott provides to us ballads, upbeat material, worship songs and acoustic moments to diverge himself from the worship genre to encompass different genres, yet still with a sound reflective of the praise and adoration he longs to deliver, both to God and to the church to sing back to Him during Sunday services. 'Psalm 63' is taken directly from that particular Psalm, and placed to upbeat guitar driven music. While I haven't really read Psalm 63 that much, Scott's rendition of this Psalm in song has made myself increase my intrigue for the Psalm. With such poignant truth, even from the start of verse 1 when Scott declares that '…o God, You are my God, earnestly I seek You, my soul it thirsts for You, I'll see You in Your sanctuary, behold Your power and Your glory, for Your love is better than life and I will glorify You…'; this song of true worship and praise is a melody destined to be in the church sooner or later. Channelling Jason Roy more than ever in the track, Scott gives us a welcomed reminder that God is worthy to be glorified, and after our realisation and understanding of His sacrifice for us to be reconciled back to Him, we can't help but glorify Him with thanks and gratitude.
Electronics are the prominent instrument in 'Alive', with pulsating drums while Scott call us Christians towards a call-to-action as he hopefully lifts us up to declare that '…He's alive, let His glorious bride join in unity…' (not only is Christ alive, but also alive and dwelling within us, active and present in our lives and our everyday decision); while 'This is the Day' is a light radio friendly ballad with a message that shows us that because this is the day that God has made for us to live in, we can rejoice and live our lives, redeemed and brave, bold and confident, walking with Christ our Saviour and encouraging those around us that we meet. Ending the album is 'Sanctuary', the title track from Scott's 2011 album. While this is a re-recording, this song that fits quite well as a melody to end the EP is a moment of understanding and knowing that it is in the sanctuary of the Lord and His presence where we can fully be aware of our role in the story of God, and that while dwelling with our Father, our troubles, worries and hurt lose perspective and importance in the light of God's mercy and comfort for our souls. With light electric guitars and Scott's vocals once again delivering a gruff distinct sound a la Jason Roy; 'Sanctuary' is a nice end to an EP that is a tad quite short.
Overall: While still relatively new to the worship music album making scene compared to veterans like Paul Baloche or Chris Tomlin; after listening to this album, I'm sure people will agree that Scott England will be a certain standout in terms of worship artists in years to come. Full of enthusiasm and passion, Scott's 5 melodies are great to worship along to, both in the individual and corporate sense. A certain purchase if you are fan of modern worship bands and artists, from Kari Jobe, to Chris Tomlin and Meredith Andrews; Scott's music is a joy to anyone who needs comfort or just wants to listen to music that'll uplift and encourage. Arguably one of my favourite EP's within the last few months alongside The Sonflowerz's Love Walked In, Scott ought to be commended for such a compelling and encouraging album.
RIYL: Kari Jobe, Chris Tomlin, Building 429, Nathan Tasker, Meredith Andrews
Buy the Album: iTunes/Amazon mp3