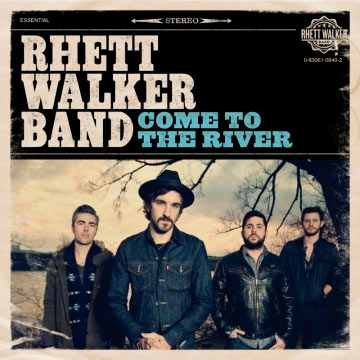 Artist: Rhett Walker Band
Title: Come to the River
Label: Essential Records
Release Date: 7/10/12
Reviewer: Jonathan Andre
Tracklisting:
Gonna Be Alright
Come to the River
Make Me New
When Mercy Found Me
Get Up, Get Out
All I Need
Brother
Can't Break Me
Vessel
Singing Stone
If you would've told me a month ago that I would be reviewing Rhett Walker Band and giving it a decent score, enjoying the album as a whole; I would probably just laugh and say something like 'It's pretty country, I don't think I'll want to do that!'. But when Jesus Freak Hideout offered a free listening party on their website a week before the release of Come to the River, I thought, 'Why don't I just listen; and I'll see!'. What resulted was a mind-blowing experience that shattered my preconceptions out of the water as I faced my assumptions; with what turned into an advocating of this band out of Nashville, Tennessee. Releasing their album on July 10th, 2012; each of these 10 songs speak about an aspect of lead singer Rhett Walker Canipe's life, and how God continually weaves through each event in our lives for His fame and our good. Full of guitars and southern rock goodness akin to both Third Day and needtobreathe, Come to the River is an album that has helped me soften my judging spirit towards any music that's different to the highly publicised CCM, especially country. From ballad melodies like 'When Mercy Found Me' to feet-stomping hand-clapping rocking tunes 'Can't Break Me' and 'Make Me New'; these men from Nashville have made an impact in Christian music that is certain to last for a while yet, maybe earning them a Dove Award nomination for New Artist for next year!
'Gonna Be Alright' starts off the album in rocking fashion with a riveting guitar introduction as Rhett delivers his remarks that '…the sun will set, the sun will rise but it seems I'm mainly getting by with a crushing weight that I keep piling on…', giving listeners an ally in terms of what we feel during the moments in life where we are left wondering about now and the future. With a strong vocal, Rhett delivers a comforting word, urging listeners that '…with You, it's gonna be alright…', providing the hope needed to grind through the days as we keep pressing forward to the prize of eternal glory. The technique of introducing the electric guitars from the start and then fading into acoustics as the listener is pulled into the song is one that is to be commended, as I reflect upon this hope-lifter, showing listeners that our lives are enhanced exponentially with Christ. 'Come to the River' soon follows and immediately feels like a southern Gospel 'around the campfire' melody, full of acoustic guitars, feet-stomping and hand-clapping; as Rhett offers us an invitation (with the chorus sung from God's point of view) to '…come to the river, oh, lay yourself down, let your heart be found…', showing us the endless supply of God's unending grace that He's willing and able to pour out to our souls. Sounding similar to Mike Weaver of Big Daddy Weave, Rhett Walker introduces his country-southern style into a track about laying ourselves at God's feet, so that we can '…thirst no more…' Well done Rhett for creating one of my favourite tracks on the album!
'All I Need', 'Brother' and 'Make Me New' are all standouts on an album filled with a variety of genres, from slow ballads to rocking melodies, each with a country flavour as these Tennessee men inject a unique gospel flavour into a CCM industry in desperate need of some uniqueness and originality. 'All I Need' is a heartfelt plea from a broken sinner, showing the scars as contemplation kicks in, understanding that '…the storms roll on and where I am, it does not feel safe, I don't know what I should even pray, but here I am, here my hands are laid…' As listeners listen to this melody of hope filled with a drum kick and guitars worthy to send this track into my favourite on the album; Rhett Walker gives me one of his most emotional vocal arrangements as we are met with assurance and peace as he proclaims '…all I need is You…' 'Make Me New', originally on X 2012, starts off like any Fireflight song as Rhett speaks about the mundaneness of life and how '…it's just another day I have to make it through alive…' Relating to almost every listener, Rhett proclaims that it is Christ that makes us whole and new as we continue to dwell in His presence, finding the balance between every-day life and the God-given potential burning inside of our souls. However, it is the melody of 'Brother' that really stands out as Rhett performs a well-constructed duet with All Sons and Daughters frontman, David Leonard. Reminding us all that we are all in need of God's grace, we are met with a reality that '…brother don't you know, we're all just beggars and thieves, in need of the very same grace…', making us throw away all our judgements as we are faced with the true statement that we are no less different than a CEO or a homeless man, each having the same needs of love, acceptance, belonging and longing to forgive and be forgiven. Full of banjos, slider guitars and light percussion, 'Brother' is a song of redemption as we realise our fallen nature and understand how much we need Christ!
Both 'Get Up, Get Out' and 'Can't Break Me' are filled with plenty of guitars and reverb for the rocker within us as we release the convicted spirit within. 'Get Up, Get Out' speaks about how we ought to stand up for our faith as we declare that '…I won't be caged to the status quo. I'm not afraid to stand and say what people won't…' A very confronting yet equally convicting song, Rhett shares his heart that '…I'm headed to conquer. I want this to be a movement. We have all these other people in the world with non-Christian beliefs that aren't scared to speak their minds. They don't hide behind anything; neither should Christians…' 'Can't Break Me' runs in a similar theme with standing up for our beliefs, even when the devil tries to come against us and tries to pull us down in our daily walk with Christ. As we stand firm in the assertion that '…you can come against me but you won't get far…cause you can't break me…', we are able to concentrate on God's love, giving us all the confidence we need to continue this road to eternal glory. Finally, my favourite song and first single on the album, 'When Mercy Found Me' is Rhett's life story as he shares at how Christ made Himself known to the 17 year old when '…My girlfriend's having a baby, and I have no job…' With the song highlighting how in the darkness, Christ is certain to come and put the pieces together; we are reminded not to lose hope even in the hopeless of situations. As Rhett's life is a testimony to God's grace, we ought to stand firm in the promise God '…who began the good work within you, will continue his work until it is finally finished on the day when Christ Jesus returns…' (Philippians 1:6 NLT) Well done Rhett for such a motivating musical moment!
Overall: The line in 'Singing Stone', '…You give life and breath to the singing stone…' reminds me of God's awesome power, and that if He weren't singing His praise, the rocks most certainly will. As I leave the album with this reminder, I am able to sit back and be thankful that I didn't listen to my initial thought about how this album would be, because what I listened to was so much better. Though country isn't really my favourite genre of music, the Rhett Walker Band have utilised the style to create a message of salvation, giving a unique new style of worship and praise, not recently brought to the CCM market (except for Third Day and needtobreathe!) Well done Rhett Walker Band for such an enjoyable and thought provoking album!
RIYL: MercyMe, Third Day, Fireflight, needtobreathe
Buy the Album: iTunes/Amazon mp3