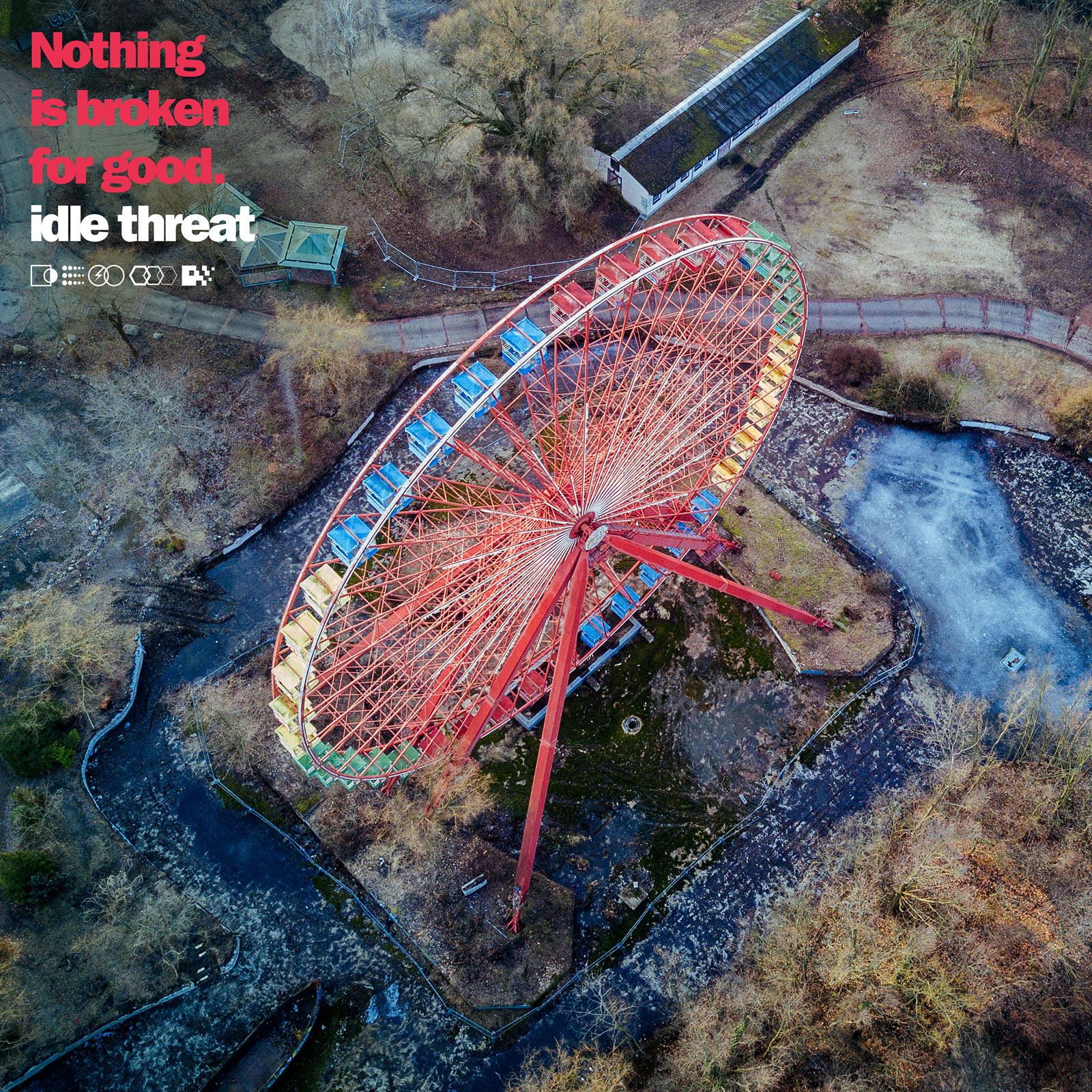 Nashville, Tennessee's Spirit Filled Post Hardcore act, Idle Threat, have finally released their much anticipated label debut "Nothing Is Broken For Good" on Tooth & Nail to much elation. Full of passion, heart, and faith, this ep comes off as a continuation of where their debut 2016 ep self release "Grown Tired" left off. If you haven't heard that ep, I highly recommend. It's currently available for a "Name Your Price" at their bandcamp page.
While unsure if these gents planned a "concept" album, this ep begins with a somber, ambient one minute and forty second intro "Nothing Lasts Forever" which lyrically sounds like a precursor to a tragic tale of fear and concern. "Not every question leads to an answer. Not every person needs their cancer." The track ends with a drum beat leading into the beginning of a redone version of 2018's single, "Empty House".
Musically and lyrically this is a wonderful transition. It appears as our protagonist in this seemingly tragic tale has become "broken" as the track begins "I started talking to God last night in the same way you would a friend. I told Him how I feel hopeless and lost and how my pain will never end." The lyrics continue of sorrow leading to "But I heard you whispering that, "This is not your home." This is not my home. All I keep as gold will rot away like every bone inside of me (Not my home) You are all my hope."
These lyrics bring to mind scripture from 1 Kings 19 where Elijah went and hid after slaying the prophets of Baal for fear of his life. In verse 12 he then heard the Lord speak "a still small voice." I am also reminded of Romans 12:2 "And be not conformed to this world" as well as Matthew 6:19 "Lay not up for yourselves treasures upon earth, where moth and rust doth corrupt…."
"Restore / Repair" then continues the story which lyrically sounds like a prayer for healing, "Pray restoration". Musically reminds me of Trainwreck era Boys Night Out.
"Throwing Stones" is such a lyrically beatiful song speaking about sin, missing the mark, hamartia, and how Christ continues to call us with open arms regardless. Our protagonist then states, "One of these days I'll listen."
The recent single release "Cement" continues lyrically to show that the subject of this tale still is struggling with forgiveness of self for whatever sins they may have committed as they may have not ever come to Christ prior to the tragedy playing out.  The lyrics at the end, "Death's at the end of it's road, the veil that once was sewn now frayed and torn at the end a fraction of the whole. If our lives are surely borrowed the seeds that we have sown once loaned for us to spend now worth their weight in gold." brings to mind verses Matthew 27:51 "And, behold, the veil of the temple was rent in twain from the top to the bottom…." and Matthew 6:20 "But lay up for yourselves treasures in heaven…."
The final track, "Ungrateful (Nothing Is Broken For Good)" has our character coming to terms with the error of their ways and the realization that our lives are not our own 1 Corinthians 6:20 "For ye are bought with a price…" as the lyrics close to the end state, "All the blood I have is borrowed and my existence is a gift. I don't want to die ungrateful." The song then ends just as the ep began with a somber, ambient outro and our protagonist stating "Not every trial ends in failure. Not every fire burns forever."
Overall: Musically this ep will appeal to fans of post-hardcore, screamo, and ambient rock. FFO: My Epic, Arms For Elephants, Paperweight, Household, and Trainwreck-era Boy's Night Out.
Lyrically, Idle Threat. have been blessed with their talent and are using them for God's glory telling a tale that there is redemption through Christ no matter how broken one is. He is always there waiting. Matthew 20:16 "So the last shall be first, and the first last…."