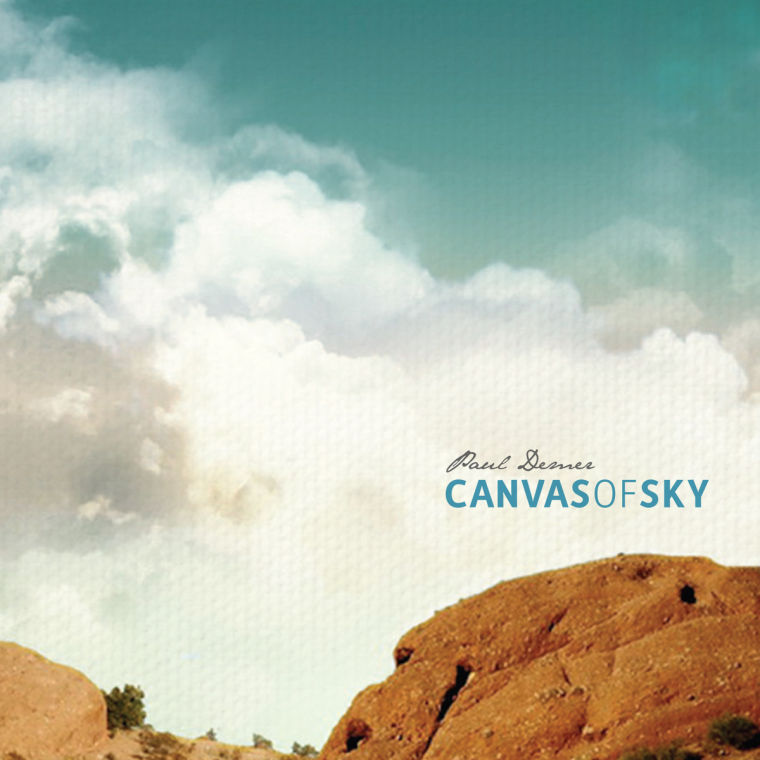 Artist: Paul Demer
Title: Canvas of Sky
Label: None
Release Date: 6/10/14
Reviewer: Cimarron Hatch
Buy The Album: iTunes / Bandcamp
Tracklisting:
Bound for Home
Soaring
Neutrino
Suspension
Open Your Eyes
The Window
Birthday
Constant
Maybe All Is Not Lost
Run
Paul Demer, from Arlington, TX, is a 21-year-old singer-songwriter with a lot of experience. Canvas of Sky is his first solo full-length album and it's the followup to his 2011 acoustic EP, Barks of Yore. Canvas of Sky is quite different from that EP, because it could be considered a full band release—except that Paul played all of the various instruments himself. The consistent theme of the album is letting go and living without worry, which I'm sure a lot of people can connect with.
Kicking things off is "Bound for Home," an upbeat track about how every day we are promised that Heaven is real. The guitar riff that goes through the song is nice; like a scale descending from above. Next is "Soaring," which was the first single released from the album last year. This song is the most detailed about the album theme of letting go. It's primarily acoustic guitar with piano in the background, but it's a full and encouraging instrumentation. An especially beautiful part of the song is the bridge's lyrics: "Wings open / And hearts wide / The time is now." After that, "Neutrino," deals with the topic of trying to find something material or inanimate to fill a void inside, but realizing that God is really what's necessary. The track is complete with a great guitar solo. "Suspension" has an interesting calypso type beat, and I love how over that beat the vocals are just a fluid line floating together effortlessly rather than sounding choppy.
"Open Your Eyes" has lyrics to encourage someone that things will get better for them. The repeated "open your eyes" falsetto vocal runs toward the end of the song are perfect; the notes are just right to convey the emotion. The song also has some guitar riffs that remind me of Abandon Kansas's "Turn It To Gold." Next, "The Window" has a very Deas Vail, Copeland, indie rock sound to it. Something I really love about this song is the tiny drum bridge about halfway through—the little details like that are what make these songs so special. "Birthday," to me, is something of an intermission because of how it's a soft acoustic guitar and vocal track that contrasts with the other songs. It could be considered a bit of a lullaby because it's like listening to the personal, rolling thoughts you have just before falling asleep. It's very real.
The album's current single, "Constant," has some high guitar riffs that keep going through the entire song, which pull it all together. Then the chorus has an interesting sound like swirling wind. Unexpectedly, a sequence of beats comes in at the end, which actually really works coming out of the otherwise fairly subdued instrumentation. "Maybe All Is Not Lost" is about how God is in control and working in lives. There are some nice harmonies with Cynthia Thorne included. The song has a reminiscent sound like a traditional album closer—but it's not the closer. After we wind down, we wake back up with "Run." This particular song gets a 5 star rating from me. It has awesome guitar riffs, whoa-ohs, and a danceable beat. There is no way to keep from tapping your foot or shaking your head to this music. It's the perfect anthem to declare that we need to start living without fear and taking any chance we have: "We run into the same old walls, / And nothing's gonna break our fall / Unless we take a leap of faith and drop these false pretenses / We will run but never move at all." The way the song pauses right at the start of the second verse is magical. Then it jumps back in with even more force and relatable lyrics than before: "When we were young / We took all chances, / We ran and burned and tried." I'm sure this track will be a hit in the time to come.
Overall: Canvas of Sky is an incredibly strong release from Paul Demer. There are just so many different elements that make it enjoyable. The songwriting is honest and feels personal, which shows that the artist is sincere. The instrumentation complements each song perfectly; it's amazing how a certain sound can create specific emotions to go along with the lyrics. The songs all bring messages full of hope and even excitement for the future. What we are left with when the album is done is a sense of peace and anticipation. I highly recommend checking out this release.
Score: 4.5/5