Album Review :
Of Eyes That See - Empty Shadows EP
By Christian S. in Reviews | Comments closed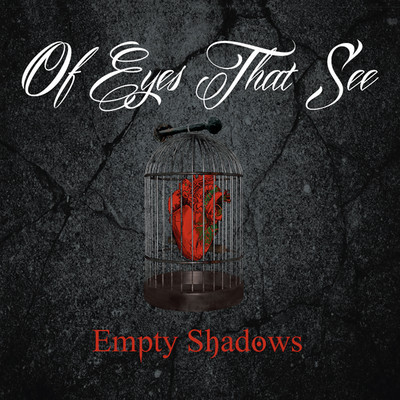 Artist: Of Eyes That See
Title: Empty Shadows EP
Label: Unsigned
Release Date: 1/15/13
Reviewer: Christian S.
Tracklisting:
1. Breathe Again
2. Damage
3. Empty Shadows
4. Haunting Me
5. Serenity (Feat. Joel Piper)
I thought I grew out of the modern rock scene when I was about thirteen. I thought bands like Breaking Benjamin, Evanescence and Decyfer Down were the coolest, but a lot of it started to feel dated when nu-metal and similar heavy styles when out of style. I've recently discovered a young band from Southern California that not only takes me back to those good old days, but does so in a good way; without making me roll my eyes in recognition.
Of Eyes That See is a rock band from So Cal specializing in female fronted heavy rock in the vein of Evanescance and Flyleaf. Vocalist Tiffany Sinko started the band in 2012 when she was only fifteen, and after her cousin and some of his friends joined up to complete the line-up, they gave us Empty Shadows in early 2013. For such a young band, the EP is remarkably mature, especially vocally and lyrically. Sinko has a powerful, emotional voice and writes catchy but heartfelt hooks, drawing inspiration from the emotional hardships of her life. Throughout the EP I'm often reminded of other bands or singers (particularly Evanescence, Paramore, and their respective vocalists), but somehow the EP still manages to keep originality and replay value.
Breathe Again, the opening track, starts off heavy with an intro featuring dropped tuned guitars and harmonics before dropping off into a brooding verse where Sinko sings, "Miserable, numb from pain / Stuck behind, I cannot gain / Is there no way out?" Tiffany wrote this song as an anthem of hope after going through a hard time in her life, and it succesfully contrasts the transition from despair to hope. The chorus is one of the catchiest moments on the record, showcasing Sinko's powerful voice and range: "We're falling into misery / Consumed by our inequities / We don't wanna live alone / So breathe Your life into our bones."
Damage gives off a sort of punk-rock vibe, mostly due to the sporadic drumming of Nick Giordano. Needless to say, there will be Paramore comparisons here, but then again, it's punk-rock, what do you expect? The somewhat chaotic drum parts keep me riveted to this song, and I can't help but try to air-drum along (not very successfully, I might add). Lyrically Sinko focuses on getting hurt in a relationship, and moving on, with lyrics like: "I blocked out the pain and all our mistakes, so I don't feel a thing, and all I can do is pray for something deeper to hold on to" and "I'd like to find my way back home, some walks you have to take alone. Don't need you by my side at all, I'm done, I'm moving on."
The title track, Empty Shadows, was written for a friend of Tiffany's who was fighting cancer. This is the most intense song on the EP both lyrically and musically. While every song on the record is inspired by a personal feeling or event, this is the only track not stuck in the first person; she wrote it not as a release of pain or a message of hope to herself, but to someone else. The lyrics "Too weak to move, too tired to speak / Is there someone who can set you free? / Take the pain from deep inside / I know one day you'll be alright" really pull on your heartstrings, especially if you've had any personal experience with the devastating effects of cancer. The bridge is the heaviest part of the EP, with the dropped tuned guitars chugging along to pounding drums underneath decidedly Phrygian melodies from both guitars and vocals.
The following song, titled Haunting Me, has a refreshingly positive sounding intro, until the verse starts with the lyrics, "I'm so disgusted with myself, I'll probably never leave this hell," leaving my hopes for something positive broken on the floor. This song bears the most resemblance to something from Evanescence's Fallen, and is one of the catchiest songs on the EP.
The final song, Serenity, returns that glimmer of hope for positivity that I lost on the last track. Sinko seems to go back and forth with her emotions on this record, because while two songs earlier she was singing "I'm done, I'm moving on," now she's singing, "Hold me tight, don't ever let me go, I'd rather fade and die than have to be alone." However, that's just the nature of the song; the conflict between two people who are in a breakup, but don't know whether to hold on or let go. Guest vocals are provided by Joel Piper (recording artist and guitarist for post-hardcore band Confide) who also produced the EP. His guest vocals are largely unnecessary, and seem a little forced. Still, it doesn't detract anything from the song, and the harmonies between Sinko and Piper during the bridge are highlights of the track.
Overall:
There's nothing particularly original or groundbreaking about Of Eyes To See, and often their music seems too dependent on the many similar groups that preceded them. Be that as it may, they've shown an impressive amount of chemistry and diligence for their age and time as a band, and have a solid EP to show for it. Every element of the EP, from the production to individual instruments, is executed competently, making for an enjoyable listen.
RIYL: Evanescence, Paramore, Flyleaf, Fireflight, Skillet