Album Review :
Not One Is Upright - God Is Not A Watchmaker And The World Is Not Ticking
By Joshua Clark in Reviews | Comments closed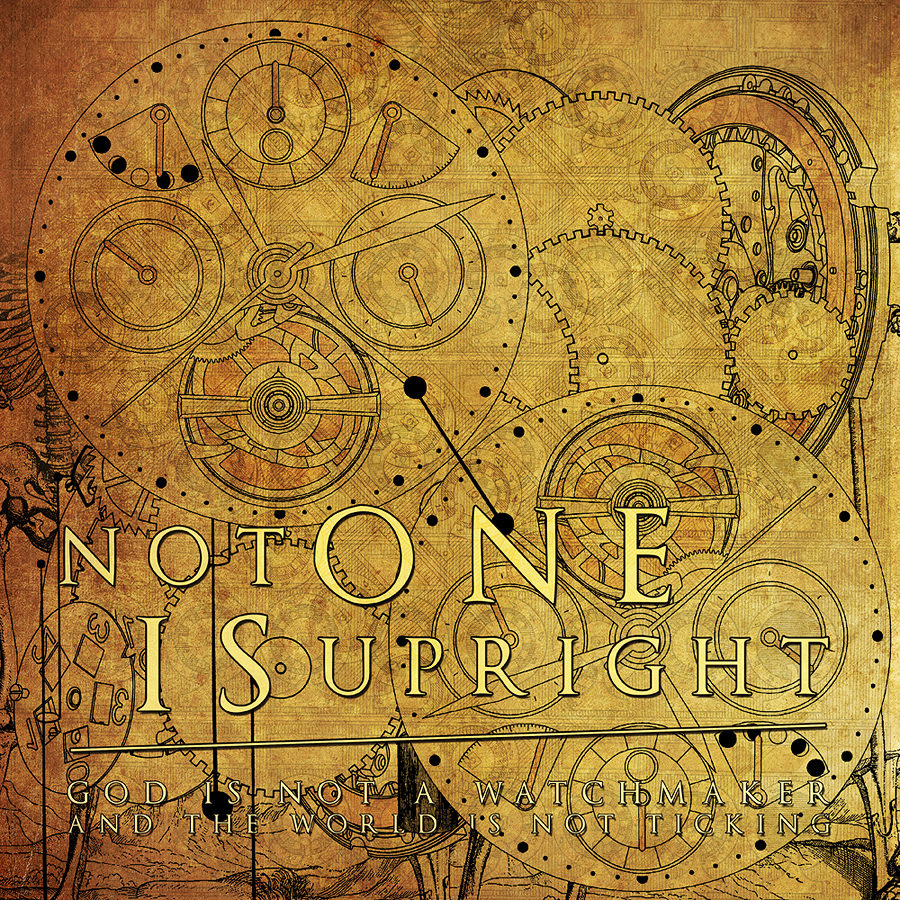 Band: Not One Is Upright
Title: God Is Not A Watchmaker And The World Is Not Ticking
Label: Red Cord Records
Release Date: May 3rd 2011 (Digital)
Reviewer: Joshua Clark
Tracklisting:
The Mental Propensities of Phineas Gage
Wake Up, #37, Wake Up
So I Asked The Gatekeeper
Where There Is Shame, There Is Fear
Unrefined, My Paradigm
The State vs. The Librarian
Axes and Owl Eyes
The Watchmaker
Aren't You Very Afraid?
No, I'm Full Of Joy
Not One Is Upright is a five-piece metal act out of Grayson, Kentucky. They are releasing their brand of heavy music with their first full-length record off of Red Cord Records.
Musically, these guys are pretty strong, especially for their first full-length project. I particularly liked the guitars on this album; there was a fair amount of interesting riffs that grabbed my attention.  The band is fairly experimental compared to other metal bands out there and they try to mix in some new things instead of just rehashing the standard metal sound we are use to.  In a way they reminded me of the Chariot and Norma Jean with how they deliver their music. They have a bit of that chaotic/spontaneous heavy sound that both of those bands do so well. But a nice contrast to the chaotic music, Not One Is Upright has some more laid back melodic musical breaks within the chaos presented in their songs. In a way it breaks up the momentum they had going, but it helps give the songs some variety; or a much needed break for those who don't typically listen to this style of music. But the guys mix multiple genres into their music to keep things interesting, as well as deliver a very enjoyable sound.
Lead vocalist Graham Skaggs, sports some solid pipes that go hand in hand with the chaotic music they play. He reminds me of a combo of Micah Kinard from Oh Sleeper and Cory Brandon from Norma Jean; which in my book is some good vocalists to be compared to. He has a nice variety of screams from high squeals to some more intense throaty growls. There are also some spoken vocal parts sprinkled throughout some of the songs. These parts make a nice change from the constant throat shredding and overall this works well with the bands sound.  But no matter what Skaggs is doing, he is giving his all with a ton of emotion and passion.  You can tell this passion comes from the bands love of Christ. The subjects touched upon in their lyrics show the commitment and love they have towards God. This comes through both in a straightforward delivery of the need for Christ in our lives in the lyrics and the guys also have some pretty creative lyrics to communicate this as well (they get their point across with a fair amount of metaphors). But either way they make it quite clear who their music is about and leave room for very little debate on that subject.
Overall: I enjoyed Not One Is Upright's debut God Is Not A Watchmaker and The World Is Not Ticking. I just felt the album was over a little too fast and an additional song or two was needed for me to completely get my fill. Clocking in at about 34 minutes, the guys do however bring the heat for the whole runtime of this album and wrap up this brief record quite nicely.  Not One Is Upright plays some very solid metal and adds some variety into what can be a rather stagnant genre at times. Sure it's not changing the way we look at metal, but I give them a ton a credit for trying something different and pulling it off pretty well.I highly suggest this album for any fans of Norma Jean, The Chariot, or lovers of heavy music in general.These guys make a fine addition to Red Cord and will feel right at home on Red the labels already very strong lineup. Not One Is Upright displays a great deal of talent on this album and shows a lot of promise for the future.