Album Review :
No Punk Influences - Fight Within
By Scott Swan in Reviews | Comments closed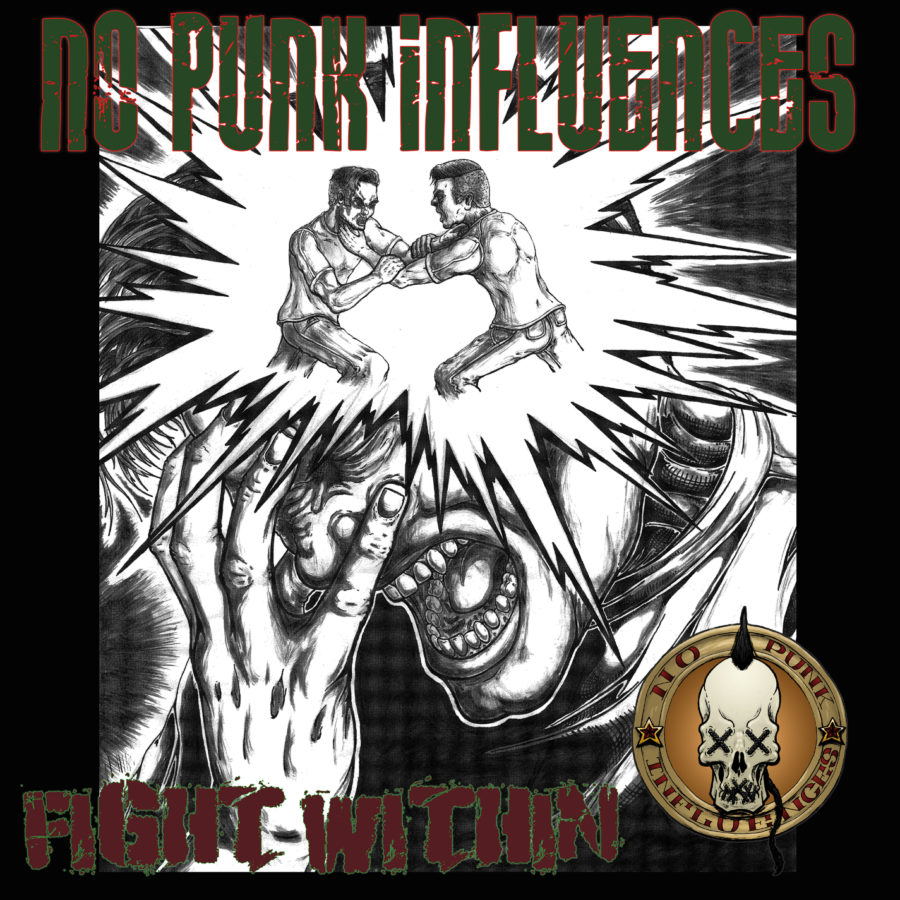 Artist: No Punk Influences
Title: Fight Within
Label: Thumper Punk Records
Release Date: 04/08/14
Reviewer: Scott Swan
Tracklisting:
More Than Conquerors

One by One
Evil Dead
Smash Hit
Dead to Sin
Lost
Pull Us Through
Materialism
So Selfish
Turn Our Backs
Seek and Find
"You'll likely not find any of our bands on the Billboard charts or walking the red carpet, but you will find them reaching out to those in need of hope."
This statement from the home page on the Thumper Punk website kind of says it all. A group of bands that aren't it in for the spoils of this world, but with a much different goal in mind. With that reference point, it's easy to see where the recently signed punk group No Punk Influences fits in, with their newest release "Fight Within." The old school sound and production will be a delight to anyone who desires a simple, raw passion mixed with uncomplicated, stirring punk grooves.
The sound on this album is nearly like a live recorded album, and it seems the band plays off that fact by announcing at the beginning of "More Than Conquerers", "We're No Punk Influences from Monmouth, Ill!" as if they're taking the stage for the evening. The rhythm section is loose and gritty. The vocals from Loudmouth LaVal are on point and really a driving force on the tracks. Belting out encouraging lyrics such as: "Negative thoughts can throw us to the ground/when the world says we can't. Our enemies look for every chance to discourage us/But we won't let them get to us. We will persevere, knowing God works for the good of those that He has called."
"Fight Within" deals with themes that many of us battle on a daily basis: materialism, wrestling with sin, selfishness, failure, and evil influences, to name a few. However, all these issues are tackled through the perspective of knowing that God is with us and victory is promised. Lyrically, the tunes are well crafted.
As to be expected with a punk album, this is a very short record. Coming in at just over nineteen minutes, the good news is you can listen to the whole piece without it growing tiresome. Some might find the production quality lacking on "Fight Within" and I would understand and accept that. However, you are not listening to a punk record for a polished sound or a tightly produced record. You love it because of what it is; simple, DIY with a moving message. Case in point, this following verse from the tune "Materialism.""Society's always telling you what you're worth/That you won't be happy unless you buy some more/They say the key to happiness is buying expensive things/but emptiness inside is all this will bring."
Overall: This record is a great little pick-me-up. It's like a shot of musical espresso to get your thoughts positive and your heart turned toward God. Perhaps the overall quality of the production could be a little better, but the passion and love for what they do comes across crystal clear. If their mission is to use their love and passion of music to spread the Good News through punk rock, consider this record: mission accomplished.
RIYL: Ambassadors of Shalom, False Idle, Platoon 1170, True Liberty