Album Review :
Needtobreathe - Live From Austin City Limits
By Jonathan Andre in Reviews | Comments closed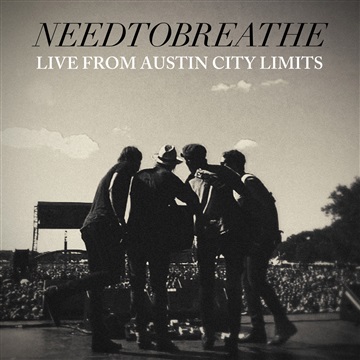 Artist: Needtobreathe
Title: Live From Austin City Limits
Label: Atlantic Records
Release Date: 2/27/14
Reviewer: Jonathan Andre
Tracklisting:
Devil's Been Talkin'
Difference Maker
More Time
Keep Your Eyes Open
Since their first album release Daylight in 2006, needtobreathe has been garnering success after success with every song and album release gone by, signing to major mainstream label Atlantic Records since their critically acclaimed debut album with hit songs like 'You are Here' and 'Daylight'. Having the uncannily ability to combine faith and relationship messages in their song material as they appeal to both the Christian and mainstream markets, needtobreathe seem to be following in the footsteps of celebrated artists Switchfoot with the release of their latest studio album The Reckoning, released in 2011. From their powerhouse hit 'Drive All Night' to the uplifting, yet somewhat unsettling and hopefully motivating 'Keep Your Eyes Open', needtobreathe continue to break down the boundary between Christian and mainstream music. Giving us songs and albums in a southern country-rock style with Bear Rinehart's gruff voice a quality that will set needtobreathe apart from other popular bands at the moment; the multi-Dove Award winning South Carolina band is readying up to release their 5th studio album Rivers in the Wasteland, due out in April 2014. To see the fans until then, their free EP from noisetrade Live from Austin City Limits gives us a snapshot, of some of their hits from their most recent released album, an up and coming song, destined to be a fan favourite in months to come, and a lesser known track to the casual fan, reminding listeners of what they love about the band. While I must admit I haven't really been much of an avid needtobreathe fan to begin with, what I have listened to, I have enjoyed, and this EP, whether heard by die-hard fans, or the occasional listener of their music, I'm certain that after these tracks, those who hear it will be just as anticipated as long-time fans from the beginning about their forthcoming album. From their popular radio single 'Keep Your Eyes Open', to their current promotional single 'Difference Maker'; these 3 men from South Carolina continue to show us what great music is, and how a band can place their faith within the mainstream community and influence listeners to give them hope that '…we're all strangers passing through, place and time, afternoon, life is but a vision in a window that we're peeking through…' ('Difference Maker').
While only four songs long, this free download from noisetrade is enough for listeners who have barely listened to needtobreathe before, to hear some really great music in a live setting (and needtobreathe are just as great live, as they are in the studio). 'More Time', from the 2008 album The Heat, may not necessarily be that known to many listeners who know needtobreathe and their music, but it is one of the songs throughout their career that they've played great live, and while it wasn't necessarily a great big hit on their studio album, the song still speaks volumes, telling a story of a persona talking to other, maybe a spouse or a friend, asking them to hold on and wait, needing more time before the venture with them begins. Imagination and speculation can run wild with this song, and lyric meanings can be endless, but as a whole, this song talks about patience, and the need for it in parts of our life where we can't see what lies ahead. As I am personally reminded through this song that even God can declare to us that He needs 'more time' as we worry about this pressing issue or that, I am confident that God's timing will always be perfect, and that trusting that everything that happens will be weaved by God to create something beautiful is something I ought to hold onto when facing this life. A motivational song only increases in such when presented across a live backdrop, and with acoustic guitar in hand and a crowd to sing along with, Bear Rinehart emotionally cries out about a topic we always need more of- time.
'Devil's Been Talking', a song that challenges us to see if we have been listening to the lies of the devil when we've been trekking through life, is one to be a needtobreathe classic, especially live. As Bear cries out '…hangin' on by a thread, life it hasn't left me yet, but I won't forget, the devil's been talkin'…', I myself am reminded that in my own life, there is a constant battle, between right and wrong, truth and lies, uncertainty and certainty, hope and despair, and even though we as Christians are committed to Christ, it still doesn't mean that we are immune to the plans the devil has for us. Each one of us has struggles, which is what 'Devil's Been Talking' is about- and sung live with the crowd, acoustics, and Bear's distinct and powerful voice, I am able to rest in the fact that despite the devil talking to us each day, the power of Christ in us is far greater and bigger than anything else that comes against us in this life. A great song to tap your feet to, but also one that makes a serious effort to bring to us a theme of struggle and battle in a life where the end result of being in Christ is worth everything that precedes it; needtobreathe continue to bring forth their best with both 'Keep Your Eyes Open', a song that gives listeners courage to take steps into the unknown, and 'Difference Maker', a melody where Bear gives us courage to make a difference in the world we live in. Both songs excel in the live setting, and the layered instruments, together with Bear's powerful voice, continue to assert my opinion that, while they started out as a Christian southern rock band, are now starting to become a formidable force within both the Christian and mainstream music industries.
Overall: Needtobreathe's popularity has been increasing ever since its popular crossover hit 'Washed by the Water' when it released as a radio single in 2007. Having appeal to both Christian and mainstream music markets, this southern-influenced band has given listeners plenty of songs to ponder and reflect upon, as well as showing the band success in the form of numerous Dove Awards and nominations. With myself personally declaring needtobreathe to be within the same league musically and lyrically, with some other high profile artists like Newsboys, Third Day, Casting Crowns, David Crowder*Band (and more recently Crowder) and MercyMe; this high-profile band that recently went on the tour alongside Taylor Swift in 2011 will certainly be within both the Christian and mainstream industry in years to come. From 'Difference Maker' to 'Keep Your Eyes Open' and 'More Time', this is a must for anyone who is a needtobreathe fan, but also a must if you want to check out some uplifting music that reminds us of the central theme of love, hope, encouragement and faith in everything that we do. With this 4 track EP making me more excited for Rivers in the Wasteland when it comes around April 15th, Bear, Bo and Seth have created and captured their rawness and realness in these tracks, and will hopefully continue to do so in subsequent albums to come. Well done guys for such a powerful EP, and one that's certain to increase their fanbase as people hear these melodies, on noisetrade, Spotify and other online services.
RIYL: Switchfoot, Brooke Fraser, Third Day, Rhett Walker Band, Fiction Family
Buy the Album: noisetrade