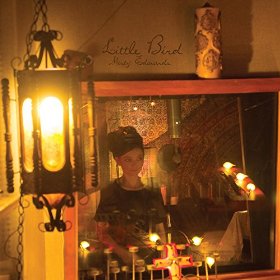 Artist: Misty Edwards
Title: Little Bird
Label: Forerunner Music
Release Date: December 29, 2014
Reviewer: Ian Zandi
Track Listing:
Womb of the Morning
Invisible One
Little Bird
Companion
Tightrope
Audience of One
Killing Me With Mercy
Sound of a Heart
Summer Girl
Mary, mary
Center of the Universe
Misty Edwards has been going to IHOP in Kansas City, KS for over 15 years now.  No, not the pancake restaurant (though maybe she has, I don't follow worship leader's eating habits). I am referring to the 24/7 worship center known as the International House of Prayer. Despite battles with cancer, Misty has persevered to release a number of inspirational worship albums that have been covered by churches around the world. Most notably, songs such as "You Won't Relent" and "My Soul Longs" have also been covered by the likes of Kim Walker and Jesus Culture.
Misty Edwards is taking this success and pursuing a different route with her latest album Little Bird. She explained her reasoning in a press release.
"The songs that came out of those seasons had a very repetitive chorus type of feel to them and a lot of corporate singing off very scripturally-based themes. Not only have a lot of my past albums been centered around corporate worship songs, but the last record was recorded in the corporate live setting. I never want to walk away from that, but worship and creativity under God is bigger than just corporate expression exclusively, and in my heart, I've always had a singer/songwriter side. This project focuses more on lyrics than choruses and is not as repetitive as I may have been in the past, which has been a really fun process for me as a writer. The fact is I became an artist very accidentally and it all just evolved naturally, but because the Lord gave me a chance, I'm going to strive to do it with excellence."
I respect that Misty recognizes the need for personal and corporate worship. While I like intimate artists such as Josh Garrels, Gungor, and John Mark Mcmillan, there are many occasions where the music of Passion, Chris Tomlin, and Hillsong would be better fitting.
Unlike the recent Chris Tomlin album, there is a good deal of variety in the songs that Edwards has written. From the bare bones of "Mary, Mary", the finger-snapping "Little Bird", the piano-driven "Womb of the Morning" and "Invisible One" which I liken to Phil Collins' "In the Air Tonight". I personally love the John Jonethis-esque lounge feel of the title track the most. Unfortunately, that is the only song that is truly in that same vein. However, I can't complain about the great diversity that is presented here.
Looking past the music itself, the lyrics are also very notable. They take a leap beyond the rather mundane typical lyrics of corporate worship. The lyrics from "Tightrope" depict the struggle of being stuck inbetween a rock and a hard place.
 Can't pretend that I am blind
Can't go back and erase the mind
Naivety and wide-eyed wonder are far from me
But at least now I see
It's like I'm walking on a tightrope
Stretched across the universe
Way too high to go back from where I came
Overwhelmed at the miles I've yet to tame
"Mary, Mary" is also a standout track for covering the topic of mercy and prostitution. Off of the top of my head, I cannot think of another major Christian CCM artist that deals with that theme or even utters the word "whore".
Bittered with shame, she hated that scarlet
But Mary, Mary, don't you know humanity lives your story
We're all the same, the cowards the whores
Forgiven much, we love all the more
The song length on Little Bird varies throughout. The tracks "Womb of the Morning" and "Little Bird" both clock in right around 2 minutes. This may be common for introductory tracks and segues between songs, but I don't think I have ever seen a title track get that treatment (except maybe on a punk rock record). The title track is one of my favorite songs on this record, so it is a shame that it couldn't be expanded slightly more. On the other end of the spectrum, there are a few songs that reach 5 and 7 minutes.
Overall: This is a solid album from Misty Edwards. I can definitely say that I did not expect the album to as intimate and diverse as it is. Though I might not suggest a purchase, I do say you should take a listen or two to see if you like it. At the very least, the title track will find its way into my library.
RIYL: Audrey Assad, Kim Walker, Jeremy Riddle, Jason Upton, John Mark Mcmillan