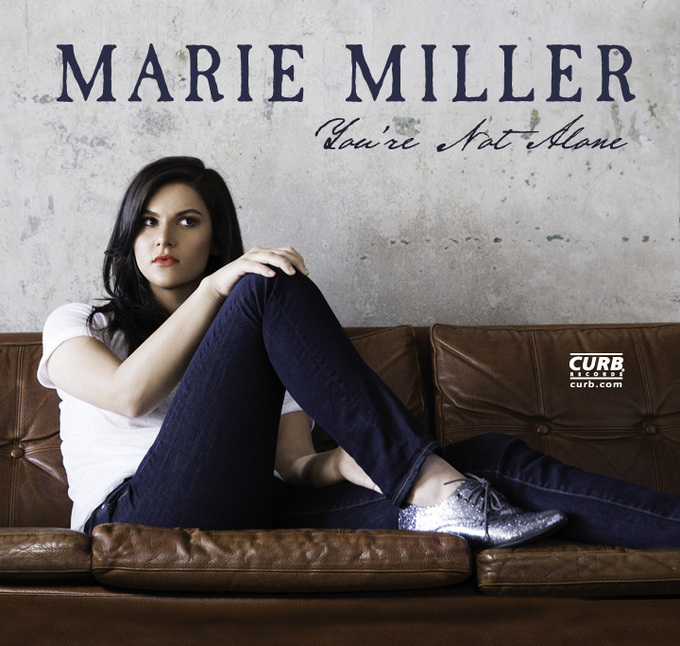 Artist: Marie Miller
Title: You're Not Alone EP
Label: Curb Records
Release Date: 10/15/13
Reviewer: Jonathan Andre
Tracklisting:
You're Not Alone
Such a Shame
Fall Alone
6-2
Unconscious
Curb Records has to be one of the most diverse labels within the Christian and mainstream music industries in my opinion. Home to artists like Natalie Grant, OBB, Plumb, Mikeschair, Selah, Tim McGraw, Wyonna, Michael English and LeAnn Rimes; Curb has diversified into the genres of Christian, Country, Pop, Rock, Instrumental and Jazz, and continues to deliver artists with heartfelt messages to say. While not necessarily the most popular label in the Christian market (with Capitol CMG, Provident and Word Label Group dominating an industry that continues to diversify their styles of music), Curb's underrated nature is one of the very reasons of my interest in new Curb Records artist Marie Miller, a folk/acoustic/CCM artist that has managed to cross the Christian/mainstream divide and have hits in both industries. Similar to needtobreathe, Skillet and Switchfoot, and to some extent TobyMac, Superchick and Jars of Clay (in how each of these artists have ministered to lovers of both Christian and mainstream music alike), Marie's acoustic music and heart to give listeners encouragement no matter their own faith is something that very few artists can do, and therefore widely appreciated for it. While some artists are called only to the CCM industry, others tend to cast their net wider, trying to reach a wider audience with their message of hope and living for something bigger than themselves. Marie Miller is one of these artists. With this EP delving into topics like helping people in need, relationships with significant others, as well as the benefits of friendship and camaraderie, Marie uses her folk/acoustic influences to infuse 5 songs that are some of the most genre-crossing melodies of the year, each of them providing a comfort and a motivation to many, whilst also weaving in her faith to remind us that '…you're not alone, you're not alone, you're not alone…' ('You're Not Alone').
Her first radio single since her 2011 Christian radio hit 'Make the Most of Me', 'You're Not Alone' is a fun pop orientated melody that encourages us to be the comfort and help to our fellow family, friends and neighbours as this energetic and emotional song becomes the most famous and recognised tune from Marie Miller ever. With this song having the ability to influence and encourage listeners of both Christian and mainstream music, Marie shares her own thoughts on this encouraging melody, reminding us all that '…as young people, we're so self-centred, and we don't really notice a lot of times when people are hurting. I thought, 'I want to write a battle cry for people to be aware of those around them who might be experiencing pain.'…' A song to bring hope to the listener who may be feeling down both in a physical, mental and spiritual way, Marie uses this bouncy song and fills it with a hard-hitting and powerful message of redemption, and knowing that we are not alone in this life. Being loved and being in community is a universal trait for each of us, and knowing through this acoustically driven heart-tugger that this is the case is sure to make even at least one listener feel loved and wanted. With Marie also being a multi-instrumentalist, playing the mandolin, guitar, piano and bouzouki, it is with all of these instruments that she brings the song to life, each enhancing the musical quality and enjoyability of a song that's, in my opinion, one of the biggest crossover hits of the year, alongside others like 'Sick of It', (Skillet), 'Love Alone is Worth the Fight' (Switchfoot), 'Sunshine' (superchick) and 'After the Fight' (Jars of Clay).
'Fall Alone' recounts Marie's obsession with a boy during high school who only saw her as a friend, and while the song may not necessarily have much to do with Christianity or to do with the Christian walk, it does however paint reality for a number of people who struggle throughout their lives, either because of unrequited love, or something else entirely, from loneliness to uncertainty about future events. And while the song on the surface doesn't offer up that much hope in the situation, with Marie singing across the acoustic strums, asking the question of '…will I ever stop falling? Will I ever find a place to land?…', we are reminded by the additional lines of her yearning for her heart to be awakened that it is only the God of all creation that can make our restless hearts become easy, our hurting hearts become whole, and our obsessive hearts rest in Him. '6-2' further journeys on the earthly relationship path, with Marie singing in a touch-in-cheek way about what her ideal boyfriend/husband would be, and that '6-2' refers to the specific height. A reminder for myself at least to think about and pray for my own future spouse, and to ask the Lord to continue making me more Christ-like as I seek out my life partner; '6-2' is a dive into a style of singing that I myself am not necessarily that familiar with- singing about relationships isn't necessarily my first choice of song, but rather worship, singing about life or CCM songs on the radio would be my first port of call. Nevertheless, Marie encourages us all to pray '…for somebody I've never seen, and I don't care what [they look]…like, as long as [they love]…me…', which is something all of us single individuals should do if we care about our married life.
The EP rounds out its 5 tracks with 'Such a Shame', an electric guitar country style melody about Marie declaring that '…life's unfair, I'm here, you're there, and it's such a shame…', possibly caring about a friend who isn't where she is; and 'Unconscious', a heartfelt melody that Marie describes as being poignant in that the song is a reminder of the pain in this world and the choice we have to make in response to it. As Marie offers up her own wisdom, of how '…we all walk around with our eyes closed. The world is so beautiful and wonderful. It also has a lot of pain that we also close our eyes to, instead of reaching out to help. It's basically a call to awareness of beauty…', I myself am reminded of the story in the bible where Jesus healed a blind man by placing dirt on his eyes. A song that encourages us to be awakened and not unconscious to life, both the good and bad parts; Marie invites us into a moment of God speaking, and us comprehending that '…life can't begin unconscious…' One of my favourites on the album, 'Unconscious' is my tip for the second radio single for Marie. Well done Marie for such a powerful and hopefully life-altering song to many.
Overall: Marie's first EP of hopefully many is certainly a bright spot for anyone who loves folk/acoustic/pop, with a Christian/faith edge to it. With her vocals reminding me a little like other artists like Rebecca St. James, Carrie Underwood or Nichole Nordeman, Marie's joyous singing and acoustic guitar strums are able to carry the album as each of these 5 melodies remind us of life, faith, God and the journey towards us living a life of worship. A great job for Curb to expand their artist roster (with new artists OBB and Marie Miller joining the label), this EP has increased my interest and eagerness to listen to her full-length album whenever it releases. Well done Marie for such a heartfelt and compelling EP, and one of the artists that I'm tipping will become a crossover success in 2014 (more so that in 2013)!
RIYL: Carrie Underwood, Nichole Nordeman, Jason Gray, Rebecca St. James, needtobreathe
Buy the Album: iTunes/Amazon mp3