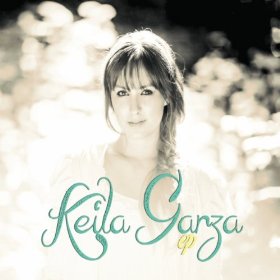 Artist: Keila Garza
Title: Keila Garza EP
Label: independent
Release Date: 9/10/13
Reviewer: Jonathan Andre
Tracklisting:
In Your Hands
A Mi Corazon Tranquilzaras
You Are My Everything
Hold On
Love Is Here
Soon
2013 seems to be the year of new artists, as well as the year of the beloved EP (and at times, new artists who release EP's to start off their music career). From 1 Girl Nation, Love And the Outcome, City Harbor, Tim Timmons, Colton Dixon, Capital Kings and Finding Favour; this year has been filled with great music from bands and artists that have been just starting out- while on the other end of the spectrum, EP's have also been the trend these days, with artists like The Sonflowerz, Vertical Church Band, Unspoken, August Rain, Ryan Stevenson, Gabi DiPace and Jason Gray all feeling like it's time to release new material again, but not to the point of a new album, but rather, releasing a few songs to form a collection that presents to listeners tracks that these artists have been mulling over for a while. Enter in Keila Garza, an artist who fits both criteria- a new artist who has released an EP as the first album to launch her music career with. With so many EP's out there in 2013, let alone new artists, it can be a little daunting when another album comes along (that satisfies the criteria of one, if not both of these two groups). While I was hesitant to listen to Keila (initially thinking whether it would've mattered if I heard it or not- there's too much new artists and EP's out there as it is); I was and am so glad I did listen- Keila's EP is such a poignant and compelling EP, and a joy for anyone who does listen. With the musical backdrop on this EP similar to something that Kari Jobe or Plumb would do, Keila's original tracks (as well as a Spanish recording of Kari Jobe's 'Steady My Heart') are a gem to hear, with the acoustic pop flair and atmosphere provides us with a unique and enjoyable musical setting, compared to the mainstream pop that's on mainstream radio at the moment. While I must admit I've been rating 4/5's for a fair few of the album reviews I've posted lately (in my defence, they were great albums); Keila's EP deserves no less than a 4. While not a perfect 5, my enjoyability of this EP is one of my highest since EP's from The Sonflowerz and Finding Favour. From acoustics to pop ballads and upbeat melodies, Keila, whenever she is signed (it's only a matter of time), will do great in the music industry, and just like Scott England, Keila will certainly be a primary force within the CCM and worship industry, hopefully in the months and years ahead.
'You Are My Everything' is one of my favourite songs on the EP, and for me personally, a standout track that will certainly be a favourite amongst fans of Keila. Starting off with a light electric guitar riff, reminding me of something that Stu G would do, Keila provides a strong Latin American flavour, not only in this song, but in a few of the others, as she uses her Spanish heritage to incorporate unique musical styles in the melodies. As Keila professes to God that He is her everything, we are met with an encouragement and hopefully a catalyst for change as we ourselves evaluate whether God is indeed our everything, '…above all that I can see…'; and if not, what needs to happen so that we can grasp fully His unconditional love for each of us. Standing at 3 minutes 13 seconds, this albeit short track speaks volumes when it comes to Latin infused worship, a style used not heavily but just the right amount throughout these tracks. Also showing us that language is no barrier, Keila shows off her Spanish speaking and singing skills to deliver a song that we all have been familiar with if you've heard K-Love recently. With Kari Jobe recording a whole Spanish version of her 2012 album Where I Find You, Keila shows her appreciation of worship artists through her cover of the Spanish version of 'Steady My Heart', titled 'A Mi Corazon Tranquilzaras'. Reminding us that God still steadies our hearts and lets us know that whatever hurt and hard times we travel through are used by God to shape us into who God created us to be; Keila's version of this well beloved melody (regardless of whether it is English or Spanish) is again another great highlight on an EP that continues to flow from strength to strength as we are reminded, both through the English and Spanish versions, that '…I'm not gonna worry, I know that You've got me, right here in the palm of Your hand…' Well done Keila, for both the Spanish version of 'Steady My Heart', as well as 'You Are My Everything'.
'In Your Hands' starts off the EP with a guitar driven solo to bring listeners over the line from inquisitive to definitely interested as we hear a 3 minute rock anthem about how we trust God with every detail of our lives because '…You've got me in Your hands…', and while the song can still feel on the short side; the hard-hitting message of it is a perfect way to start off an EP, both musically and lyrically. Also upbeat, last track 'Soon' delivers a theme of us being wary and watchful of Christ's return because we don't know when He's coming back. With an electric guitar intro that alludes more to music from the 1990s than to now (brings me back to music by Carman and Rebecca St. James); Keila declares poignantly in the chorus that '…every eye will see, every heart will believe, we will hear the sound of the risen King, there's no time to waste, there is no delay, every knee will bow and every tongue confess…'; emphasising the urgency of our role on Earth as Christians- to love Christ and to show His love to others, in the hope that God's invitation to others about eternal life doesn't come up null and void. A call to action and hopeful alteration of our own habits and behaviours, even as Christians; the 90s style music as well as the infused Latin American flavour into the songs is something that is uniquely great about this EP. With two slower reflective tracks also on the album in original songs 'Hold On' and 'Love is Here' (not the covers of songs by Bread of Stone and Tenth Avenue North respectively); Keila presents a message through both of these melodies that God is calling us to hold onto Him throughout every circumstance, and even if we do or don't hold onto Him, He still longs to let us know that He love for us will never waver, and that it's here for us to reach and hold onto whenever we need it. With the piano the solo instrument (other than her voice) in 'Hold On', and light acoustics and a strikingly powerful drum in 'Love is Here'; these two ballads will serve as highlights for any listener who enjoys the odd inspirational and uplifting ballad a la Matthew West or Francesca Battistelli. Though these two songs could feel out of place on a primarily upbeat EP, both 'Love is Here' and 'Hold On' are also some of my favourites, and hopefully songs that'll transform listeners on their own journeys and walks of life. Well done Keila for such compelling and powerful melodies.
Overall: Keila Garza's first EP is a unique project that has shot right up there to be No. 2 on my favourite EP's of the year list. With a nice mix and balance between acoustics, upbeat songs and reflective ballads, fans of artists like Kari Jobe, Jaci Velasquez or Francesca Battistelli will feel right at home with this album release. While this album has been forgotten in a commercial sense because it was released on the same day as Newsboys' Restart; Keila's passion and enthusiasm is certainly undeniable. At times vocally sounding like Canadian singer-songwriter Naomi Striemer; this collection of 6 tracks will certainly be on repeat on my iTunes playlist for months to come. A near flawless EP (the only downside for me was that it was short); Keila's future in Christian music is looking very bright after the release of her self-titled EP. Well done Keila for such a powerful and enjoyable album.
RIYL: Kari Jobe, Jaci Velasquez, Naomi Stiemer, Christine D'Clario, Francesca Battistelli
Buy the Album: iTunes/Amazon mp3