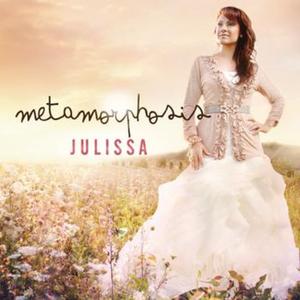 Artist: Julissa
Title: Metamorphosis
Label: Integrity Music
Release Date: 10/23/12
Reviewer: Jonathan Andre
Tracklisting:
New Day
When the Stars Burn Down (Blessing and Honour)
Great I Am
So Good (feat. Stephen Moss)
Make You Happy
Jehovah
None Like You
Sweetest Name I Know
Let It Out
So Good (Bilingual Version)
Releasing her first English EP during 2010 with her hit songs 'No One Lovelier' and the Mia Fieldes cover 'What Else Can I Say', Puerto Rican singer Julissa has been touring and within the music industry for 15 years, creating songs of worship and praise, primarily in Spanish, though her 2010 English release was one of my favourite EPs of that particular year. Having the ability to craft some heartfelt melodies like the piano driven 'No One Lovelier' that proclaims how there is no one that can compare to Jesus and His splendour and majesty, October 23rd has marked her first full-album release in Metamorphosis. Also releasing a Spanish counterpart on the same day, Julissa has given listeners 10 tracks of praise with an anthemic lift and a strong guitar-driven undertone throughout much of the songs. As we strip back all the hurts, fears and daily mundaneness of our lives, worship and devotion to Christ is all that matters, and this album, with it's first single 'Jehovah' (written by Richie Fike and made famous by The Katinas) as well as Jared Anderson's hit single 'Great I Am' and 'When the Stars Burn Down' (written by worship leader Jonathan Lee and popularly recorded by vocal group Phillips, Craig and Dean) anchoring the album musically and lyrically. Produced by her husband Mike Rivera, Metamorphosis features a strong musical foundation as it infuses traditional worship with pop/dance. With some standouts being the electronic-infused 'So Good' (sometimes musically reminiscent of the music played in Super Mario- in a good way!) and pop anthem 'Make Me Happy', Julissa's enthusiastic passion has placed her album at the forefront as Julissa creates one of the most ingenious, creative and unique albums of 2012.
Recently covered by pop artist Rebecca St. James and vocal trio Phillips, Craig and Dean on their albums I Will Praise You and Breathe In respectively, 'When the Stars Burn Down (Blessing and Honour)' is one of my favourite worship songs of the year. Describing the day when every knee and tongue and nation and tribe will declare Jesus is Lord, we are met with a reverent experience as Julissa cries out '…singing blessing and honour and glory and power forever to Our God…' What else can be said to the King of Kings and Lord of Creation? Filled with acoustics, light percussion, a choir as well as children's voices towards the end of the track, this great rendition of the worshipful track is a timely reminder that when Jesus comes again, our gaze will be fixed on Him, and our devotion, praise and honour to Him because of who He is will be all that will matter. Jennie Lee Riddle, the writer of the song, offers up some insight behind it that is very refreshing, as she reminds us all that '…what this song can do is awaken people's ears to the sound of the trumpet coming. Turn their eyes to watch. Bring them to a place of saying this world is not my home…' With a keyboard riff that brings in listeners to their knees in realisation that Christ is coming, this powerful anthem is a refreshing and sobering melody of Christ's return and our joyous anticipation of the even when everyone will sing out '…star of the morning, light of salvation, majesty…' Well done Julissa for such a dynamic and riveting rendition of this heartfelt track of hope and expectancy.
Both 'Great I Am' and 'Jehovah' have both succeeded in Christian radio over the past few years with hit cover version form Phillips, Craig and Dean; and The Katinas respectively, as listeners have engaged in the heartfelt lyrics of declaring Christ as the Jehovah, the Great I am that was, is and will be forevermore. Starting off with an electric guitar plucking melody against a strong piano background, 'Jehovah' is a song of declaring our worth in Christ as we exalt His name up, reminding ourselves and at the same time engaging in heartfelt worship, that He is '…Jireh, Provider, Healer, Redeemer, Lamb of God who walked this earth…God who came to rescue us…' Julissa's strong vocals are a great highlight of the whole album in general, but in particular this song, as she powerfully cries out the repeated refrain '…Jehovah…', we are met with poignancy and emotion as we are transported into a moment of realisation of Christ's overwhelming and unequivocal love for us. 'Great I Am' also promotes this theme of proclamation as the acoustic guitars starts off the melody of hopefulness as Julissa declares that '…I wanna be close, close to Your side, so heaven is real, and death is a lie…' Filled with such awe and wonder, 'Great I Am' has a majesty quality about it, and Julissa is able to bring it to life as we sit back, immersed in the realisation of how Christ reigns over all, yet also yearning to have and maintain a relationship with each member of creation. Full of enthusiasm and charisma, well done Julissa for these two worship cover renditions of 21st century classics!
Apart from her covers that are able to anchor this album of praise and adoration, Julissa has also been able to give us some great original songs that are bound to reach radio sooner or later. 'So Good' is a pop-dance song that incorporates the acoustic guitar, backing vocals and an electronic keyboard (similar to the one in Owl City's 'Fireflies') as Julissa reminds herself by declaring that God is good, even in the moments when life doesn't seem too predictable, comfortable or even comprehendible. As we look over our lives, we can be certain that Jesus was right with us, with this song a thankful offering to God, praising Him that He is '…good, so good, and Your love endures forever, how could anything be better…' The addition of Stephon Moss singing a little reggae within the bridge, as well as a bilingual version of the song for the tenth track, is a great addition to a song that ought to be sung in good times and bad. 'Make You Happy' is a guitar-driven song about how it is who God is that makes us dance and sing at His feet, without reservation and with total abandonment as we truly understand that it is Him that makes us happy; while 'Let it Out' features a Latin American musical flavour with acoustics and light percussion as Julissa encourages the listeners to '…let it out, He has set us free, Jesus…' As we are reminded to hold nothing back at the feet of our Lord, we are encouraged by the acoustic 'Sweetest Name I Know', and how Christ is the '…love that is stronger than sin, love that has taken me in, love is the name of my God…' With acoustic guitars, string instruments and a light percussion that comes into the track mid-way through; this song of heartfelt praise is one of my favourites on Metamorphosis. Well done Julissa for such an honest and compelling song.
Overall: With this 10 track album featuring some of the most popular worship songs of today as well as some original songs of hope, praise and devotion, Julissa's first full-length album Metamorphosis is certainly one to savour in months to come. Infusing praise and pop together with a hint of Latin American flavour, this is a certain purchase for fans of her previous Spanish work, as well as fans of contemporary pop, from artists like Rebecca St. James, Natalie Grant and Meredith Andrews. With heartfelt moments of overflowing joy and awe, we are encouraged to enjoy the '…new day, this is a good day, what God has promised, He will surely do…' ('New Day'). From light acoustics to dance electronics, Julissa's music is certain to bring a smile to listeners' faces as they enjoy and soak in the promise that God is always present in times of help and need. Well done Julissa for such an encouraging album!
RIYL: Rebecca St. James, Natalie Grant, Jaci Velasquez, Meredith Andrews
Buy the Album: iTunes/Amazon mp3