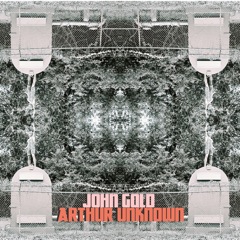 Artist: John Gold (Spotify) (Twitter)
Title: Arthur Unknown
Label: none
Release Date: 5/17/13
Reviewer: Carter Fraser
Tracklisting:
Intro
My "Best Friend"
The Daughter's Sons
Fourth Tier Morality
Completely at Ease
You Can't Own
It's Lesser Light
Everything/Everywhere
The Last Page of the Bible
Excuse May
Youth Be Gone
Edgar Allan Poe
Thirty Kids A Year For Life
Bluebird (~670–610 THz)
Careless Hands Came
I'm Blessed Just To Know You
Everywhere/Everything
Outro
Self-described as eclectic folk rock, John Gold brings as much energy as he can to his primarily acoustic-based songs. Arthur Unknown is, put most simply, really, really fun. He frequently makes use of gang vocals in choruses and beyond, shouting as much as he sings, and pounding his acoustic guitar in a continuous assault of furious strumming. The Floridian (not the Californian, as there are two active artists of the same name) is on his fifth album since debuting in 2007. The album is comprised of two halves that, despite being recorded a whole year apart, flow exceptionally well together and sound like a carefully crafted single work.
It's clear that Gold is aware of his contemporaries, and often times he doesn't stray far from their well-trodden paths, but he can synthesize multiple sounds in to a single song quite effortlessly. "Edgar Allan Poe" takes a Vampire Weekend flair and complements it with Fleet Foxes-style ohhhhhh-ohhhh-ohhh's with enough confidence to result in something that sounds entirely his own. In the slower moments you can hear shades of Mike Mains (see "It's Lesser Light") or even what a folk rock The Rocket Summer might sound like, if that's not too much of a stretch.
Arthur Unknown is certainly ambitious, with 18 tracks comprising sixty-seven minutes of music. Impressively though, it barely drags, if at all, despite only slightly deviating from Gold's bombastic indie folk sound and grandiose scale. He slows down just enough to thoroughly show off his abilities in mid tempo tracks at the right points throughout the album. The most memorable bits though are when Gold simply rocks out, such as on the rampaging "Fourth Tier Morality" and the true folk rocker "Excuse May." Gold doesn't struggle otherwise through the other lenses he approaches his songs with, such as the tastefully Americana "Last Page of the Bible."
The samples and "down time" Gold allows between songs (which do wonders to give the main tracks breathing room) range between interesting in their own right to downright weird. Having an artist break the fourth wall and speak directly to the listener as Gold does in "Completely At Ease" is disconcerting, but having a woman speak "as him" as he does on "Thirty Kids a Year For Life" is almost awkwardly humorous. However, you also get bits like the opening "Intro" and "Everything/Everywhere," which are more mood setters than true songs, but effective ones.
Overall: Arthur Unknown is, if nothing else, wickedly fun at times, but there's more thematic and musical depth than "fun" alone suggests. The most frolicking, lively moments only slightly overshadow the album as a whole in this reviewer's opinion, and the work as a whole is certainly worth multiple spins.
RIYL: Fleet Foxes, Los Campesinos!, Mike Mains and the Branches, The Decemberists, Danielson