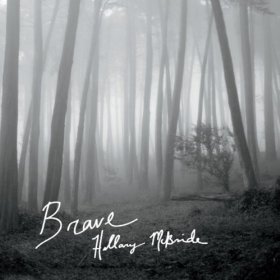 Artist: Hillary McBride
Title: Brave
Label: independent
Release Date: 2/25/14
Reviewer: Jonathan Andre
Tracklisting:
You Love Me Anyway
Restless
Brave
New Name
Nothing Else Matters
Mamma, I Forgive You Now
Listening to an album based on a tweet from another artist is starting to be a trend nowadays. After taking the plunge and listening to worship artist Lex Anderson's EP based on a tweet by ex-Superchick frontwoman Tricia, I decided to be more open and proactive about widening my search for new music to both review, and to just enjoy. Stumbling upon another indie worship/pop artist Hillary McBride is another great discovery, hearing about her music through a re-tweet by Heather Schnoor, an indie CCM artist whose debut album I reviewed in early 2013. Listening to Hillary, and discovering that Hillary was the writer of the popular Kari Jobe hit 'We Are', made me more eager and interested in listening to her debut EP Brave, which was released a few days ago. With her music and vocal abilities likening her to artists like Meredith Andrews, The Sonflowerz and Kari herself, Hillary's honest portrayal of life, worship, God, hope and encouragement make this EP to be one of the best of this year, and further asserts an understanding I have come to lately that I have enjoyed, maybe even to the same level or more, albums and EP's by independent artists compared to music released by artists who are signed. From the title track (and first single) that reminds us that we are brave when we're in Christ, to the upbeat 'You Love Me Anyway', a moment of understanding of God's love, and the heartfelt 'Mamma, I Forgive You Now', an emotional song that encourages forgiveness and apologies, even to the people closest to us; Hillary's first EP (aside from the unreleased EP that you can stream on her soundcloud account) is hopefully going to be one of many as this up and coming CCM/worship artist reminds us of our courage and braveness in Christ. Honest and emotional, fervently truthful and proactive, Brave is an encouragement and blessing to whoever listens, and is one of the standout musical offerings in February 2014!
The first single (and first music video) from the EP, 'Brave', the title track, encourages us all to be brave in the face of calamity, danger, despair and formidable tasks as Hillary declares out in the chorus '…You make me brave…', reminding us that even if we don't have the strength to feel brave ourselves, God can give us the courage and bravery to face the tasks set before us. Starting off with a piano riff introduction, Hillary asserts her belief in God, but also unveils her vulnerability in a moment of truth, that she can be scared to wear her faith on her sleeve if need be. With such emotion and honesty shown through both the song and the video (which shows her singing on a stool in a wide open room, before a large wooden cross), Hillary's message of being vulnerable before the Lord and asking Him for the bravery we can't obtain ourselves is something for us to reflect upon. Standing at a very radio-friendly 3 minutes 39 seconds; Hillary's message is anything but something where the message can be easily gained, just by listening to the song on the radio once. 'Brave', both the song and the album, needs to be listened and reflected upon with full attention, and as I myself have done this a few days ago, Hillary's words of encouragement has led me to praise this album in this review, with this album's quality showing me that my leap of faith in choosing albums based on what other people recommend (or in this case, what other artists on twitter say) is paying off quite nicely. With a prominent keyboard music undertone, Hillary's hope that everyone can proclaim '…You make me brave…' is something for us to hopefully reach towards as we journey this life with Christ in us and beside us. The boldness of not being ashamed to declare Jesus's name, is a hope that we can obtain from both the song, and the album as a whole. Well done Hillary for such a compelling and poignant song that's certain to be one of my favourites when the end of 2014 comes around.
'Restless', one of my favourite songs on the album, and quite possibly a single in the future, gives us a poignant reminder of the necessity for us to cry out to God once in a while, letting Him know, in this song's case, that we're restless and need more of Him and His presence, His solutions to our problems and His strength to carry us through the day. With light electric guitars and a big powerful drum kick, Hillary lets out her emotions as she longs for God to carry her through the restlessness that I'm sure everyone, not just her, feel and experience at one point or another. With this song teaching us to never settle and always be restless and wanting more when it comes to the presence of God and more of Him in our lives, the big strings and echoing reverb creates an anthemic feeling as we are invited to declare alongside Hillary that we are '…restless, I'm restless, without words, without answers, helpless, I'm helpless on my face before You, hopeless, I'm desperate, in my distress, I'm crying out, do You hear me now?…' With this song hopefully creating some hope and honesty as we crave more of God's love, peace and joy in a life where frequently we can be in seasons of uncomfortableness and distress; Hillary continues to prove songs to reflect and pray upon in 'You Love Me Anyway', the song's first track, and one of the most enjoyable 'first-song-on-music-projects' since 'Seven Days' by Red Roots. With a heavy bass line, we are reminded that God loves us in any state we're in, and that even though we're '…a selfish person, You know I'm hurting, too stubborn to admit I'm wrong, but You love me anyway, despite all my mistakes…', and with again a friendly radio-esque melody and easy-to-learn choruses, we are shown the Father's heart, and that He loves us, even if we believe that He doesn't (or even if our earthly parent's don't live up to what unconditional love should look and be like). While I initially thought that Hillary was going to do a cover of Sidewalk Prophets's 'You Love Me Anyway' (another great song about unconditional love), this song is equally as enjoyable and poignant, and speaks of the similar theme of love and where we look for it.
'New Name' features an electric guitar riff that creates a southern-gospel atmosphere a la Rhett Walker or Red Roots, to present to us something out of the box as we hear Hillary recount a personal experience with the Lord and how He gave her a new 'name'- a purpose so much bigger than herself and a perspective we know only God can give us when we continue to dive deep and commune with Him. With grunging guitars, Hillary invites us to receive the words that God speaks over us all, that '…it's not who you are, it's who you'll be, and all that's you've done is no burden to me, lift up your eyes, you are mine, today, this is your new name…' We are called sons and daughters of God, and that is the new name that God longs to call each of us. With this song hopefully encouraging us to claim who we are in Christ Jesus; Hillary vulnerably peels back any of herself that would make her feel uncomfortable to unveil two of the most honest, and emotional songs on the EP. 'Nothing Else Matters' is a moment where we realise that nothing else in the world matters except for Christ, and as we are presented a worshipful chorus where Hillary declares that '…nothing else matters…' amidst the bass guitar, powerful keyboard riffs and an instrumental space where one can just worship, both joining Hillary as well as reflectively themselves; we are encouraged to see deep in our own lives and figure out if we have our own answers to unveil, and address whether we can declare that nothing else matters except for Christ, without hesitation or uncertainty.
But the most out-of-the-box and hopefully healing song of all is 'Mama I Forgive You Now', a four and a half minute melody that encourages forgiveness, hope and longing as Hillary sings about a persona (maybe herself?) who sings about her mother, asking her to come to her wedding, and that she forgives her for all the bad things she has done. With the song reminding me about the lost son (or in this case, the lost mother), and how it is never too late to come back and accept the forgiveness that's waiting; this acoustically driven melody that accentuates the lyrics above anything else, is a great way to end the EP, and as we reflect on the heartfelt words that '…I know this life has been a mess, but Jesus turned it all around…', we ourselves can reflect upon the grace given to us by God, and know that if Christ has given that to us, surely we can set aside our bitterness and hurt and freely give it to others. A song about forgiveness and reconciliation, Hillary's heartfelt prayer for hope and relationships to be at the fore is something that I'm sure will be a lasting impression as we hear this album from start to finish. Well done Hillary for 'Mama I Forgive You Now', a song that will hopefully bring reconciliation to many broken families around the world!
RIYL: Again I shall say- have we found another indie Christian artist with lyrical and vocal similarities to Nichole Nordeman? Hillary McBride, another artist whom I've listened to on a whim and based upon a tweet, is one such artist that I'm glad I've taken a leap to listen, with each of these 6 songs offering up hope and comfort, both to myself and I'm sure many other listeners who have heard these songs. With the album releasing not that long ago (last Tuesday); Hillary has been able to fuse in upbeat tracks with country songs and reflective melodies to provide an EP that's certain to be a favourite of mine as the months progress. A certain listen and purchase if you love worship songs and heartfelt melodies (basically if you love reflective music); Hillary's new EP will hopefully be one of many as she, alongside Lex Anderson and Shauna Marie, is one of my favourite new artists of 2014 so far. Well done Hillary for such an encouraging and life-changing album!
RIYL: Nichole Nordeman, Heather Williams, Kari Jobe, Meredith Andrews, The Sonflowerz
Buy the Album: iTunes/Amazon mp3