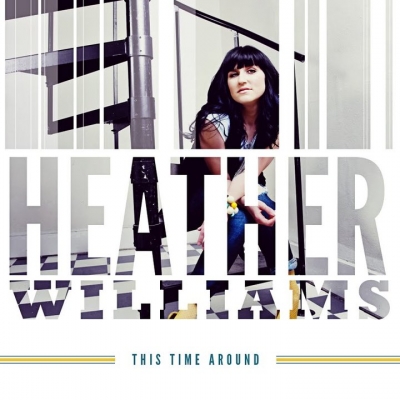 Artist: Heather Williams
Title: This Time Around
Label: Fair Trade Services
Release Date: 9/27/11
Reviewer: Jonathan Andre
Tracklisting:
Beautiful Thing
God is Still God
Hallelujah
You Are Loved
Take It From You
This Time Around
Start Over
Always Been Faithful
Holes
Breathing Again
Newcomer to Fair Trade Services, Heather Williams, has a story to tell, one that everyone should listen to! Growing up in extreme poverty and not knowing her birth father, she had a childhood that no one should have. Just listening to her testimony about how God brought her through her childhood of just rebelling and spiralling down into despair and destruction, it can be seen how much God cared that she should live, and these songs reflect what has occurred to her throughout her life.
'Hallelujah' is a definite stand-out track for me, and should've, in my opinion, been nominated for Song of the Year at the Dove Awards. Heather's soaring vocals of passion and emotion have added to the power that the song already has. Realizing the message behind it was surviving the death of her child and trusting that the Lord has everything in control and in His hands makes the song even more special, stirring emotions inside of you that you don't even know that you had. With its poignant chorus lyric, just the one word '…Hallelujah…'; you are reminded about how faithful the Lord is, even in the moments of your life when you are just crying out to the Lord saying 'Where are you?' The plea from verse 1, '…Jesus, please come, please come today, heal me, hear me, be near me I pray, I have fallen so far, flat on my face, I'm in need of Your grace today; I stumble and fall, but in spite of it all Your love always stays the same…' should send chills down anyone's spine, as it did mine. The honest plea from Heather to the Lord, for Him to come and heal her from all the pain and hurt that she experienced her whole life; is something that everyone can identify with. Everyone has hurts, difficulties, and problems, longing for someone to make us whole again. Jesus can definitely do this. Despite all that we have done and will continue to do, the Lord still loves us, and will continue to lead us into His will and purpose for the rest of our entire days on this Earth.
On a similar vein to 'Hallelujah'; 'Always been Faithful' takes the listener on a roller coaster journey. A journey of guitar riffs and joyous melodies, but on top of this; the listener is immersed in a sea of revelations, assurances and hope. The chorus is reminding us all that the God of all Gods and the Lord of all Lords has been faithful through our whole lives, and will continue to be: '…Through the sorrow and the aching, through the fear and all the breaking, and the hurt that all these chapters hold. You were there when I was losing, You're the Hope that I'm still choosing, You're my gravity, You never let me go. You have always been faithful…' God is always there in our lives, even when we may not 'feel' Him by our side. We may question where He is, like how David sometimes did in the Psalms, but regardless of how we feel, Jesus is our constant. As Heather proclaims in the second verse; '…But all I know is through it all I'm held by Hope…'; we are reminded that God has always been faithful to us and will continue to be. Hindsight is a wonderful teacher, and when we look back on events that have occurred throughout our lives, we can definitely pinpoint where the Lord was weaving our way, where He was influencing the decisions at hand, where He has carried us in His arms and held us close. God is faithful to us everyday, and this song, similar to Hallelujah, holds a special place in my heart.
'You are Loved'; minus the bridge; can be mistaken for a song sung by Katharine McPhee, Kelly Clarkson or Delta Goodrem, about how someone is loved by the friends and family; a self help song about love. But this is not a song about self help. It can be played in a mainstream setting (without the bridge), but it is the bridge that gives the song the relatability to the listener: '…Safe, adored by the One who made the heart that beats inside, the One that gives us life, loves us…' The drums and guitar hooks are mesmerizing, adding to the melody; but at the end of the day, the lyrics need to matter. The questions that Heather poses in the first verse; '…Are you afraid? Do you feel lost inside yourself? Like you're falling and you're wanting to break free? Are you alone? Feeling forgotten by this world, do you stand lonely and still hoping that someone will see?…' is universal in its appeal, but the answer to these questions is far from that. God wants to be the One to answer all the questions that we all have about life and all its mysteries. If we just let God into the deepest and darkest crevices and spaces that we may never show anyone; He can help and heal the scars and wounds that we have carried for far too long. This song, while 'mainstream' on the surface, speaks volumes to me, and hopefully, with a second or third listen, we should realize that we are all loved by the Maker of the Universe!
The rest of the album continues the dance pop vibe, scattered with big drums and huge guitar sounds, but all have one common theme, hope. With bringing our burdens and laying them before the Lord ('Take It From You'), and starting over afresh the Lord Jesus Christ by our side ('Start Over'), to a reminder that God is still the God of all and that He holds everything in the palm of His hand ('God is Still God'), as well as asking the Lord to be the potter and us the clay as He molds and shapes us into a beautiful creation that He had intended from the beginning ('Beautiful Thing'); this entire album has a lot to offer. A certain lyric strikes out to me throughout all these songs that sum up what this album is about: '…I'll give all My best for all your worst, and My healing for your hurt. Everything you'll ever need You'll find in Me…' (lyric from 'Take it From You'). God took our sin and our shame. Out of every thing that we can experience, there is one thing that remains. The Lord; and what He has done. There is hope for every one of our situations, and these songs are littered with more than enough hope to assure each other of the life that is coming when Christ returns.
Overall: This is an album that has taken me by surprise. Every song on the album is sung with such passion and honesty, with Heather wearing her heart on her sleeve. Opening up cannot be easy, and from the testimony, it can be seen that it was very hard for her to do so. Nevertheless, this album encourages, hopes, dreams, lives up to every expectation that one could have of it. This is an album that you shouldn't just buy on a whim. This is a beautifully thought album with amazing lyrics and reflective tunes. Do yourself a favour, purchase this album today. You won't regret it!
RIYL: Francesca Battistelli, Kerrie Roberts, Natalie Grant, Rebecca St. James
Buy the Album: iTunes/Amazon mp3