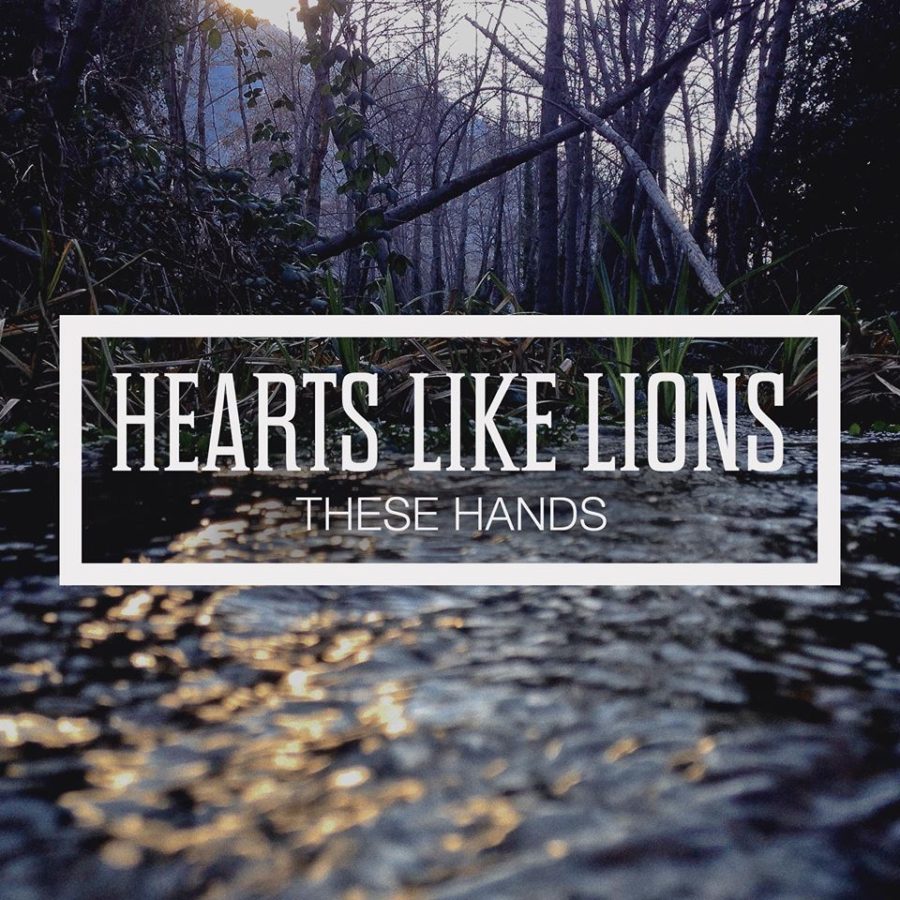 Artist: Hearts Like Lions
Title: These Hands
Label: Tooth and Nail
Release Date: 12/2/14 (T&N Re-release)
Reviewer: Ian Zandi
Tracklisting:
Wake Up
Stranger
Trust Me
Man of Dust
I'm Not Running Away From This
These Hands
It is with great pleasure that I get to review indie rock band Hearts Like Lions' major label debut release These Hands . While it is just amazing to see a band from my hometown of Long Beach, CA get signed to a huge label like Tooth and Nail, I am also proud to call the band my friends. I have seen them play shows around town multiple times in various lineups (including previously having a female co-vocalist) and have always had high hopes for the band. In fact, it was at a Hearts Like Lions concert that I took my wife to our very first date. Naturally, this review is going to be biased. I will try to be as fair as possible from a critic's standpoint. Most reviewers tend to drift toward the music they like, therefore, making them at least slightly biased anyway.
After launching a successful Kickstarter campaign last December, the band released These Hands earlier this year. Though the band released some material before this EP, this album felt different. It was the first step from amateurs to professionals. It caught the attention of T&N and lead to the re-release of These Hands EP that I am reviewing today.
The tracklisting remains the same but the cover art had been altered. The production on the re-release seems to be nearly identical to the original release. "Wake Up" is an appropriate opening track to introduce the band. Beginning with Nick Sturz's rumbling drums, Luke Schoepf's light guitar riffs, and Stephen Ramos' warbling vocals. The track builds off of its drowsy intro and forms itself into a full-blown indie rock session. Though waking from sleep is a topic often covered, Ramos sings
"I'm sick and tired of these people talking about
Where they've been
I'm sick and tired of these people living like
They don't want anything to do with him"
These lyrics are sung with conviction in a voice that sounds nearly identical to those of Aaron Gillespie's (The Almost/Underoath). Schoepf's rolling bass and Sturz' heavy drum use on "Stranger" give further credit to that comparison. It sounds like it could have come straight off of The Almost's debut album Southern Weather. The prominent guitar riff is reminiscent of many memorable riffs from The Strokes.
"Trust Me" is probably my least favorite song on These Hands. Not a bad track, but it does blend in with the other songs and doesn't do anything to make it standout (much like my criticism with The Almost). This is made up for with the following track, "Man of Dust" (my personal favorite), which varies between softer verses and an aggressive chorus. The penultimate track, "I'm Not Running Away From This" showcases each of the band member's talents. The lyrics found here seem to hark to the imagery of the classic biblical story of Jonah. This is presented before closing out with the title track. "These Hands" has the strongest lyrics out of the bunch. Similar to Jars of Clay's "Two Hands" in meaning, the song depicts how humans are able to create and destroy with what was made for beauty.
"These hands were made for goodness but I've done so much destruction
These hands were made for love, these hands were made for you and us"
Overall: As always, there is room for improvement. Hearts Like Lions has received our attention with their debut album, but it will be their next work that will show how worthy they truly are. HLL is far more outgoing with their lyrics than most ambiguous bands on the scene. They are passionate and skilled musicians that are still growing. Though some of the songs mold together on this EP, perhaps a full-length will showcase some more diversity. Personally, I would have also liked to see a re-recorded version their previous single "Once Dead, Now Alive" make an appearance on this EP.
RIYL: The Almost, Ivoryline, From Indian Lakes, Mae, The Strokes, Emery