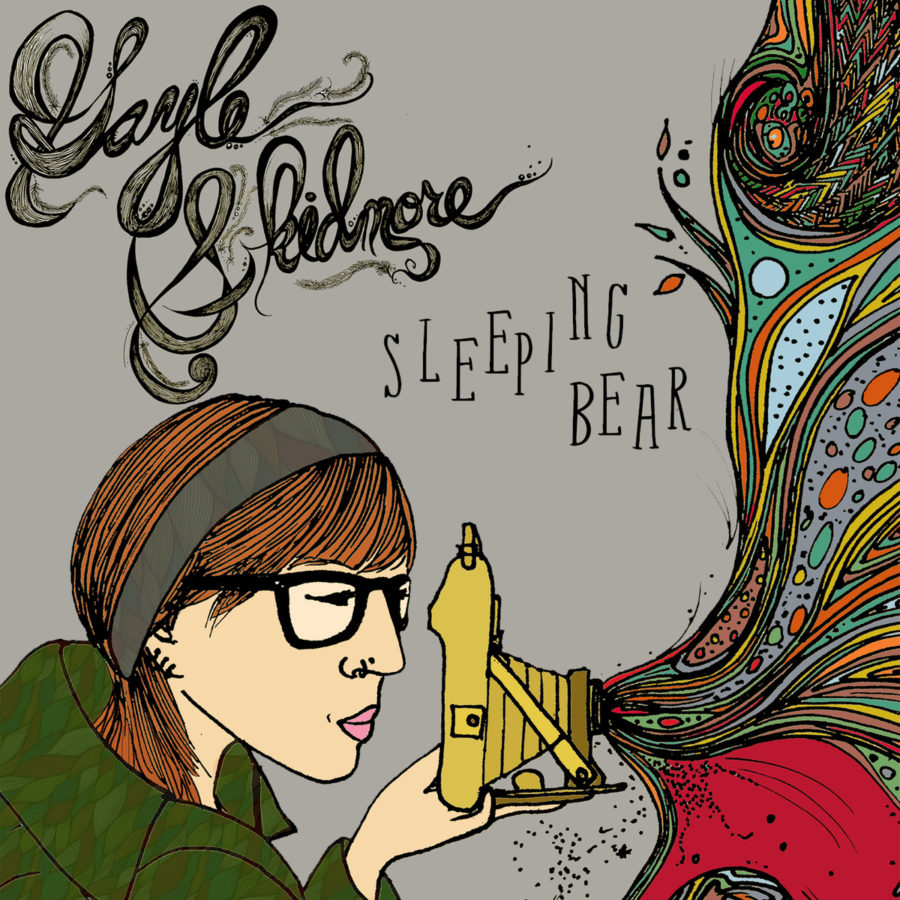 Artist: Gayle Skidmore
Title: Sleeping Bear
Label: Raincoat Records (Kickstarter-supported)
Release Date: 9/15/13
Reviewer: Ian Zandi
Tracklisting:
Sickle In The Shade

Don't Let Me Go
Whisky & Cigarettes (feat. Erika Davies)
Tourniquet
Pendulum
Little Bird
Field of Marigolds (feat. Matt Curreri)
Sleeping Bear
Technicolor Ghost
Come Back To Me
The Wilds
Zombie Heart
As I am sure you know, art can be expressed in many different forms. Artists can be defined as musicians, actors, painters, baristas, costume designers, carpenters, beat poets, and many more titles. In theatre, there are certain talented actors that can be identified as "Triple Threats" (possessing the skills of singing, acting and dancing). While singer-songwriters are quite common in the music industry, Gayle Skidmore can be identified as far more than that.
Hailing from the great musical city of San Diego, independent artist Gayle Skidmore has a unique skill that could change the music industry- illustration. Repeating the novelty used in her previous album Make Believe, the liner notes of her album are actually provided in the form of a coloring book. Each of the track's lyrics are scrawled out alongside a full-page of detailed illustrations created by Gayle herself. Though I only received a PDF copy of the coloring book by supporting the Kickstarter program for this album, I can imagine that the coloring book could be a big incentive for purchasing a physical copy of Sleeping Bear. However, her coloring book idea is not the only notion that sets her folk act apart in a music industry where everyone is a carbon copy of Mumford and Sons. No, she has proven herself better than that.
As if illustrating an entire book, writing poetic lyrics, and penning all of the music parts on the album wasn't enough, Gayle Skidmore also plays most of Sleeping Bear's instruments herself (save for a little help from her friends on bass, violin, and drums at times). The diverse use of instruments ranges from a piano solo on "Sickle In The Shade" that would make Coldplay jealous, to the audio effects on "Whisky and Cigarettes" that practically scream "THE STROKES!", and the banjo-psychedelic combination on "Little Bird" that leaves me with no accurate comparison besides Eisley.
The album's themes are nothing new, however, the creative lyrics help carry the sleepy tunes through to the end without much notice. I mean really, who can resist a metaphor to zombies ("Zombie Heart")?  Additional outstanding lyrics can be found on the track "Tourniquet" and "Technicolor Ghost". I would quote the entire songs here if possible, but alas, here are highlights of "Tourniquet":
"Touniquet, hold me tight
Don't you let them bleed me dry
Tourniquet, hold me tight
Keep me safe now
Keep me alive….
In my heart, in my soul, in my faith, in my bones,
there is a light that never fades, in the deepest, heaviest shade."
Overall: Saying that Gayle Skidmore is an artist would be an understatement. With all of her undiscovered talent, this world simply needs more Gayle Skidmore. Though this album is not perfect (some of the songs are a bit too sleepy and mesh together frequently), it shows great potential for this indie act. Gayle Skidmore has shown us all that it is okay to color outside the lines….
RIYL: Eisley, Ingrid Michaelson, Aimee Mann, Coldplay, Jon Foreman