Album Review :
From The Eyes of Servants - Change The World
By Steven Cosand in Reviews | Comments closed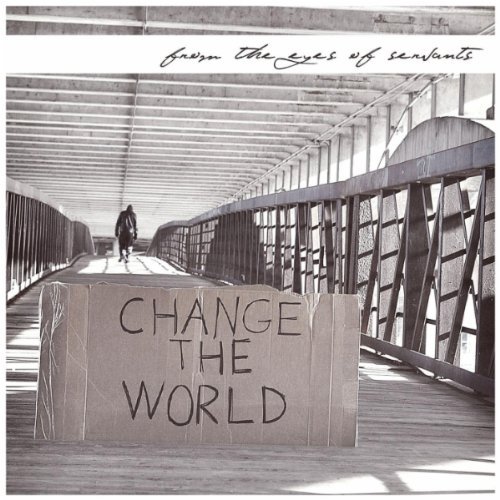 Artist: From The Eyes of Servants
Title: Change The World
Label: Red Cord Records
Release: 06/12/2012
Reviewer: Steven A. Cosand
Tracklisting:
Dead To The World
Choose
Terrified
Check Yourself
Lead Me To You
One Chance
Never Let It Die
Stand Up
Change The World
Empty Soul
Sometimes I feel that I am still unsure of what the term "emotional hardcore" entails, but I find it well fitting for this review. From The Eyes of Servants is an emotional Christian hardcore band from The Forest City AKA Rockford, IL. Change The World doesn't necessarily ring back to the early cannons of the genre with bands like Rites Of Spring or Indian Summer, yet I still find a bit of raw intensity within the forbidden punk beat ridden record.
Between drum triggers and other tools of the audio engineering process it makes me feel as if the recording studio is just cheating your way out of actually putting time and effort into your craft as musicians. Nothing about studio production captures the true feeling you experience during live performance. In no way does Change The World sound haggard or lo-fi, but it is always refreshing to find new music in the realm of hardcore and metal that isn't blatantly over produced. The guitar tone is dialed in a perfect sweet spot and the drums are practically spot on. You have no idea how much I appreciate this.
The song structures, vocal patterns, and general musicianship throughout the entire record isn't exactly my cup of tea. At times FTEOS almost reminds me of Defeater (Bridge 9) from Massachusetts. For the most part this record is driven by moving guitars, vocal chants, and standard quick paced punk drumming. As somebody who has been involved with punk and hardcore for a number of years it's nice to hear breakdowns that aren't characterized by dissonant drop tuned palm mutes and choppy rhythms. Change The World stays fairly heavy while retaining some good melodic qualities.
My biggest complaint about this record and the band in general is the vocals. There are very few moments where I feel that a mix of hip hop and hardcore are appropriate. During songs such as "Check Yourself" and "Stand Up" I caught myself rolling my eyes at the vocalists tendencies. It's almost as if he is rapping over breakdowns which results in something I find to be a little cheesy. In all honesty the vocals kind of killed my interest in this band. As far as lyrical content goes on this record, Change The World would like to do just that. This is what I find to be a challenge presented to Christians. Maybe not the most radical thing I've ever heard, but through songs like "Lead Me To You" I can find a sense of honesty. This record is raw, intense, and emotional.
Overall – I support and very much appreciate the ideas this band represents as they cite Psalm 123:2 as the basis behind their name. Their bio describes them as "missionaries to the children of this world". This music might be more appealing towards younger kids getting into hardcore and punk, but in my opinion nothing makes this record stand out compared to other bands currently doing the same thing. The record is available for stream on their Facebook and Bandcamp.
RIYL – Defeater, Continuance, Redeemer