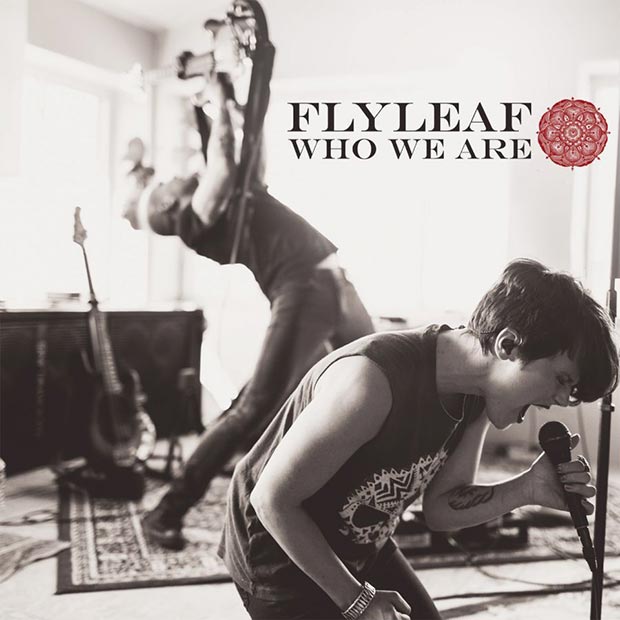 Artist: Flyleaf (Spotify) (Twitter)
Title: Who We Are
Label: A&M/Octone Records
Release Date: 7/9/13
Reviewer: Carter Fraser
Tracklisting:
Something Better (feat. Sonny Sandoval)

Call You Out [Live]
Fire Fire [Live]
Broken Wings [Live]
Sorrow [Live]
In case you didn't hear, Lacey Sturm (formerly Mosley) is out as Flyleaf's vocalist. After a decade of touring with the platinum hard rock band and trio of albums, the iconic voice left to settle down, raise her son Jack, and prepare for a second child on the way. It was announced that Kristen May formerly of Vedera would become the new frontwoman and take part in the songwriting process for the band going forward. Flyleaf, of course, are now going through the identity crisis that many bands face with losing their most prominent member (can you imagine Paramore without Hayley Williams?), and they are attempting to move past it and retain the wild success they have enjoyed for the better part of ten years. This five-track EP features only one new song, featuring Sonny Sandoval of P.O.D., and four live recordings of old Flyleaf songs, mostly from their 2012 album New Horizons, with May doing vocals.
"Something Better," the new song, has a slight poppier vibe than most Flyleaf songs, though it doesn't sound too far away from past Flyleaf territory. For the most part it maintains the same alternative/hard rock sound they've consistently performed in throughout their careers (if you are new to the band do not start with this EP). It also very clearly sounds like an isolated single, like the sort of song that could perhaps not even appear on their next full-length album and is written with live audiences in mind. Sandoval doesn't really add much to the song except a male backing voice, taking on a few lines here and there in the verses and joining May in the chorus. It's a limited sample size for sure in measuring May's vocals with Flyleaf, so it's hard to make too strong of analyses, but she sounds at least capable of filling Sturm's shoes and meshing with Flyleaf's past style.
The live songs are about as unexciting; the recording quality is very good, as you would expect, and May gives what I suppose I would call a "solid" performance as a replacement. She doesn't do anything flashy, as she probably shouldn't, and maintains Sturm's original approach to the songs. Sure, they don't have Sturm's signature flair, so if that was the main draw of Flyleaf for you then the future of Flyleaf probably won't be to your liking. But based on these renditions there's no indication that Flyleaf are going to sound any different than they did before. Who knows, maybe they will—but there's not really anything suggesting that based on this EP. What Who We Are does, and what it's purpose seems to be, is to carry the momentum of Flyleaf through this transitional time. It's a sneak peek. There's obviously a lot of doubts to be had about Flyleaf's future, and Who We Are comes off mostly as a marketing strategy to assuage the worries of fans.
So does it do this? Well, sort of, I guess. They're still a band that is in fact going to put out new material, so it looks like they're not going to totally fall apart. They're still playing at least close to the same style as they have in the past, and the new covers certainly aren't disasters, but other than that we haven't really learned anything new. The Flyleaf fans that were Sturm diehards will probably still be discouraged no matter what, the fans that were very open-minded to a vocalist change will still be interested going forward, and the people that never liked Flyleaf will still not like them. You can probably take a guess at your opinion of this EP based on which of those three categories you fall into.
Overall: It's not hard to see why Flyleaf are putting out Who We Are; they are quite literally solidifying who they are now. The title is not particularly creative. And who they are now is not particularly different (yet) than who they were before, minus Lacey Sturm. Without a greater body of work to look at, a listener's opinion of this EP probably will not be significantly different from their opinion on Sturm's departure in general. This is not a bold move for the band by any means.
RIYL: Paramore, Skillet, Fireflight, Evanescence