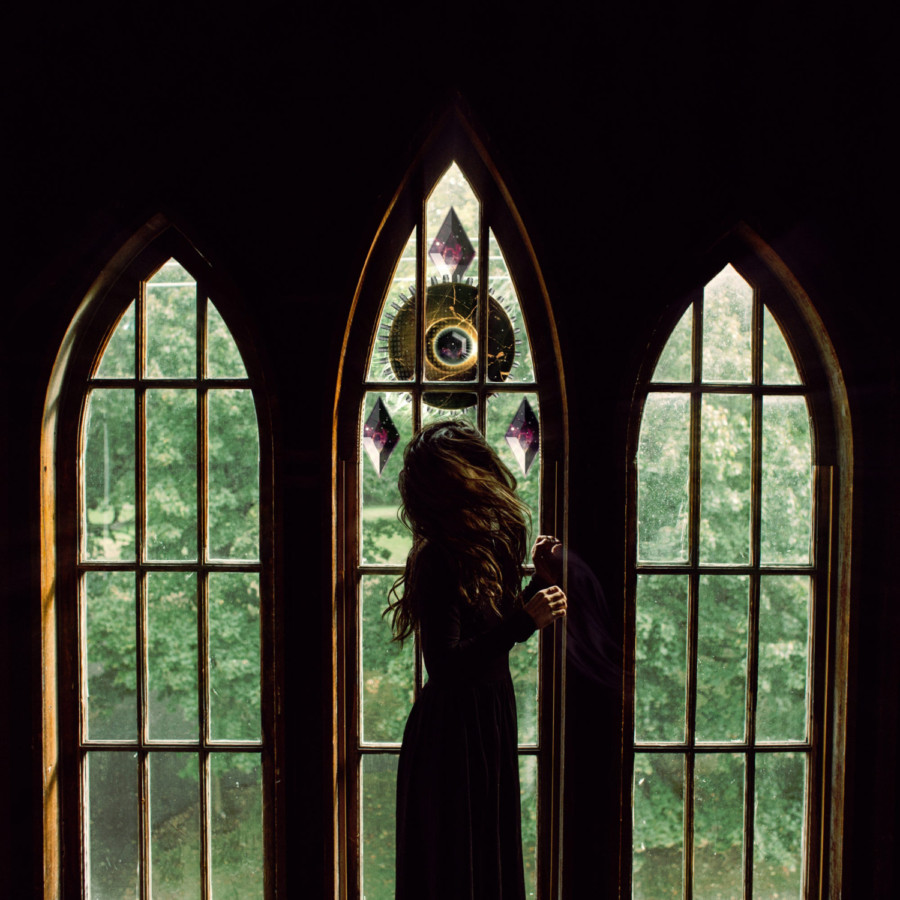 Let's talk about perfection executed through a concept album that never loses its flavor or mysteriousness. After announcing their break up years ago, Falling Up thankfully returned though transitioning into a studio band for the most part – rarely playing shows. From Fangs! back in 2009, Falling Up has made a consistent and indisputable case that they are the kings of experimental rock among the Christian music scene. Their final album, rightfully self titled because it encompasses the greatest of all their albums, is one to behold as a masterpiece.
"Boone Flyer" begins with ambient percussion and a piano, quickly showing the diversity of musicianship that shows throughout the album. The lyrics on "Boone Flyer" – and the rest of album as well – can be hard to understand but somehow it doesn't hinder the effect of the music. The self titled album perseveres through the thoughts and feelings the songs give through their sound – not necessarily the lyrics themselves. The opening song feels like an uphill fight that throws obstacles in your way, but you never give up. You keep going no matter what.
It's difficult to have a layered song like "Flora" and still sound pleasant let alone beautiful. It's layered with keyboard effects, both acoustic and electric guitar, and again – ambient percussion. Somehow, the song isn't muddied or busy and in fact has one of the most infectious choruses in the album.
Metal bands always boast with each new album that it's their heaviest yet – usually adding something about being the most melodic at the same time. Although clearly not a metal band, Falling Up achieves an inspiring beauty and heaviness often in the same song.
The underlying reason why this album is a work of art is the fact that it's a story with unclear words. Each listener is free to interpret and create their own meanings from it. The album instantly becomes personal because it almost feels like the album belongs to you. It's a story that you had a hand in crafting. This becomes apparent during the bridge of "Flora" more than four minutes into the song.
Another impressive item is the length of the songs. It's one thing to have a song or two reach long lengths of six or more minutes, but in this journey, eight songs reach more than five minutes. At no point does it drag on,  become mundane, or ever repetitive.
Something beautiful shows in "The Woodworker." Like previous songs, it's layered but it carries a sound of purity. The chorus is driven by piano and splashy drums and any amount of words I throw at trying to pin it down and define it will fail what feelings and thoughts it brings to my mind.
"Wild Bird" is a peculiar song because the first half of the chorus is softer with clean guitars and a laid back feel. But suddenly it kicks into possibly the heaviest moment of the album.
Singer and lyricist Jessy Ribordy has always thrived on storytelling through his music and it's shown full scale on this final album. But what do we know about his vision for the story? A repeated statement throughout the album is first heard "Typhoon." The character knows a secret and is forced to go "out to sea" so he doesn't tell anyone. The story is also undoubtedly about a brother and sister but it's unclear if the story that's being told in first person is of the rotating perspective of either sibling – or a third unnamed character.
"Rangers" features one of most enticing intros involving bells and reverb drenched vocals and drums. When the guitar enters with its picking and chugging, it sets itself apart and begins the end of the album on just as strong of a note that this timeless album began on.
"Up In Houses" gives the most clarity of Ribordy's story with clear and clean vocals. From what I can gather, the brother in the story (Coby) made a big mistake. He possibly murdered somebody with references of somebody else's blood on his hands. Coby hides it and everyone believes him. It's hard to figure out which part of the song is the chorus as it doesn't follow a traditional format of a normal song. The song becomes a chapter in a book rather than a track on an album as it nearly never repeats any lyric. It continues on telling a story of a terrible crime being blamed on an innocent party.
The story of Coby and Evelyn (sister) comes to close on the second to last song. "The Insect" puts the finishing touch, fully assuring the listener that the album is – through in through – true perfection. The song is heartbreaking with the music escorting the story through its final chapters. This third unnamed character takes the fall for Evelyn for what I would assume is the crime mentioned in the previous song. "I'll take the fall for you my angel. Out on the streets there are headlights. I'll take the fall for you my angel, now I'm out to sea." The character sacrifices himself for the sister, Evelyn whom he loves and is forced to go out to sea and leave her.
The song ends with Ribordy singing with just a piano behind him, "In your room, some summer you'll lie and I'll fly through your window."
"Flares" ends the album on the right note. Following such a vulnerable and sad song, Falling Up ends with riffs, and a highlighted performance from drummer Josh Shroy. At this point it's no longer fair to call this an album consisting of songs as it's much more a story containing chapters of a story.
From their first album to their last, Falling Up's career has spanned 14 years and 8 full length albums as well as EPs, remix albums, Christmas albums and acoustic albums. When you think of how to end an iconic career, even the best case scenario fails to reach the mark this LP has left.