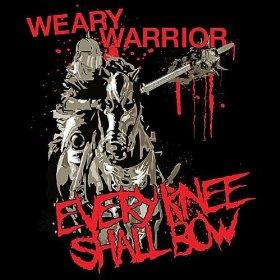 Band: Every Knee Shall Bow
Title: Weary Warrior
Label: Rottweiler Records
Release Date: March 23, 2012
Reviewer: Taylor C.
Tracklisting:
Call of Love
Cleansing
The Mercy
I challenge anyone to eat the same sandwich every day for several months straight. It's almost impossible because what once was delicious becomes bland no matter how good it is. Now, I used to work in a sandwich shop, so I've actually seen customers do this day in and day out, but they're a very grey looking bunch…often slapping down exact change and wandering away like zombies.
I don't know how goofy the sandwich metaphor is, but it's how I genuinely felt when listening to Every Knee Shall Bow's Weary Warrior. As far as my personal taste goes, there is nothing wrong with the EP. It's a fun listen, contends well with those of its genre (both secular and Christian), and has been produced to perfection by the hallowed fingers of Rocky Gray (Living Sacrifice, Soul Embraced, Machina, Evanescence, etc). To be honest, there's not one dull moment in the entire 17 minute timeframe.
In the end, however, Weary Warrior is a lot like other deathcore (borderline metalcore) bands, complete with breakdowns, chunky riffs, pig-squeals and occasional clean vocals—which is fun to rock out to if the mood is right, but if you're a veteran of the style, it brings nothing incredibly new or exciting to the table. Musically, the only influences I can detect are from other cliché bands of the same genre; and lyrically, it has its fair share of Christian clichés as well (ex. 'All I ask of you is to open your heart and let me in…' sung from the viewpoint of Christ in "Call of Love.") In a nutshell, there's isn't anything profound here.
Don't get me wrong, though. I like the EP. If details like originality don't bother you, or if you're relatively new to the genre, I highly encourage deathcore and metalcore fans alike to check these guys out. All three songs are entertaining and can be bought for under two dollars here (an insane price for 17 minutes of energetic, headbanging metal).
Overall: Weary Warrior is a good sandwich, but it's an old one that I've had several times before. It's not bad by any means, but it's nothing new.
RIYL: Common Yet Forbidden, Crimson Armada, Saving Grace, The Acacia Strain, Whitechapel, With Blood Comes Cleansing