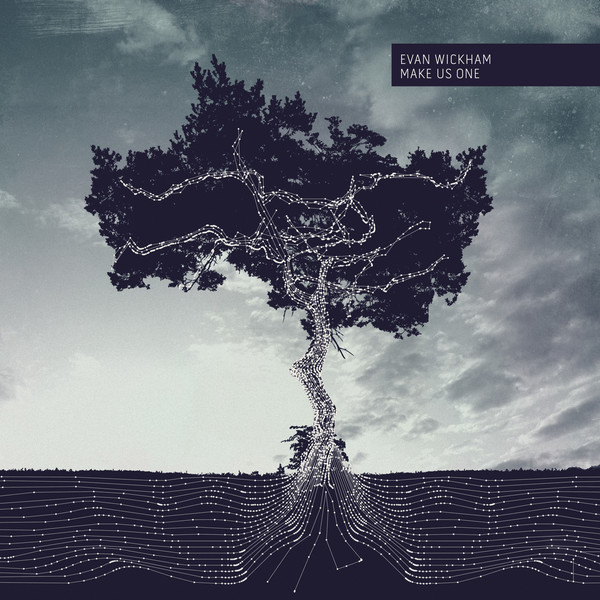 Artist: Evan Wickham
Title: Make Us One
Label: independent
Release Date: 12/2/13
Reviewer: Jonathan Andre
Tracklisting:
Make Us One
Come For Us
Intimacy
The Day That He Returns
Risen
Human Soul
Celebrate
No One Like You
Don't Give Up
Shepherd Of My Soul
Yours is the Kingdom
It's hard when you're the brother of famous worship leader Phil Wickham. Everyone knows Phil and his music, from the powerful 'At Your Name' to the heartfelt and emotional 'This is Amazing Grace', 'Grace', 'Safe' and 'After Your Heart'. Signed to Fair Trade Services, Phil has had a great music career so far, and shows no signs of slowing down with the critical acclaim of The Ascension, released last year. Nevertheless, despite the comparison (at least by myself) of Phil Wickham to his brother Evan, Evan has been able to craft his own music, away from Phil, with powerful melodies and heartfelt worship songs in his latest album, Make Us One. While I honestly must say that I haven't really listened to an Evan Wickham album before in my life (after listening to Make Us One, I'm about to rectify this problem), this new album from Evan (which was funded through crowd-supporting website kickstarter) is one to enjoy and worship along to, and any parallel's to Phil ends with the vocal similarity. With Evan employing more of an electronic worship style in his third album, Make Us One invites us to commune and be one with Jesus, worshipping Him with every part of our hearts, soul and mind. From the emotive and powerful title track, to the acoustic driven 'Shepherd of my Soul', this is an album that's certain to be enjoyed if you love Evan's brother Phil's music, as well as other contemporary worship musicians, like Chris Tomlin, David Crowder and Tim Hughes.
The album starts with the title track, 'Make Us One', a heartfelt cry by Evan to the Lord for communion, between the creator and the created, the maker and the made, and healer and the hurting. With strong keyboard riffs, Evan leaps into heartfelt proclamation, that we as humans can sometimes feel like '…shattered pieces, afraid and torn, a scattered people, a house divided, a love forlorn, a body breaking…' With vocal similarities to both his brother, and Sanctus Real frontman Matt Hammitt, Evan cries out to our Father in honest vulnerability, longing for Him to come down and make us one with Him, and ridding ourselves from these hurts and ailments that seem to plague us every once and so often. A great way to start the album (with a song that speaks about oneness and unity rather than division and separation), it is in our nature as Christians to love those around us, and as Evan cries out '…they'll know us by our love…', we are given a hope that as we share Christ's love with those around us, Christ in us will draw ourselves and others into fellowship and communion, even with those who may not know Christ, or are even unaware of His existence. 'Intimacy' closely follows 'Make Us One' in theme, and with another keyboard prominent track, Evan makes this song as personal as can be. Speaking from the persona of either Judas Iscariot or Peter, Evan gives us a reminder that even good men and followers of Christ still fall, with the personal lyric line of how '…when You brought me Your bread and the wine, You said to remember, that no matter what happens tomorrow, we'll be together…' What happened after the last supper was heartfelt for both Judas and Peter- Judas betrayed Jesus which led to His crucifixion, and Peter denied Jesus three times, only to have him weep at the sound of the rooster after doing so. 'Intimacy' speaks about a love that travels deeper than our faults and inconsistencies, and with the help of heavy synths and Evan's Phil-like voice (a great compliment- if I didn't know they were brothers, I may have thought it was Phil singing in a weird way), we are met with a promise of closeness. With God trading His life for intimacy is something so profound, and a response of '…to be known by You, to be loved by You, this is everything…' is no less than giving thanks for something none of us ever deserved in the first place.
'Come For Us' is a Jesus Culture-esque melody with light electronics and big pulsating drums to start off this 5 minute track full of honesty and moments of worship with great abandon. With the music having an 1980s feeling with a unique and powerful synthesiser, Evan presents to us a prayer to God for Him to '…come and fill this room…', an invitation to basically ask the Lord to show up in our lives and transform it in ways He knows how. This is a dangerous, yet equally rewarding experience- when we say for Jesus to come for us, we hope to mean all of us, even the dirty and ugly bits. As God fashions every part of us and uses the dark and ugly things in our lives to create something beautiful, with it is often hurt and pain. With reverbing keyboards, a reflective atmosphere is created, which can hopefully be used by listeners as a powerful conduit for God to come to us in. Experimenting with a different keyboard sound and bongos, Evan places on his Andrew Peterson hat to write 'The Day that He Returns', giving us possibly one of the most poetic worship melodies on the entire album. Reminding us that there is a day when Christ returns, everything that has been made right, and everything that is currently still wrong, will all be used to glorify God in the end. Assurance comes in the form of how '…in this time and in this place, our eyes reflect the silent stars, those guardians of ancient grace, reveal who's family we are, though in this moment we may weep, the grave is not the final word, the song that spreads the skies, will make our bodies rise the day that He returns…' Comforting and inspiring, Evan presents to us the heartfelt truth- that pain will be a memory once Jesus comes and takes us home.
While 'Risen' is slightly repetitive in the chorus, and speaks about a theme that is seemingly sung about again and again ('…He is risen, risen He has conquered, conquered death and hell, forever and amen…'), and 'Don't Give Up' the odd song out, singing about earthly relationships compared to vertical ones, it is both their musical elements in each of the tracks that have myself praising these two tracks. With powerful electronic keyboards presented to give a 1960s retro pop atmosphere, 'Risen' will hopefully be in the church in the near future (well, I'll at least give this song and try to introduce it to the worship leaders at my church), as the combination of percussion loops, vocal distortion, and an easy-to-remember chorus being the three points that make this song a forerunner to be considered a worship single in the near future. 'Don't Give Up' on the other hand speaks about the parallels between earthly relationships and heavenly ones. The message of nothing giving up when times are difficult is a universal ideal we all must follow, as Evan gives us a great reminder that '…there's so much at stake, the whole world is watching you…' While this line ought not to give us guilt to make our relationships on Earth good, it does give us a timely reminder to keep them in check, knowing that as Christians, the love we give each other is a reflection on how we perceived to be loved by our Father in heaven!
With a brilliant violin to start off 'Human Soul', the song is presented with a Broadway/musical feel, and with just the violin and Evan's voice, the lyrics are highlighted with great poignancy and vulnerability. The moment where Evan declares in the chorus that '…I see the weight of the pain of the world, lifted off, take this cup from my human soul…' is only just a glimpse into what Jesus may be thinking and feeling in the Garden of Gethsemane. With such emotion, Evan pulls off a song that could easily fit right into a musical about Jesus. 'No One Like You', with light electric guitar riffs, is possibly the most CCM song on the album, and compared to the other music styles on the album, seems a little out of place, to the point where when I heard it the first time, I almost fell asleep. Despite this change in pace and style, Evan calmly proclaims that '…there is no one like You, no one as true, as You…', channelling Martin Smith, lead singer of Delirious?, quite well, as we witness a song all about lifting Jesus up as we praise the God who is like no other. 'Celebrate' is another song for the church and as again bringing forth 1980's style music to the foreground, Evan deems this song to be a powerful celebration, calling us all to '…celebrate, He is here, the King is here with us, celebrate the King of love, join the sound and lift Your hands, redemption has become, celebrate the King of love…' Something unique for us all to listen to, 'Celebrate' gives us a clear reminder that music of the past can still evoke in us such emotion and power, and even though music is becoming more pop in today's society, that doesn't mean the older style music has no place anymore. The album fittingly ends with 'Yours is the Kingdom', a benediction of sorts, with the collision of electronics and drums as Evan delivers a powerful assertion that '…Yours is the kingdom, the power and the glory, now and forever Amen…', a great rendition of the Lord's prayer. The truth in the song that we were made for God's kingdom is something that will hopefully transform and encourage us as we seek after the Lord and love each other as Christ first loved us. A great song as any to end a unique album driven by strong drum beats and some sonically epic electronics, well done Evan for 'Yours is the Kingdom', a song that rivals in every way a similarly themed song (with the same name) of 'Yours is the Kingdom', by Hillsong LIVE (possibly even better).
Overall: Make Us One is a worship album to remember, right up there with Worth It All (Meredith Andrews), The Ascension (Phil Wickham) and Hope Will Rise (Warr Acres) as some of my favourite worship albums of 2013 (pity I didn't hear the album when I made my top 20 albums list, otherwise Evan Wickham would be there for sure!). While Evan's career may not have been as popular or as interesting as his younger brother's, his love for God and ability to make thought-provoking and enjoyable music is just as equal as his brother. Definitely a great purchase if you enjoy Phil Wickham's solo music, Evan employs a unique mix of acoustic, electronic and pop/rock to fuse together different styles, all with the one purpose- to lift God up and worship Him, making us all one in the process as we corporately and individually declare that '…I am Your greatest delight, I'm taken by where You love, I'm satisfied in who You are…' ('Shepherd of My Soul'). Well done Evan for such a compelling album, and a great album to listen and delight myself in!
RIYL: Phil Wickham, Matt Maher, Martin Smith, Sanctus Real
Buy the Album: iTunes/Amazon mp3