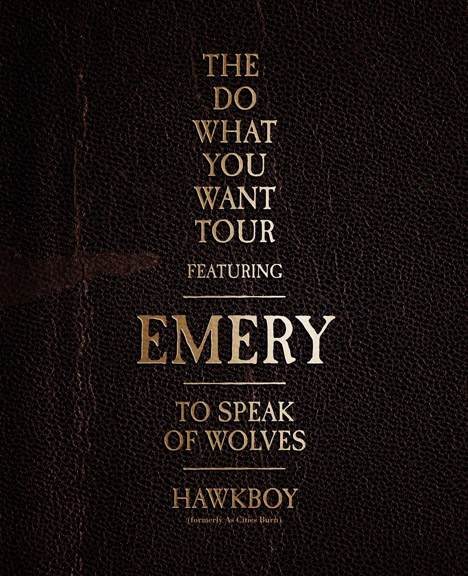 Tuesday night, March 1, was the first night of the Do What You Want Tour, featuring Emery, To Speak of Wolves, and Hawkboy (formerly As Cities Burn). The show was outside of Baltimore at the Recher Theatre in Towson, MD, which is one of the best venues I've ever been to. The space was wide open, and the sound was incredible, with microphones clear enough that I could actually understand what the bands were saying and bass heavy enough that I felt it in my bones. After interviewing Emery, I opted for going across the street to Towson Best to get some delicious Asian food instead of catching the opening band, Rosiere.
When I got back, Hawkboy was setting up their gear, and as we stood there waiting, I ran into local musician Rob Kelly, whom you may remember as lead singer of The Apathy Eulogy. He is currently building a studio at the church where he works as music director, and he will be recording an EP in the near future. I will be sure to keep you all up to date as more news develops.
Hawkboy consists of Cody and Aaron from As Cities Burn. Because they only have two new songs, they also played a slew of tracks off the final ACB record, Hell or High Water, but nothing earlier than that. While there were only two people on stage, Cody must have been using crazy effects pedals or a pre-recorded backing track, because it sounded like there were two guitars and a bass. The new songs continued in the same general direction as Hell or High Water, balancing the intellectual with the emotional and charging their edgy indie rock sound straight into the blues. The song structures were unpredictable, keeping the audience on their toes through the set.
This was my first experience with To Speak of Wolves, and I could not get over how heavy they were. Maybe it was just the powerful bass at the venue, but they destroyed the place and were seriously even heavier than August Burns Red, if you can imagine such a thing. Based on what I heard this night, their influences seem to include Zao, Underoath, ABR, and The Showdown's first album, but always leaning much more towards the metal than the core. The vocalist's screams started out raspy but after warming up through the first song or two they became more powerful. Overall To Speak of Wolves was very entertaining, and they knew how to direct the pit from stage.
Emery opened with "So Cold I Could See My Breath," and Devin's absence was obvious from the start. However, while the band is still figuring out how to perform without him, they did an excellent job and really owned the night, especially with this being the first show they ever played without him. Filling in was Andy Nichols from Queens Club, who had a great voice and could have been part of the band if one didn't know better. After some new songs, including "The Cheval Glass" and "Scissors," they played two favorites off the last record, …In Shallow Seas We Sail. The crowd was loving it for both "Butcher's Mouth" and "Cutthroat Collapse."
At this point in Emery's set, they brought out chairs and acoustic guitars to play some softer songs. They began with some really old ones, "Fractions" and "Ponytail Parade." While it could have been too mellow for the hardcore crowd that showed up this night, it turned out to be a great move, as everyone was singing along, making this moment even more intimate than the heavy parts of the show. Emery moved out of the acoustic set slowly, first transitioning into another new song, "I Never Got to See the West Coast," which Toby explained was written for the many fans who have come up to him after shows and told him that they were considering suicide but Emery's music helped them get through it. "It seemed like too big of a subject for us not to write a song about it," he said. It was also Toby's first time playing guitar on stage, and the rest of the band came back out to fill in the music for the song. Finally, he played the soft intro to "­­­The Curse of Perfect Days" before handing the guitar off and launching back into the heaviness of this song and others.
They fake-closed with "Walls," and the crowd went nuts. After the usual call for an encore, Emery returned, saying, "I think we've got one more song in us. Do you guys have one more song in you? What do you want to hear?" A few song names were shouted, including "Freebird," and Toby pointed to the other side of the room saying, "Yeah, we'll play that one," ripping into "Studying Politics."
The Do What You Want Tour was an excellent concert experience, and I highly recommend hitting it up when it comes to a club near you, now through April 1.