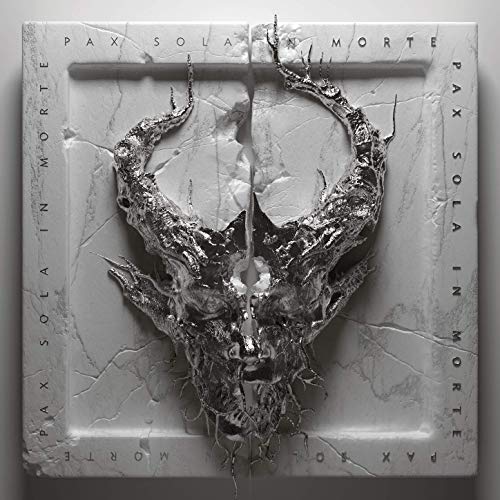 So, it's been a couple weeks since Zac reviewed Demon Hunter's "War" album. If you haven't yet given it a read, you can find it HERE. Go check it out, I'll wait. Caught up? Good. Now that we're all on the same page, it's my turn. Let's talk about the other album the band released on the same date (yes, a double release), "Peace".
When it came down to reviewing one of the new Demon Hunter albums, I'm not gonna lie, I was a little disappointed to find I'd be reviewing "Peace" rather than "War". I mean, just based on the album titles, you expect "War" to bring the heavy, and "Peace" to be mild and mellow, which is still something Demon Hunter does quite well, I've just been in a real heavy mood lately. When you really look at it though, some of their softer material has actually outdone the heavier on previous albums. And let's not forget the song "I Am A Stone" was a real surprise hit for the band that they never even saw it coming. So, with that in mind, I dove into "Peace" and found an album that was full of surprises that defied my preconceived expectations.
"Peace" is definitely the mellower of the two releases, very obviously by design. But, for me, I was anticipating an album full of songs along the lines of "I Am A Stone", "Heartstrings Come Undone", and the like. Basically, really mellow tracks full of synth, piano, and acoustic guitars. WRONG. The album maintains a fair amount of aggression almost throughout, with a few exceptions here and there. There is little to no screaming found here, but with how great Ryan's cleans sound, no complaints here.
The opening track, "More Than Bones", is the exact opposite of what I expected; full band, and while there's maybe a little restraint musically, that's pretty debatable. There's no screaming to be found here, a common thread throughout "Peace", but this track is one of the more aggressive ones found on the album; it's also very driving and carries a quick tempo with it. The reminder here, that when Jesus left He gave us His Spirit to be with us and never leave us; "More than bones, you'll never be alone again. When I leave you, I leave you more than bones." This song is really strong and undeniably anthemic.
On "Loneliness" the vocal melody and harmony are quite possibly the best I've heard from the band to this point. The choruses are just beautiful, speaking to the loneliness we all encounter sometimes, yet on the edge of our minds, we know we're not truly alone.
"           When the Devil Come" is a really cool song musically and really stands out on this album. It's definitely new ground for the band and they pull it off beautifully. It wouldn't surprise me in the least to find it become one of the more popular tracks on this release. The song is very old school western-ish, borderline reminiscent of the later works of Johnny Cash; a highlight for me on this album for sure. A song of trust in God in times we feel we're under attack.
"Peace" has more to offer than you might expect at face value. One other song of note is the track "Recuse Myself". The song is strongly reminiscent of Ryan's project NYVES; so much so, that I found myself often wondering if it may have been a song left off of that project and put to use here.
After listening to both "War" and "Peace" frequently since their release, I've found them to be pretty creative and clever on several fronts. I've found the albums to inspire their titles' namesakes, not just lyrically, but musically as well, doling out songs to inspire us to fight the good fight or to simply rest and relax in the peace found only in the presence of God. In the end, while I may have gone into writing this review for "Peace" somewhat hoping my review had been for "War" instead, but I'm more than happy to have done this one and am glad I did.  Personally, peace has been something I've sorely needed in the past few weeks or more and as I dove deeper and deeper into this release, that's exactly what I found the more I listened. Dig in and I have no doubt you will too. Great album.