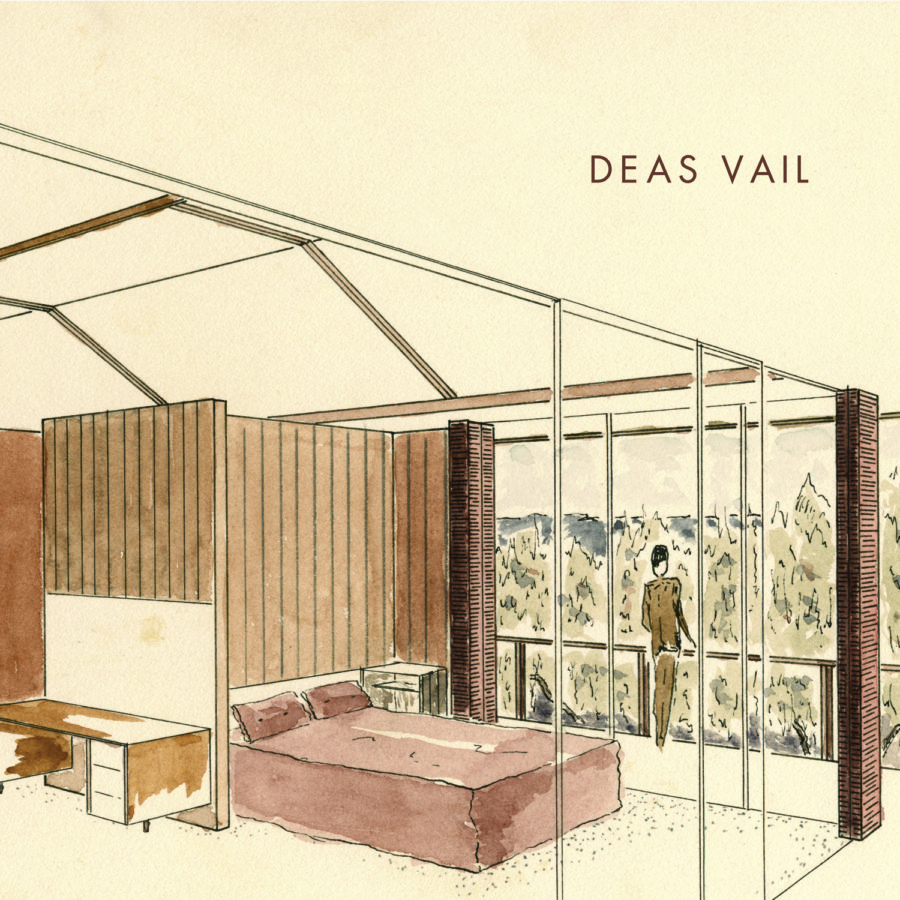 Artist: Deas Vail 
Album: Self-Titled
Label: Mono vs Stereo
Release Date: October 11th, 2011
Desire
Sixteen
Quiet Like Sirens
Summer Forgets Me
Towers
Pulling Down The Sun
Bad Dreams
Wake Up And Sleep
Common Sense
The Right Mistakes
The Meaning Of A Word
Meeting In Doorways
Deas Vail has been around the bend a few times. With two full lengths, an EP, and a Split EP with Farewell Flight under their belts, Deas Vail is set to release their third Self-titled album October 11th. The self-titled release has that old feel of the band featuring time signature changes and tone with a more pop orientated feel. The albums production is fairly decent. Every instrument is mixed very well including the vocals. Producer Matt Hoopes (Relient K) did a good job on the production of this album.
First time through this album was an easy process.  There are times through the album where one would say "That was vintage Deas Vail" and times when they surprise the listener.  The first track "Desire" has a slow groove to begin things off with great tag vocals between the two singers. The song flows very well but things kick off on track two "Sixteen". With a nice groove that sustains the one chord over a simple but well placed 4/4 beat. With a change to the four chord back to the one over smooth melody about being older but still containing that young love. Such a simple song but the point gets across.
One song that bored me in a commercial stand point caught my attention in a musicians aspect was "Quiet Like Sirens". The song that follows "Sixteen", through first listen, is a smooth song filled with repetition through out which gets a little redundant. Second time I caught the well developed time signature changes from counts of five to six swapping measures in the verses.  Giving the verses an uneasiness because there is a feeling a beat is being skipped, which it kind of is. Over all of this Wes Blaylock creates a magnificent melody that is so smooth you cannot tell what is going on with the music. The chorus is back to a 4/4 beat which creates a back to normal feeling from the subtle chaos through the verses.  This is a song for musicians.
One thing that becomes a little redundant are the introductions to the songs.  Almost every song on the record excluding "Desire", "Towers", "Common Sense", "The Meaning Of A Word", and "Meeting In Doorways" start at the same pace with the same drum pattern. It gives the songs the same feel and it gets to the point where the listener might forget what song he is listening too. It drags down the album in a creative aspect and hurts the depth of the lyrics.
Overall: A pretty average release by Deas Vail.  When up for comparison I do not think it is as great as "Birds and Cages" was.  It gets the point across the versatility the band can be when it comes to crossing over into genres. Then again how redundant and repetitive they can be with their musicianship.  Hardly anything after the first four songs was able to grab my attention. Very back and forth when it becomes a debate saying "This is great" or "this can be better". Check out Deas Vail's self-titled full length release however and judge it yourself.  It is for sure worth a couple of listens.