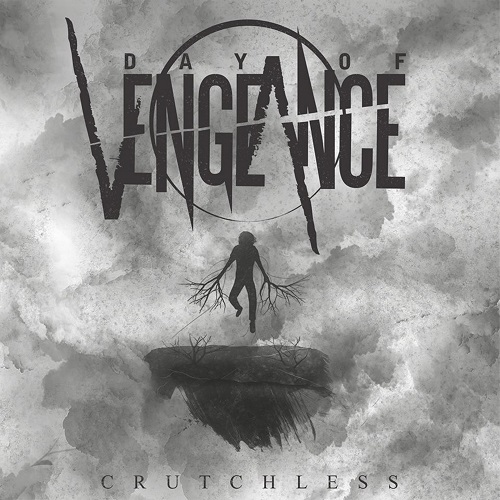 Artist: Day of Vengeance
Album: Crutchless
Label: Red Cord Records
Release Date: 12.03.13
Reviewer: Lee Brown
Track Listing: 
Crutchless

Snake
Best Friends and Murderers
Beaten Path
Broken Bones
Van Wreck
Death Nest
Selfless
Apathetic Pathetic
Present God
Last year Day of Vengeance released Star Breather, an album that had some solid tracks on it. In my review, a few people commented that my "below average" scoring of the album was a little harsh. However, even the strong musicianship the album presented could not overcome the faults I saw, including the fact that the album was a little all over the place.
Roughly a year and a half later and DOV is back with Crutchless, and once again I feel we're dealing with a bit of a mixed bag. Ironically, however, I felt the variation on this album actually made the album more engaging and ultimately more enjoyable. This goes back to my thoughts that trying to give a numerical score to a piece of art is a bit wibbly-wobbly. With their new album, DOV brings an evolution of metalcore that incorporates several other genres in the mix. As you listen through Crutchless, you'll hear some standard metalcore grunting mixed with some thrashier punk, straight-laced rock, some slight industrial elements, and even a little rapcore thrown into the mix.
Vocally, DOV keeps things mostly focused on strained metal vocals typical for the genre, and once again comparative to bands like Sleeping Giant, set against the "prettier" clean vocals that are also a genre staple. As the album progresses, however, there is a nice bit of variation as other influences become more prominent. Lyrically, the album focuses in on some heavy theological themes and handles them skillfully and engagingly throughout. For a full look at the lyrics and meaning behind each song, be sure to go here.
The album begins with the title-track "Crutchless." Right away the listener will hear thrashy vocal stylings that prevail against some alternating chugging then melodic guitar work before breaking into equally melodic vocals. Lyrically, "Crutchless" focuses on how we are free through the blood of Christ, but often return to "crutches" and vices. In many ways, the songs seems like a Straight Edge styled anthem as it proclaims, "Your body is a crutch. Your drink is a crutch. Your past is a crutch. Free yourself… get real, get free." In all, "Crutchless" is a fitting opening song that will give the listener a good sample of what to expect (save for a few genre-bending tracks).
"Snake" follows with a solid opening riff and more thrashy screams before incorporating the genre-standard guttural bellows. "Snake" also works in some nice atmospheric elements into the background with some really strong guitar work layered in. Check out the song, below for a great taste of what Crutchless has to offer:
"Best Friends and Murderers" once again brings some great guitar and drum work that play well off each other. Vocally we get a little more punk influenced sound mixed in, with just a few very light rapcore moments. Lyrically, we are presented with a song about regrets over a missed opportunity to really invest in someone and help change the course of their life. "Now I'm a free man and you're a killer. I never should have turned my back on you… I can't be perfect, but I will be available." Had these lyrics and the story behind this song been generically focused on "the pains of this world" the track would have been a little weaker for it, however, knowing that this is focused on actual events makes the song have a fitting sting to it.
"Beaten Path," one of the strongest offerings on the album, presents a worshipful longing to be closer to God's presence. It is the sort of song that brings God closer as you listen. Musically, "Beaten Path" has a simply fantastic opening that cascades into some quick chugging riffs. Vocally, we are given another rather worn/thrashy sound that juxtaposes against a very silky and melodic chorus. With each listen through the album, it was "Beaten Path" that most seemed to stand out to me. Whether it was the solid lyricism, unique vocal change-ups, or the solid guitar riff featured towards the 3/4 mark of the song, something really stuck with this one.
"Broken Bones" continues to bring many of the elements that make "Beaten Path" stand out. Musically, lyrically, and vocally the track matches the excellence of the track before it in every way. Ryan Hayes from Righteous Vendetta makes a nice appearance here, providing a nice fit vocally with the tone of the track. Lyrically, "Broken Bones" cries out to God to "resurrect these broken bones." The tone and depth found in the vocals really sells the longing for God the lyrics portray. All in all, "Beaten Path" and "Broken Bones" are the one-two punch that really make this album soar.
"Van Wreck" looks at the fairness of life and boldly proclaims, "life's not fair. Thank God for that." It goes on to give one of the best lyrical movements found the album: "We're buying debt on credit and it can not last. If this van crashes I hope I fly through the glass. I hope my mind opens up to expose the thoughts I can't quite get out. I don't really care if I die, but I refuse to die for nothing. We don't deserve it. It is a gift. We're all beggars, and we're homeless at that." Musically, the guitar work really shines on this track with some distorted effects playing nicely across the background of the song.
"Death Nest" takes a look at the doctrine of total depravity and cries out to Christ for deliverance from "this death nest." Musically, "Death Nest" is fittingly grungy and creates an atmosphere of anxiety bathed in hopeful longing for eternity. "Selfless" continues this grungy feel and layers in some industrial sounds and even more chaotic vocals before returning to some strained clean vocals and then some glorious rapcore. Cal Sealey provides this brief foray, which blends nicely over the metalcore pace and sound of the song so that though it doesn't fully return to the rapcore days of old, it certainly gives a nice homage to them. For me, this was a really nice touch, as I grew up in rapcore's heyday.
With a great guest spot from Xzavier Wolgamuth of From the Eyes of Servants (as well as the rest of the band during the "Viking chants"), "Apathetic Pathetic" returns to a more chaotic style with fully thrash-filled vocals and a deeply intoxicating "viking chant" chorus. Once again, the focus is on the hope of heaven. "Everything that the earth has to offer is painted gold in color, but soon enough you'll find that it has nothing to offer." Musically, lyrically, and vocally this is a strong track that is just chaotic enough to make even more discerning ears have to come back to catch everything going on with it.
The album closes with "Present God." Beginning in old-fashioned hymnody before progressing into a heavy-metal variation of hymnody, "Present God" is a very worshipful track. With strained vocals and pulled back instrumentation, the song does a great job of building a feeling of expectation before crashing into worshipful prose. Not only does the song succeed in blending worship and metal in a powerful way, it also manages to work as a deep love song to God. In this, the track expertly walks a fine line between chaos and order musically, beautifully presenting an audible passion and longing for God's presence. In every way, "Present God" is a fitting way to close the album.
Musicianship: Crutchless brings together a mixture of styles and influences into an album that works as a growth and extension of the metalcore genre. Though there weren't any truly "lesser" elements to be found, it was the guitar work that really won me over on this album. The influences and stylings used were at times all over the place, but it was the guitar work that really blended everything together and make it work.
Lyrical/Spiritual Content: From start to finish Crutchless is a faith-filled album that examines the regrets of this world and the hope of heaven in new and fresh ways. On first glance, a few of the tracks may feel a little predictable in places, but the more you dive into the lyricism presented, the more depth there is to find with some rather deep theological statements being made. This is an album that is socially and spiritually aware in just the right mixture.
Lasting Value: Though I found their last album to be somewhat forgettable, with Crutchless I kept wanting to come back for more. Though many have recently bemoaned the death/decline of metalcore, it is albums like this that work to keep the genre fresh. Though the incorporation of several influences could have really served to sour the mixture, each individual flavor is used in a way that – on the whole – serves to give more depth and spice. I can't say for sure if you'll still be listening to this album five or ten years from now… but I will hazard a guess and say that it is fairly possible.
Overall: Day of Vengeance return with an album that mixes metalcore with some bold flavors and even bolder guest appearances. Though the album (and several individual songs) are a little chaotic at times, the slick guitar work and deep theological themes anchor it nicely. Certainly, in the world of metalcore, Crutchless both stands out from and caps off this year's releases. The tracks "Beaten Path," "Broken Bones," and "Present God" are some of the better and more engaging tracks produced this year, while the "viking chants" in "Apathetic Pathetic" will be stuck in your head for days.
RIYL: Sleeping Giant, The Great Commission, Righteous Vendetta, From the Eyes of Servants