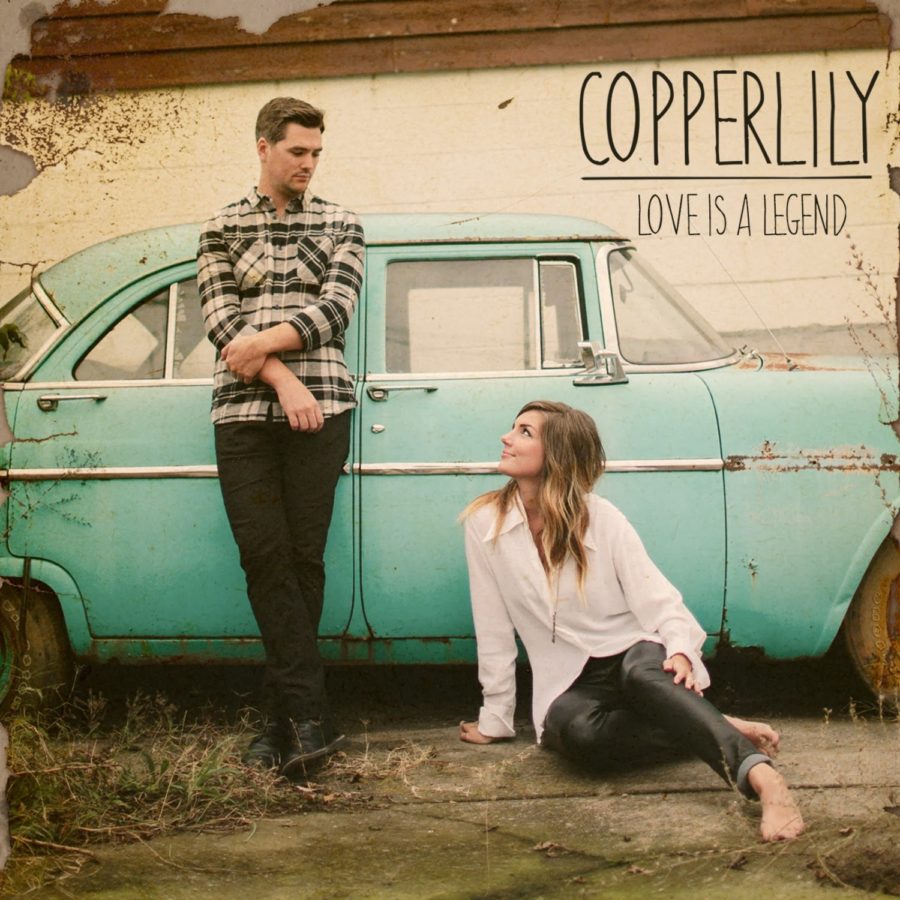 Artist: Copperlily
Title: Love Is A Legend EP
Label: independent
Release Date: 1/21/14
Reviewer: Jonathan Andre
Tracklisting:
Map to Your Heart
Colour In You
Broken World
A Lot to Learn
Tell Me
Love is a Legend
Under any other circumstance, I probably wouldn't have reviewed this album. Not that I anything against mainstream music, I do listen to some Carrie Underwood, Stan Walker, Switchfoot, and Owl City from time to time. But my first choice of music has always been and will always be Christian music. Nevertheless, what Tim Skipper (lead singer of House of Heroes) and his wife Stephanie Skipper (nee Smith, from her Stephanie Smith solo career days) have given us in the form of this new duo Copperlily (what does this spell for House of Heroes or is this just a side project from Tim?) is something worth listening to- bright sunny music about love, life, relationships and even a song at the end reminding us what love is all about ('Love is a Legend'). Regardless of your style of music, and whether you listen to primarily Christian music (like me) or listen to a wider variety of genres and styles, Copperlily is a duo that you don't want to miss out on listening to. Both Tim and Stephanie harmonise just as good as any other husband and wife duo (I can only think of two from the top of my head- Love and the Outcome and Gungor…), and both remind us through their poignant singing that a love that binds a man and a woman together is a similar one to the love that Jesus has for humanity. With their debut EP Love is a Legend released on January 21st, this album, which was funded through an indiegogo campaign, gives us great reminder of the necessity of love in our lives, for each other and for our maker, friend, Saviour and Creator. With personal standouts like 'Map to Your Heart' and the title track, Copperlily's music is soothing for the soul, yet equally inspiring and hopefully life-changing for anyone who hears it.
'Map to Your Heart', the first song and first single from the duo, is one that requires a few listens for one to obtain a message of sorts. Starting the melody with an acoustic guitar strum and some clever glockenspiel work by Stephanie, Tim leaps into some love declarations, as we hear a call-and-answer style of music, as we have a fly-on-the-wall glimpse into their own romance and how their story of falling in love came into fruition. The idea of a map to your heart to guide people (especially loved ones) towards it is a clever concept, and both Tim and Stephanie execute their vocal parts with precision, emotion and heart. While the song doesn't have any direct parallels to the gospel, i can imagine Christ singing over us, declaring that He has given us a map to His heart, through Christ Jesus, and the signs, wonders, encouragements of people towards us, and the mystery and wonder of creation, as we draw nearer to Him. A sense of an earthly relationship (and in this case, the album is full of references to Tim and Stephanie's relationship) is only a fraction of what God feels towards us, and both Tim and Stephanie are able to use their own relationship as a guide of what love really looks like, between fellow man, and between man and maker. Both Tim and Stephanie sound great on vocals, making the call and response style of singing effortless. And I know I'll get some hate for this comment, but if Copperlily continues and Tim decides to change is style from rock to pop/acoustic, I honestly wouldn't mind. Nevertheless, I'm sure Tim will be in Copperlily and House of Heroes concurrently. With 'Map to Your Heart' a great way to start the album, both Tim and Stephanie have shown us something that they have not explored as House of Heroes or Stephanie Smith before. Kudos to the duo for giving listeners a great song about love, and one of my 'guilty pleasure' songs of 2014 so far!
'Colour in You' reminds me of something a country artist like Carrie Underwood, Jana Kramer, or Red Roots would do, and while people may be put off because of the introduction of the fiddle and hand clapping, I myself welcome it as a nice change in music style, compared to the radio pop/CCM that we hear everyday. Speaking about all the good things an individual has in them and that when they are with their spouse/partner, they bring out the best in them, we are able to extrapolate (at least I am) to the notion and understanding that God brings out the best in us as we continually walk with Him. We as humanity have 'colours' inside of us, just waiting to come out, and with the right people (and God) we surround ourselves with, our potential can thrive and bubble over. As Stephanie declares out in the chorus that '…you're my dream come true, you're the best thing that could happen, what can I do that could make you stick around, all the colours in you are brighter than a rainbow, red, orange, yellow, green, blue, I love you…', I can't help it but think of how God sings that over us all the time, similar to the 'lost' stories in the bible- the lost son, the lost coin and the lost sheep. A great way to give a message of love between spouses and partners, 'Colour in You' is a great segue from 'Map of Your Heart', and a great reminder to always compliment and appreciate God, our family and friends in whatever circumstance that occurs.
Throughout the rest of the album, both Tim and Stephanie deliver powerful vocals and show us what great harmonisation is between female and male voices (and especially husband and wife). 'A Lot to Learn' is about what it takes to know the other person, your better half, fully, and gives us an hilarious travelogue into all the parts of Tim's and Stephanie's lives that they need to know better for each other's sakes. It's a tongue-in-cheek song, and a lot of fun to listen to. Upbeat and acoustically focused, we ourselves are reminded that we have a lot to learn as well, both about God and about each other- we are constantly learning, growing, and maturing, both as people and as Christians. Kudos to the duo for reminding ourselves of that truth in an upbeat and enjoyable way. With the duo also delving into topics like hurt and disappointment, and how the love for each other will bring them through (in the keyboard prominent 'Broken World'), as well as offering up a love song in 'Tell Me', acoustically driving to show both Tim and Stephanie declare to each other '…tell me that you love me, tell me that I'm lovely, tell me that I'm the only one for you…'; it is the last song 'Love is a Legend', that Stephanie takes the reins of vocally, that is one of my personal standouts. Speaking about love, and in this case, everlasting love in the form of love of the Father in heaven for us, Stephanie reminds listeners of the journey we are all on- past this life and into the next. The revealing, yet hopefully encouraging chorus of how '…someday I'll stand at Heaven's door and knock, and my soul will thank the Lord that gate unlocks, there's no money, no power, no fame to get me through, love is a legend you can't undo…', is something that I'm sure will change someone's life when they hear it, and the passion that Stephanie sings the song in. A great way to end the album, 'Love is a Legend' is a great assurance that love is indeed a legend- and Christ made it so, ridding our sin on the cross and wiping ourselves clean without shame or guilt. Well done Stephanie and Tim (a.k.a. Copperlily), for the title track, my favourite song on the album!
Overall: Copperlily's first album is a joy to listen to, regardless of the lack of theological and biblical imagery and themes. While a few years (or even months ago) you wouldn't have caught me dead with this music on my iTunes player, I have since come to appreciate this for what it really is- great music, with a message of hope, love and perseverance that we all need each day. While I'm not sure what Copperlily means for House of Heroes (speculate all you want in the comments), what I do know is that both Tim and Stephanie are greatly suited for acoustic/pop/folk music, and Love is a Legend is possibly one of my favourite from that genre since Andrew Peterson's Light for the Lost Boy. A standout release in January 2014, this is an EP that you don't want to miss out on. Well done guys for such a vulnerable, revealing, and hopefully impacting EP, and one of my personal standout collection of songs released in 2014 so far.
RIYL: House of Heroes, Stephanie Smith, Andrew Peterson, Sara Groves
Buy the Album: iTunes/Amazon mp3