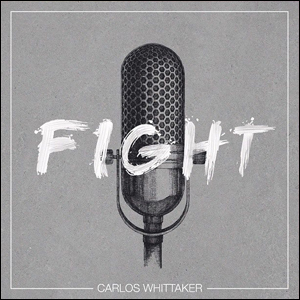 Artist: Carlos Whittaker
Title: Fight
Label: The Paradigm Collective
Release Date: 4/30/13
Reviewer: Jonathan Andre
Tracklisting:
New Song
Sing
Fight
You Bought Me
What Can Wash
You Made a Way
Love
In the Arms
Don't Give Up
In the Arms (Acoustic)
'…Last year was hell. I was struggling in my marriage, I was struggling financially, I was struggling in my faith and I was losing it all. This is it, I thought. This is what it looks like to have to fight for your life…and as I looked around and saw so many others in the same position. Some friends of mine are in the fight of their lives for their careers, for their marriages, for their kids. I know of parents with ten year olds looking at porn. How did we even get here? And is there really any way out of here without a fight?…' With Carlos Whittaker's second album released via Provident Label Group Distribution and produced by world renowned songwriter and producer Jason Ingram, it was Carlos's biography and upbringing, as well as his own struggle with anxiety and depression and his willingness to share about it and remind ourselves that we are all dealing and struggling with our own demons is what gives me great respect for Carlos and what has led me to show an interest in his second album, Fight. As Carlos shares his own revelations about how he saw in his own life and the life of others a façade that is placed on everyday as we only show the best versions of ourselves to each other without digging through all the layers to find, discover and reveal ourselves, even if it is ugly and it hurts; what has resulted in the songwriting that arose from his realisations to be real and to fight is 9 tracks full of vulnerability and honesty. Trying to be as transparent as possible, Carlos encourages us all to reveal to our friends and family the fight we have going on inside of us. As we hear the rousing anthem of 'New Song', or the techno electronic heartfelt melody 'Fight'; Carlos's hunger to see listeners around the world reveal their deepest parts is something that will hopefully bring more listeners closer to God through listening to his new music project.
While I have never heard of Carlos prior to this album, it nevertheless spoke to me, encouraging myself to investigate more into the man behind the songs, showing a man just like anyone else, humble, hopeful, sometimes and very often hurting just like the rest of us. With this album reminding us that everyone has struggles and hurts (even if we choose to deny it); Fight is a great album if you enjoy pop-rock like Remedy Drive, Josh Wilson, Superchick or Article One. The ability to unveil and showcase some of his darkest and deepest issues with both himself and others around him anchors the album quite well, with the album certain to let listeners know of the freedom we have in Christ. Since reading Carlos's mission for his music- '…to ignite a movement of authenticity among all generations of Christians that morphs the face of the evangelical church into a place of being real with yourself, others, and God…', I've been excited to see what the album will bring. One of my favourite albums in April/May 2013, Fight challenges us to keep moving forward with our lives, trusting God every step of the way as we are reminded that '…I march for the army of light and I'm living for the glory of Jesus Christ…' ('Fight')
'New Song' is the first song on the album, and sets the tone of it spiritually and emotionally. As we are invited to Carlos declaring out that he has a new song for the Lord, we are reminded to praise God daily despite whatever is happening around us. With a heavy electronic introduction that reminded me of the musical introduction for Elevation Worship's 'Be Lifted High', Carlos introduces the theme of being made new in Christ and thus singing unto Him with a new song that has never been sung to anyone before. Even from first lyric line, Carlos relays to us the poignant truth crucial for everybody as we realise that '…I was dead and not breathing, You awakened my soul, I was sick in my spirit and You made me whole…' With plenty of electronic beats and looping percussion to create song that may probably fit more in line with something Group 1 Crew or Capital Kings would do, this first song from Carlos is sure to bring in new and old listeners into a moment of praise and declaration as we collectively and individually lift up our hands and proclaim a new song for Jesus. 'Sing' continues this electronic musical theme as we witness Carlos sing out to the Lord of all creation. A praise song through and through, Carlos's passion is intense and thereby encouraging as we listen to one of the most frank, honest, raw, emotional and praise-worthy performances on the album. While not the most ingenious of titles, 'Sing' gives us great hope and joy as we continue to join in with Carlos singing to our God. For someone who has listened to the album the first time, with two great album starters, I'm sure they will be just as intrigued and excited as I was when I listened to the album the first time. With a start like this, I'm sure Fight will be in many people's lists as one of the most refreshing, unique, enjoyable and different albums of the year so far! Well done Carlos for both 'Sing' and 'New Song', some of my favourite songs on Fight, and perhaps some of my favourite songs in general for this year so far!
As 'Fight' showcases electronics to the maximum as Carlos declares that there is still fight in us yet as we tackle the curveballs of life; the title track reminds myself personally of the verse in Hebrews that says that we ought to fix our eyes on what is ahead, not looking on either side, but on Jesus Christ, the Author, Perfecter, Giver and Sustainer of Life. 'What Can Wash', a modern-twist on the hymn 'Nothing But the Blood', employs a cool 1980s like ethereal mix of looping percussion and electronic noises that remind us that even though this song is altered musically, the message of it still rings out loud and clear- that nothing except Jesus can take away our sins. The light electric guitar and background vocal echoes as well as the added powerful verse of how we declare as a church that '…in Your freedom I will rise, in Your freedom I will sing to You, there is no one like our God, in Your freedom I will live, in Your freedom I will give to You…', this newly altered song will certainly bring with it a new generation of worshippers, hopefully curious to the origin of this song as they discover the amazing hymn that inspired it. 'In the Arms' provides us with more electronic sounds and EDM goodness as this 3:01 length song shows us the care that God took when creating the world, making us and fashioning us to His image. As we are reassured that it is in the arms of God that identity is found, this electronic keyboard heavy song is recorded again as an acoustic track to end the album with. With the production stripped back to just be Carlos's voice, whistles, claps and his acoustic guitar, the stripped back song concentrates more on the words than the electronic noises that many embrace, yet others declare as noise. Something that alternative worship artists The Royal Royal would sing, 'In the Arms' provides us comfort that '…in the arms of the Father, there is freedom to live, there is hope for the future, there is healing and rest…' Well done Carlos for these heartfelt melodies, all of them welcomed as unique, fresh and enjoyable songs destined to find their ways to churches around the world in months to come.
'Don't Give Up' unveils God's character in not giving up on the broken and lost as we witness a poignant display of vulnerability in the midst of light acoustic guitars and reverbing keyboards; while 'You Made a Way' lends a hand to display the genre of acoustic pop as Carlos declares that hope is rising as we delve and dive into the truth that God paved and made a way for us to come back in communion with Himself. 'You Bought Me' starts off with an electronic organ sound as acoustics start to come into the frame musically. As we immerse ourselves in such awesome music goodness, Carlos places on his Aaron Shust hat (in fact, he's been placing on that hat for most of the album, with his voice and Aaron's sounding startlingly similar) to show us the immensity of Christ's decision on the day that created and made history. The hauntingly refreshing yet confronting words of how '…On that day, You made a way, the day You bought me, You bought me, I was broken and dead and used, but still, You bought me, You bought me…' gives us a heartfelt reminder of how much we are worth to the King of Kings. Giving us hope and encouragement to live our lives fully for Christ, Carlos introduces us to musically vibrant melody simply titled 'Love', full of drums and guitar beats as he shows us that '…heaven is not too far as they say…' Reminding us that as Christians we can bring heaven to earth as we love our neighbours and friends like how Christ loves the church, our motivations for everything we do is turned in its head as we start to live selflessly and for one another other than ourselves. Full of hope and energy, 'Love' sums up the album as a whole, showing new listeners and fans of Carlos's music alike that the hope we have in Christ ought to transform every aspect of how we live, both now and forever into the future as we share with everyone the love of Christ. Well done Carlos for both 'Love' and 'You Bought Me', some of the most honest and poignant songs about Christ's sacrifice ever done since Steven Curtis Chapman's 'How Love Wins'.
Overall: Carlos's second album Fight has much to be celebrated for as I listen to one of the most musically bold and lyrically poignant album releases of April 2013. Full of hope and wonder amidst the electronic musical backdrop, we are met with heartfelt poignancy and honesty in its rawest form through these 10 tracks. Sounding similar to both David Zach of Remedy Drive and Aaron Shust throughout the album, Carlos's body of work will be loved and adored by many of his fans as well as those who enjoy more edgy and exciting worship along the lines of Leeland, Bellarive, Phil Wickham and All Sons and Daughters. From the progressive anthem of 'Sing' to the acoustic last track 'In Your Arms'; we are given 10 worship tracks that I'm sure will make their way to many churches around the world in years to come. Well done Carlos for such a hopeful and compelling album. I cannot wait to see how this album challenges and motivates us to live out our lives fully for Christ our Lord!
RIYL: Aaron Shust, Leeland, All Sons and Daughters, Remedy Drive, Phil Wickham
Buy the Album: iTunes/Amazon mp3