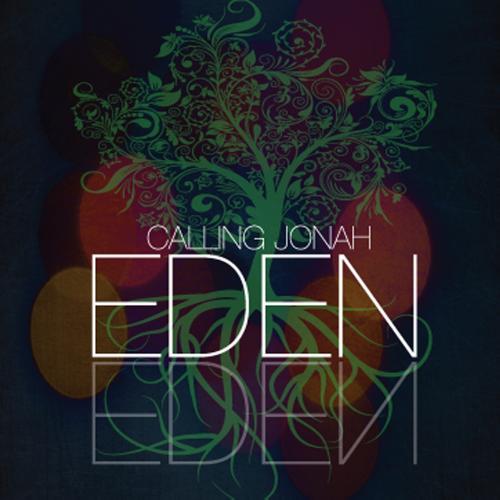 Artist: Calling Jonah
Title: Eden
Label: independent
Release Date: 4/2/13
Reviewer: Jonathan Andre
Tracklisting:
Back to Eden
Here
Waiting
Can't Contain (You Were, You Are)
Always Have Me
Similar to artists like Casting Crowns, Bluetree and Jeremy Camp, Calling Jonah is a relatively new band from Wichita Falls. While there are virtually no bio pages online relating to how the band formed and their mission for making music, I can only surmise that the band's purpose is in the name, and possibly why they chose the name of 'Jonah' as part of their band name. Jonah was a man in the bible who didn't want to obey the Lord when he was told to preach the world of God to the people of Nineveh. To call a band 'Calling Jonah' is a reminder to each of us the God indeed calls out to the 'jonahs' the most, the ones who may not necessarily believe themselves what God has set in store for them, or even the ones who believe it, but can't see how the journey and transformation occurs. These 5 songs on their latest album Eden is a great testament to these themes, with these songs further highlighting the necessity of this title of the band. From the Bluetree cover 'Can't Contain', to their powerful noisetrade single 'Always Have Me', this is a great album purchase if you enjoy worship with an edgier rock music backdrop.
'You Were You Are', originally recorded by U.K. rock and worship band Bluetree, is possibly one of my favourite songs from these Northern Hemisphere men, so when I figured out that Calling Jonah had recorded the Bluetree melody (frankly, I didn't even recognise from the title 'Can't Contain', I had to listen to the melody to figure out that that song was the same as the Bluetree titled 'You Were, You Are'), I decided to take notice and see if the band were able to do the song justice. Calling Jonah deliver a great cover of a great song that reminds us all of God's never-changing nature. The electric guitars and electronic keyboards that start the song and lead it into the epic anthem that it is, show us the power in both music and lyrics that the song brings. The poignant chorus of how '…You were, You are, You always will be, the first, the last, You're so amazing, glorious, God unchanging…' is possibly one of the most powerful choruses Bluetree has ever written, and Calling Jonah are able to capture the raw and emotional moment shown first by Bluetree and continue to showcase it in their own rendition. The bridge '…even rocks cry out your praise…' is something to consider, that even when we don't praise Him, creation will. God is worthy of exaltation and glory, and knowing what He has done, we will be happy and honoured to give it to Him. Also another standout on their 5 song EP, 'Always Have Me', is a great CCM/rock anthem that will certainly fit well on a radio station like Air1 within the midst of other artists like for KING AND COUNTRY, Colton Dixon or Tenth Avenue North. The band give us a reminder of where we belong, with the honest and poignant chorus of yearning, Calling Jonah declaring in the chorus to '…take me into Your arms, take me where I'm safe from harm, Lord, for You will always have me, take me into Your arms, take me where I belong, for You will always have me…' A song about always staying true and faithful to our King with our lives and the lives of others, if this song doesn't create interest within label groups of signing this independent band, then I'm not sure what will!
'Waiting' is a powerful electric guitar prominent anthem as the band use the guitars to be at the forefront of a melody that channels emotion and powerful anthemic moments through both voice and guitar. The theme of the song about us waiting on God in all circumstances is certainly something that I myself need to continually do, and with the help of this song, Calling Jonah have once again delivered a song for both individual and corporate worship. The emotive chorus of how '…I'll wait for the Lord, my soul waits, it is where my hope is found, from the depths I cry to You, oh Lord, hear my voice…' is possibly one of the most poetic and compelling lines from the whole EP (not including the words from 'Can't Contain', which they didn't write). Rounding out the 5 songs with 'Back to Eden', a piano and light electric guitar strumming familiar-even-though-I-haven't-heard-the-song melody as we are given a song that encourages us to ask the Lord to take us back to Eden, back to '…see creation the way it all began, to feel Your Spirit in this place…' and see us long for a moment where we can experience what Eden represents; and 'Here', a heartfelt 4 minute moment of clarity and realisation as the band encourage us that God is here with us in every moment we face and how '…I'm the sun shining when you can't see, I'm the moon lighting up the darkness between, I'm the flower blooming in the spring, I'm the snowflake falling down, I'm always around…'; Calling Jonah showcase to us a batch of songs that are sure to make any CCM/pop/rock enthusiast (myself included) proud of their songs!
Overall: While I don't know much about the band, one thing I do know is that their music is sure to make an impact as they continue to gain more exposure in both the CCM and Christian indie music circles. A cover of a Bluetree song is sure to give them some fans, but what I hope for them for the future is much success with the stories that are told about the impact of songs on people's lives. A sure bet to be purchased and enjoyed if you love other bands like Bluetree, Casting Crowns or MercyMe; Calling Jonah have made an EP directed for the 'Jonahs' of this world, with these five melodies having a great ability to speak hope, identity, life and love into the lives of those who need it the most. Well done guys for such an honest and hopefully career-defining EP!
RIYL: MercyMe, Casting Crowns, Bluetree, Jeremy Camp
Buy the Album: iTunes/Amazon mp3