Album Review :
Building 429 - Give Me Jesus (Live from Winter Jam) EP
By Jonathan Andre in Reviews | Comments closed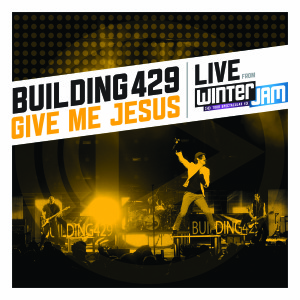 Artist: Building 429
Title: Give Me Jesus (Live from Winter Jam) EP
Label: Essential Records
Release Date: 9/4/12
Reviewer: Jonathan Andre
Tracklisting:
Made For You
One Foot
Listen to the Sound
Where I Belong
Building 429 have been active in the Christian music industry for more than 10 years, independently producing albums up until their 2004 label debut release, Space in Between Us. With chart-toppings songs like 'Glory Defined', 'End of Me', 'Always' and 'Fearless'; their latest EP live from Winterjam, one of the most popular American Christian annual tours is filled with intense passion and raw energetic enthusiasm from lead singer Jason Roy. Featuring some of their most popular melodies from their latest studio album Listen to the Sound, including the no. 1 charted song 'Where I Belong', Give Me Jesus (Live from Winter Jam) – EP is a gem to listen to and though it is a touch on the short side, a slight drawback with verses omitted and quickening the song pace (except for 'Where I Belong' with similar length to the studio version); this latest offering from Building 429 is set to encourage and is a great companion to their most well-received and critically acclaimed album to date, Listen to the Sound!
'Made For You' starts off with electronics as the crowd gives a great roar to introduce the band as they perform a song about how we are made to bring God glory, to give Him pleasure as we worship and lift His name up. With a kicking drum beat and a synth undertone, this track is one of the band's best, and as Jason encourages the crowd to declare '…You are God there is no other, I won't bow before another, I was made for, I was made for You…', I am able to worship along with Jason and the band as they create a live version just as powerful and emotive as their recently recorded successful studio hit on Listen to the Sound. Though Jason's voice can be a bit raspy at times throughout the album, and especially in 'Made For You', it doesn't deter from the infectiousness the album has (though only 12 minutes long!) on those who are fans of pop/rock with a worship edge! 'One Foot', slightly over two minutes, reminds us of our daily walk with the Lord and how it can just be as simple as placing '…one foot in front of the other, that's how I'm gonna discover…' and though Jason doesn't sing the second verse, the song is just as passionate as ever! Jason's high pitching singing attempt in this melody only somewhat pays off, yet it's still good to see that Jason has a go at the high notes, leading to some awkwardly funny moments throughout the chorus, yet equally refreshing as the band remind their listeners of the daily grind with the Lord, giving encouragement to listeners who may be struggling with their own journeys.
The last two tracks, 'Listen to the Sound' and 'Where I Belong', are my favourite off their 2011 album, and on this Live EP, are both able to capture the live atmosphere and provide listeners with powerful lyrical moments set against the backdrop of the live performance- enhancing the emotiveness of the melodies as I am reminded of how '…sometimes it takes the silence to finally hear his plan…' All throughout their whole career, Building 429 have shown listeners their heart for encouragement, and straight from their name (derived from Ephesians 4:29)- Do not let any unwholesome talk come out of your mouths, but only what is helpful for building others up according to their needs, that it may benefit those who listen (NIV); we are met with the motivation behind their encouraging words, both in their music and on tour. The success of their latest single 'Where I Belong' creates a space for genuine worship as listeners from every corner of the globe are connected with the words that '…all I know is I'm not home yet, this is not where I belong…' As we remember our eternal home in heaven with Christ, our trials and hardships will fade in comparison to the eternal prize waiting for us. With also the encouragement that even when things are pear shaped, and that '…when the lights fade, I wanna be found in You…', Building 429 have produced an EP that's destined to promote the band as they start to produce what could be their most anticipated album in their career as it releases in 2013!
Overall: Just over 10 minutes in length, the shortness of the tracks is made up by the raw passion as Jason encourages the crowd through each track, giving reminders of God's faithfulness, both in the terrific times, but also in the trying ones too. With a focus upon Jesus through the title of the EP (Give Me Jesus- a line in 'Where I Belong'), Building 429 have given listeners a reason to be excited as they anticipate new songs throughout this year and next. One of the most enthusiastic singers in Christian music today (I don't even know why Jason Roy hasn't been nominated for any Dove Award yet!), Jason Roy is able to deliver one of the most enthusiastic and passionate live performances since Tenth Avenue North's Inside and In-Between. Well done Building 429 for a great glimpse into Winterjam 2012- hopefully more artists will follow suit and record more on tour! Can't wait for the 6th studio release in 2013!
RIYL: Leeland, David Crowder*Band, Skillet, Tenth Avenue North
Download the Album: iTunes/Amazon