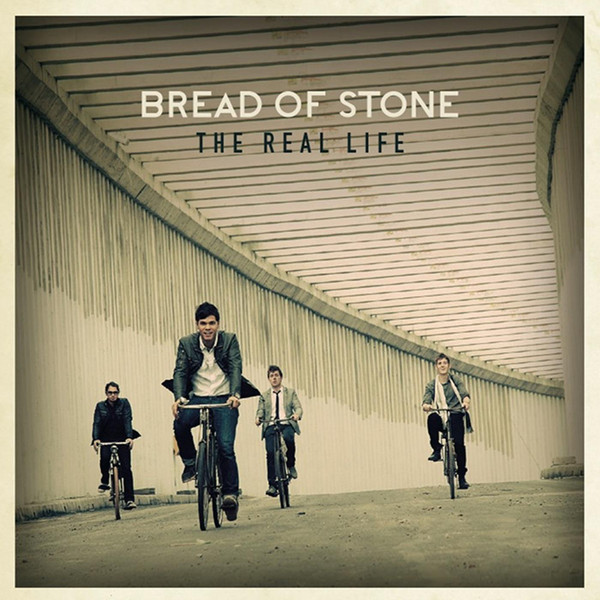 Artist: Bread of Stone
Title: The Real Life (re-release)
Label: DREAM Records
Release Date: 9/24/13
Reviewer: Jonathan Andre
Tracklisting:
Hold On
The Real Life
The Line
Changed
Parachute
Beautiful
Supernatural
I'll Be
One Way Runner
Heartbeat
Since listening to 'Hold On' on their website about 8 months ago, I was intrigued to listen to more of Bread of Stone, the pop-rock band based out of Sioux City, Iowa. Reminding myself of similar pop rock artists like Building 429, Superchick, Me in Motion and Latin-American group Salvador; these three men (Ben Kristijanto, Bill Kristijanto, Tim Barnes) decided to form a band through the influence of the Kristijanto's father, encouraging the brothers to move into music ministry as he felt that the Lord was calling them to that area of profession. What ensued is a whirlwind music career that started in 2004 and led to the band travelling on tour with artists like Newsboys, Seventh Day Slumber, Petra and many others; and a band name taken '…from a vision of their work as being 'useless materials', only made a blessing to others by Christ…' With their new album The Real Life giving listeners a reminder that the life we have been given ought to be lived with it's main purpose to serve the one who gave it, God has given these men an avenue to speak into people's lives with these 10 songs of hope and a clearer perspective given. Re-released under the label of DREAM Records (which the band signed to earlier this year), this collection of songs offer us poignant and heartfelt messages relating to our everyday lives. From first radio single 'Hold On', that encourages listeners to hold onto the promises that God has shown and told us, even if there may seem like no hope is in sight, to the poetically challenging 'The Line', that carefully strikes a chord with us as we hear lead singer Ben challenge the way we live our lives and whether we're walking the blurry line between God's will for us and the world's definition of a good life; The Real Life is a great album full of intense passion, enthusiasm and encouragement as we hear Bread of Stone's message- '…unashamedly…[declaring] that the 'real life' is as God intended for us – to be one with Him…'
'Hold On' is the first track and first radio single from the album, and as the song sets the scene for the album musically with plenty of guitar riffs and a dance-pop atmosphere, we are met with an encouraging melody about holding onto the promises Christ has hold us regardless of the circumstances. With a beat that will encourage listeners to dance along to this inspiring and uplifting song, Ben Kristijanto gives us a strong motivation to '…hold on when you just can't face another day, hang on when your faith is gone and you don't know why, stand on what you believe, follow the One that leads, never let go, just hold on…' Full of electronics and a great guitar riff between choruses and verses, you can't help but smile as you dance along to the song, knowing full well that the jovial message also comes with a hard-hitting emotional message of never giving up in circumstances when the easy option may be to just let go of the struggle and quit. Setting the scene as Bread of Stone present to us a song that paves the way to other melodies about everyday struggles and the God that longs to be involved in the intricate details of our lives and aspirations, Ben and the band have identified the 'real' life as one lived with Christ, as we hold on to the promises and assurances Christ has told us. Well done Bread of Stone for a great album opener.
Much of the album follows the pop-rock sound, offering melodies describing aspects of life and the remedy in certain situations of doubt, difficulty and the distance we can sometimes feel between us and our loved ones. 'The Line' starts off with a percussion hook and a 'ahhh' backing vocal to start off a song that challenges us in the road we have been travelling upon, and how we can all be guilty of trying to walk down our own path, thinking we know best, even though we know in our hearts that God has the best-laid plan out for us if only we trust Him. The percussion heavy track gives us clarity that our lives out to be totally sold out for Christ (if we truly believe in His claims and declarations)- there is no blurry line down the middle that we can try to walk along- one foot firmly grounded in Christ and another hesitantly unsure as to whether we can trust God fully with our lives we so badly want to control. 'Changed' is a slowed-down ballad full of electric guitar reverbs and strums to invite us into a uplifting song about a testimony (unsure about whether it is personal or not) about a transformation when the persona encounters Christ; and 'Beautiful' offers a drum kick and electronic reverbs that place Ben in a vulnerable moment of offering up the broken and shattered parts of his life and asking God to create something beautiful, honest, poignant and reflecting out of the parts that seem the most unlikely to change or alter on their own. 'The Real Life' also offers a similar vulnerability as 'Beautiful' as Ben creates a moment of us asking the question of what we want our lives to look like- chasing after the eternal or settling for the mundane? As Ben poetically describes a series of activities that we might do on an everyday basis- '…crackerjacks, a shooting star, raffle tickets for a brand new car, it makes no difference who you are…', Bread of Stone remind us that all humans have the same desires and longings- for a Saviour to save them from the mundane trivialness of life and the hope that something will satisfy rather than just the material. One of the most alternative songs on The Real Life; well done Bread of Stone for the title track.
'I'll Be' is a piano-based melody sung to the cast-down and broken people of the world, declaring that we will be there in the moments where they really need someone to count upon, just like how the song also has a double-meaning with Christ singing to us, declaring that He will be our Friend, Saviour, Healer and Father to us, even when we may not deserve His love and affection. 'Parachute' also reminds us of the presence of God with Ben offering up his moment of encouragement, that our falls are always broken by a parachute- God. Employing the metaphor of God helping us through difficult circumstances to a parachute that protects us after we jump from high places, listeners recognise a notion of safety when it comes to Christ and the unending love He feels for His children.
But it is the album closer 'Heartbeat' and track 7 'Supernatural' that both offer up a great balance of music and lyrics, pop and rock with a hopeful message and an emotion that clear showcases God's power and might in circumstances and situations that indeed call for a miracle. With 'Supernatural' describing a moment in Ben's life when Jesus healed him of a certain ailment, we are shown a vivid description of the healing process together with electronics, percussion and strong electric guitar, showing listeners what a great rock song it can be. Relaying a truth that once Christ touches our lives, '…I got a feeling, something within my soul, it was like no other feeling, like a love bomb falling in the dead of night…'; it is 'Heartbeat' that rounds out the ten tracks, and explains that it is Christ's heartbeat that beats in us and compels us to share the gospel to everyone we meet. The explosive chorus with big drums and rising guitars remind us that '…we are the heartbeat, we are young, we are old…let the world see there is love, there is hope…'; and that as we continue to share our lives with those around us, our testimony of Christ's enduring love will overflow and pour into their lives too. Well done Bread of Stone for an album full of personal and practical material to mull over as we see what role we play in impacting our city and country for Jesus!
Overall: While Bread of Stone may not be the most recognisable band within the Contemporary Christian music industry (even on the ever-growing DREAM Records, home to artists like Jonathan Thulin, Press Play, Satellites and Sirens, Warr Acres and Crave); this album is a nice, interesting, refreshing and invigorating album full of musical arrangements that place this album as one of the most out-of-left-field different albums (musically!) to be released within the second half of 2013. From ballads to pop to dance, Bread of Stone is the product of many other bands and their own musical styles, with their music reminding me of Superchick, Newsboys, Building 429, Salvador and Me in Motion all rolled into one. Full of vibrancy, dynamism, life and hope as we hear the message of Christ and how He continues to create this life as one to live to the maximum with Him with us all the way; The Real Life is such an inspiring and fun album full of moments of contemplation as well as joyous melodies of praise and worship. Well done guys for a moving and stirring album.
RIYL: Me in Motion, Building 429, Newsboys, Salvador, Superchick
Buy the Album: iTunes/Amazon mp3