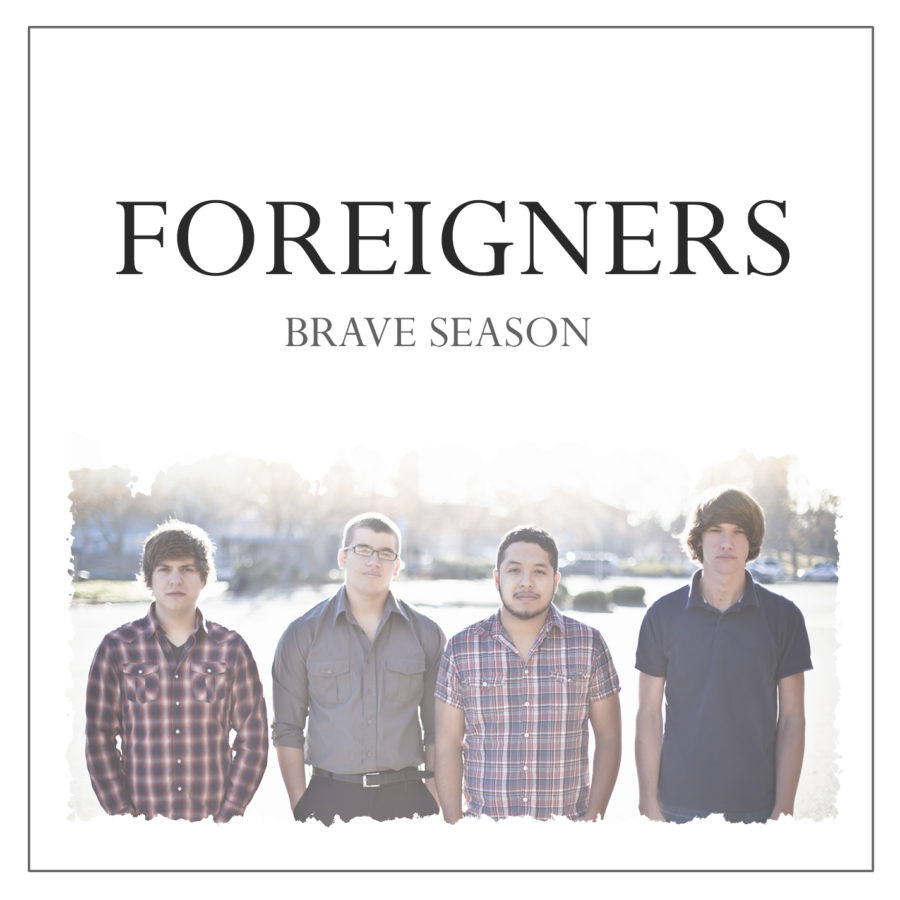 Artist: Brave Season
Album: Foreigners
Label: None
Release Date: January 6, 2012
Reviewed by: Cimarron Hatch
Buy The Album: iTunes / Bandcamp

Tracklisting:
1. Good Son
2. We Say Who We Are
3. The Only Ones
4. He Loved Me First
5. Battles
6. Fires of Arizona (Let it Burn)
Brave Season is an awesome new band from Marysville, California. Their style is a mix of indie rock with some hints of pop-punk influences. Their debut EP, Foreigners, is loosely based on the Biblical story of the prodigal son and also some of vocalist Elmer Martinez's experiences in his personal relationship with God. The band is made up of lead vocalist Elmer Martinez, guitarist Carson Mitchell, and drummer Haden Barrow. They recorded this EP with talented producer Dryw Owens (From Indian Lakes, Consider The Thief).
Foreigners kicks off with a song titled, "Good Son," which is about how each of us have a natural desire to be loved by other people. The song is a great start to the album with its fast tempo and driving rhythm. Next comes "We Say Who We Are," a pop-punk anthem, with a little bit of screamo, that I understand to be a metaphor for being able to "talk-the-talk" and also "walk-the-walk." In other words, speaking about yourself with integrity and backing it up with your actions. The next tune is called "The Only Ones." It has a really cool, pounding-into-your-ears drum intro and awesome guitar riffs. The vocals are slightly whiny at times—but with obvious passion.
The fourth cut on the album, "He Loved Me First," has a bit of screamo again, and great lyrics in the chorus: "Sing until your voice gives out / Until that joyful noise resounds / Sing until it hurts / To the One who loved you first." After "He Loved Me First" comes "Battles." The song has a fast punk intro and breakdown at the end that reminded me of MxPx's sound on their 2005 release, Panic. The lyrics of the song say "I know that I'm not strong enough / To fight the battles that are destroying us / But with my God I'm sure / And with this heart that's pure / We'll be victorious." The final song of the album is "Fires of Arizona (Let it Burn), which is about letting go of the past and letting it burn. It has an interesting guitar riff throughout and again reminded me of MxPx.
Overall: Brave Season's debut EP, Foreigners, is an impressive project from this new band and is sure to gain quite a bit of attention for them. They have been compared to a number of bands, including Relient K, Paramore, The Killers, and Circa Survive, but still succeed at making their own distinct sound. The instrumentation of this album shows a lot of talent and the vocals do as well, and I feel that Elmer Martinez's voice sounds like a mix of Aaron Gillespie (The Almost) and Dave Baysinger (Bleach). I think that anyone who likes good rock music will enjoy this album very much and become a fan of Brave Season. I'm anxious to see what is in store for this band next.