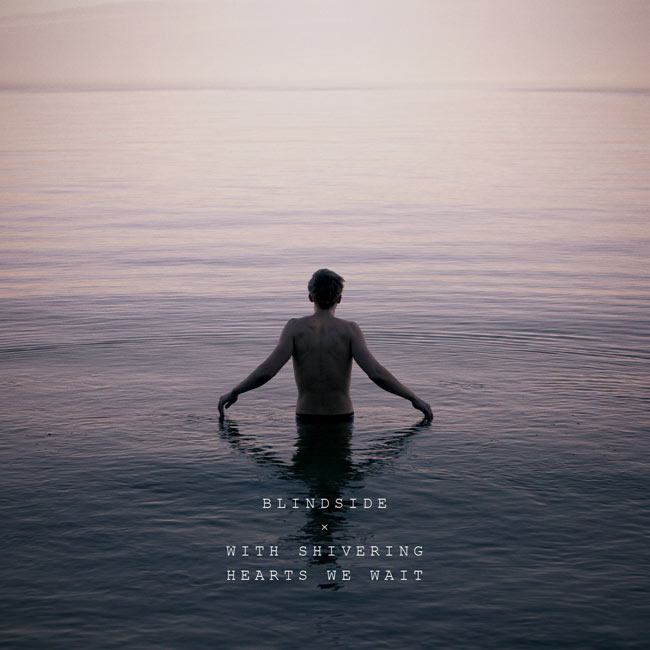 Band:  Blindside
Title:  With Shivering Hearts We Wait
Label:  INO Records
Release Date:  June 7, 2011
Reviewer:  Jessica Cooper
Track Listing:
There Must Be Something In The Water
My Heart Escapes
Monster On The Radio
It's All I Have
Bloodstained Hollywood Ending
Our Love Saves Us
Bring Out Your Dead
Withering
Cold
There Must Be Something In The Wind
Four years since any musical release, and six since a full album, make this #2 on my personal Top 5 Most Anticipated for 2011. I won't pretend like I'm an expert on anything to do with Blindside, but they've dominated my shuffle setting for the last year and a half, and I recently discovered that I actually recognize a few songs from childhood 90's radio stations. The band has done an incredible job with maintaining stylistic techniques, while modernizing their sound and hooking you right from the start.
In comparison to past releases, With Shivering Hearts We Wait has some more poppy elements, like with the kickdrum-dominated intro for "Bloodstained Hollywood Ending". The band carries over the writing styles of songs like "Sleepwalking" from Silence into the album's lead track "There Must Be Something In The Water", and throws a techy twist into the mix with "Monster On The Radio" and the closing track, "There Must Be Something In The Wind".
Lyrically, I'd say they've remained on-point, and I find myself singing along after hearing the songs only a few times through. Specifically, the words for "Our Love Saves Us" are catchy, easy to follow, and convey an all-around message of hope and anticipation:
"With shivering hearts we wait. We watch the sky; we hesitate. With shivering hearts we wait. I'm still holding on. Our love saves us; the river runs deep but our spirits grow tall. Our love saves us now; we jump from stone to stone but you know we won't fall."
Most of the album is considerably more upbeat than past releases, and vocals are cleaner and less heavy. "Bring Out Your Dead" gives us a familiar shot of Blindside, again, from the days of Silence when "Caught A Glimpse" transitions in and out of a quiet, simple guitar or whispering cymbal, to a full band. It's easily more dynamic than anything that would be considered mainstream that I've heard today.
There's something to be said about how well-written and produced this release is; all of the tracks seem to have a similar sound and feel to them, but each one has its own phonetic identifier, tempo, and groove. Transitions are smooth, which makes the album sound clean from start to finish. "Monster On The Radio" is easily my favorite song, mostly because of the "Woo!" before each time it transitions into the chorus. Any song with a fun, unified vocal part is a plus in my book.
Overall:  I think getting the chance to see them play live for the first time at Cornerstone Festival this year really made me appreciate their music even more, and gave me a less biased perspective as far as With Shivering Hearts We Wait is concerned. Just the overall stage presence alone is proof that these guys know what they're doing, and know how to have fun doing it. It's incredible that they've more than managed to stay consistent in their writing and playing styles, and still keep their audience; I've not seen or heard of many other groups having this ability, and I don't think this will be changing any time soon. I'll definitely always be a fan, and wouldn't hesitate to buy any one of their products; With Shivering Hearts We Wait is more than worth your money. You won't be disappointed.
Keep it classy and give credit where credit is due.