Album Review :
Behold The Kingdom - The Eyes Of The Wicked Will Fail
By Joshua Clark in Reviews | Comments closed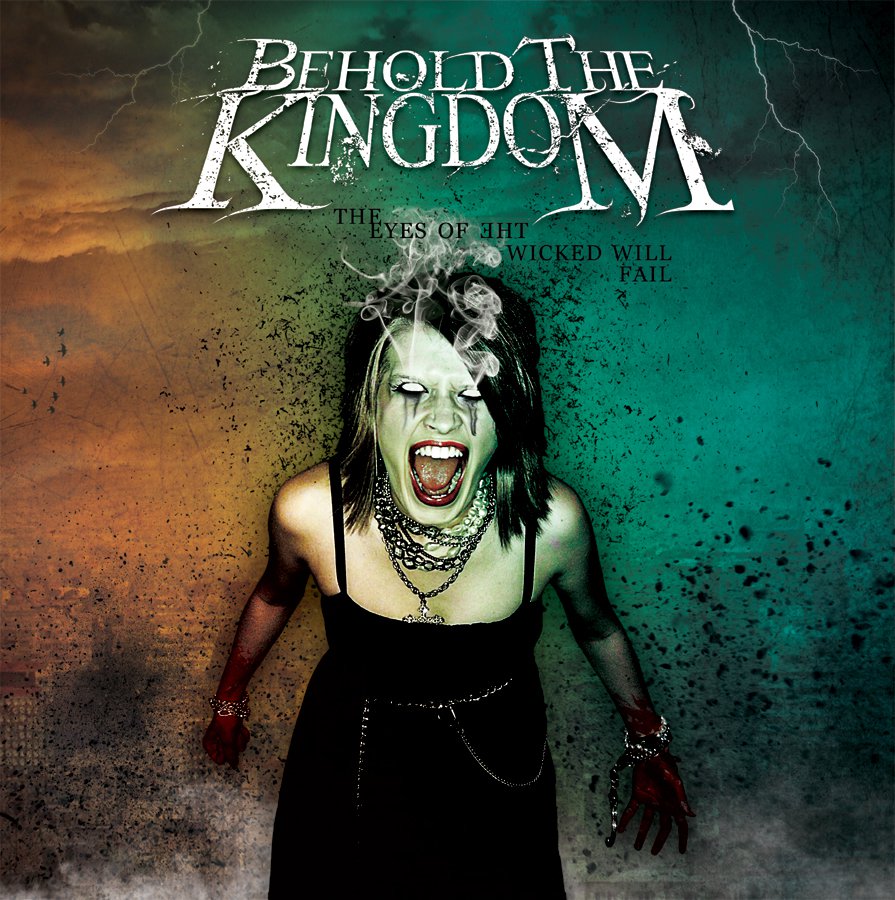 Band: Behold The Kingdom
Title: The Eyes Of The Wicked Will Fail
Label: Rottweiler Records
Release Date: August 12th 2011
Reviewer: Joshua Clark
Tracklisting:
We Are Zion (Prayer Of The Messiah)
Restoration
Sown In Dishonor
Living Hope
El Shaddai
The Suffering Servant
Cut You Down
Prideful Demise
Fall Of The Philistines
The Valley Of Elah
Behold The Kingdom is a five piece metal/deathcore band that has been playing since 2009. The relativity young band was recently signed to Rottweiler Records and has delivered their debut album The Eyes Of The Wicked Will Fail.
If there is one word to describe Behold The Kingdom's sound it would be heavy. The band mixes metalcore, death metal, deathcore, and thrash all in a blender to give you one brutal assault upon your eardrums. This relentless assault lasts for ten tracks that clock in at just a little over 26 minutes. These guys are very solid musically and deliver some great riffs and technical drumming which together create a pleasing heavy sound. I like that they are heavy but still have a great sense of melody throughout the chaos. It is definitely heavy but not so heavy that it just total chaos with no type of structure. The album as a whole is fast and brutal and I felt pretty technical for such a young band. I found the production to be tight, yet not cleaned up so much that you lose all the grit.
While you may be expecting an angry or violent message from a band that plays this style of music, this album is far from that. Yes the music is rather aggressive, but that attitude is used to present a very uplifting message. This album is filled with songs of hope, love, and the guys' solid faith. Whether you like this type of music or not you cannot deny that Behold The Kingdom's hearts are in the right place. The band is a ministry that is devoted to spreading the love of Christ through their music to the lost and hurting of this world.
Vocally, Joseph Bellmer delivers on this album. He has an impressive deep deathcore growl and guttural screams that blends in very well with the bands sound. The only negative about this is he has similar vocals for every single song on this album. Don't get me wrong I think the vocals are great but it does become slightly monotonous with such a similar vocal delivery all the way through. But as a whole this doesn't hurt the album much.
Overall: I was pleased with Behold The Kingdom's debut. The guys have a great sound and a ton of talent to go along with it. These guys have released a strong debut album that allows them to fit right in there with other metal bands. They are young so they have a lot of room to grow but there is a lot of potential for great things from this band. I will be following them closely through the coming years with great interest of where they go next and the impact they could make. So if you like any sort of metal music I recommend checking out the debut from this very promising young band.