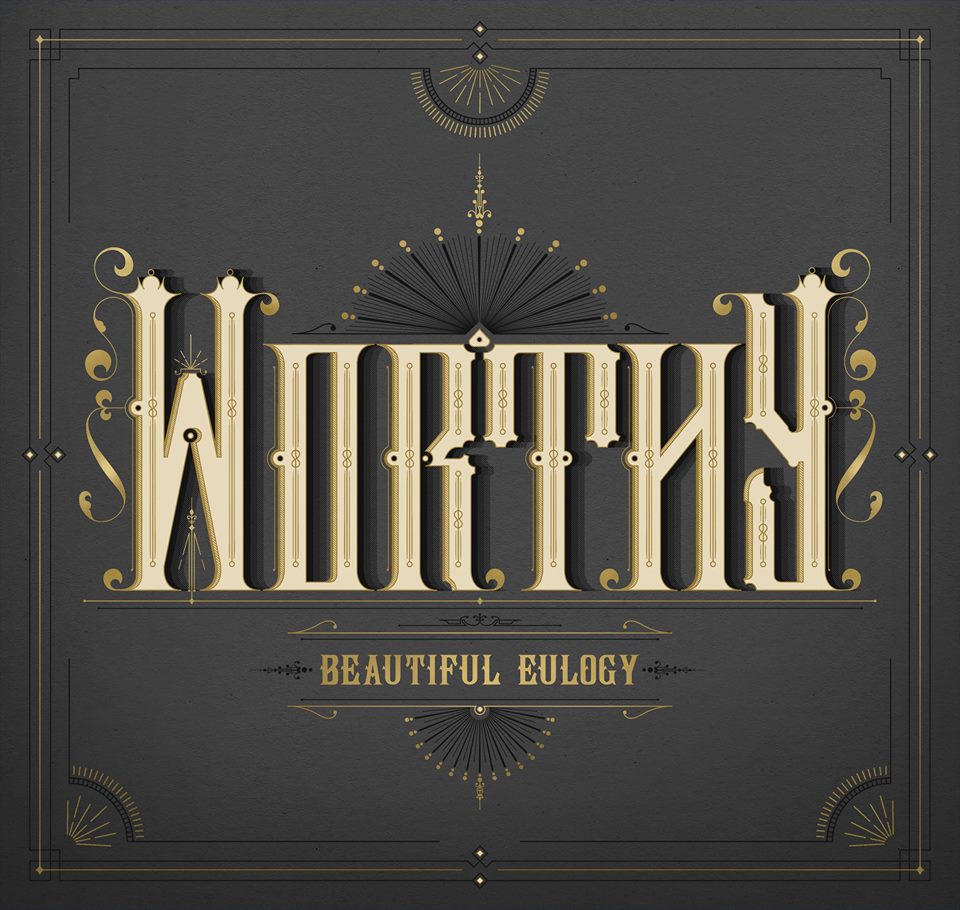 2017 has seen the release of some great albums from bands I had previously considered average. '68 and Kings Kaleidoscope are the first that come to mind. My previous experience with Beautiful Eulogy was similar, but their two pre-release singles, Messiah and Sovereign, gave me high hopes that "Worthy" would be strong enough to change my opinion of the trio. In fact, I enjoyed these singles so much that I pre-ordered a physical copy of the album.
Did the album meet my expectations? Honestly, I can't say what exactly I was expecting. I've largely been ambivalent to Beautiful Eulogy. I enjoy their production and use of organic textures. I appreciate the mellow delivery and lyrical depth. However, their previous releases have all had pockets of weakness and this trait has unfortunately manifested once again on "Worthy". I did not want to be hasty in writing this review as I know this is a band that gets high praise and the lyrical nuances are easy to miss if it's simply playing in the background. I spent a couple hours listening to the album on repeat before sitting down to write.
Before I get into the unfavorable elements, I again cannot stress how much I enjoyed the two singles. They're some of the strongest tracks on the album, they're incredibly relevant to where I'm at in life, and they honestly have some of the most compelling instrumentals. It is a bit odd to have a feature like Zach Bolen of Citizens do a guest feature, especially after first experiencing them on Christian contemporary radio, but I'm thankfully able to break away from the CCM connotations and accept the track as its own composition. These tracks, along with others on the album, provide great reminders of God's power and faithfulness in the midst of our brokenness and doubt. Messiah specifically focuses on the difficulty of seeing eternity in the midst of challenges and longsuffering. Braille captures this beautifully:
I just assume the weight I carry is the heaviest
But I've never been a heavweight
My legs get heavy when I wait
Hope deferred so I prefer the immediate
And exchange the true God for what seems for expedient
I would be remiss if I suggested the album was anything other than Christ-exalting. However, this does also play into what I consider to be problematic.
This isn't the first time has included sermon-esque songs, but three of the tracks here are far more akin to speeches than songs (namely, Weight, Immanuel, and the actual mini-sermon of Devotion). Add in the instrumental Overture and only three quarters of the tracks are what I'd consider songs you'd want to listen to regularly. I don't want to dismiss the topics these tracks cover, but if I want to hear a sermon, I have certain places I'd go.
The album is very front-loaded. Even though the aforementioned Weight does fall into what I consider, to some degree, filler, it's again filled with great lyrics that set the tone for the album. Other of that group of tracks, Weight is certainly my favorite. Everything through Mosaic is great (excluding Overture, which feels unnecessary). The guest features are great. I particularly enjoy Latifa Alattas on Doxology, another favorite of mine when it comes to instrumentals.
It's not until the eighth track where the guest appearance, this time by Chad Gardner, really doesn't click with me. It's odd as I really enjoyed "The Beauty Between", but Gardner's delivery doesn't seem to meld well into Courtland Urbano's beats.
Apart from the guest hooks, the other hooks seem to be lacking. Take If…:
It could mean everything, it could mean nothing
One word makes the difference
It could mean everything, it could mean nothing
One word changes everything
It's not only overly-simple; it's a bit annoying in context. Though much of If… is delicately poetic, the weak hook does result in a bit of a rough start to the album. Thankfully, the guests come to the rescue, until we get to another Beautiful Eulogy hook on "Slain", which the dreaded low-pitch-shifted hook consists of the following:
There's a virus in my iris
Always blinded, close my eyelids
See my Savior laying down his righteous life
And saying "I forgive"
Unfortunately, it reminds me too much of Twenty One Pilots telling me to "Wake up, you need the money" and the number of shared syllables in some of these words really is indistinguishable. And while Slain does have an interesting end musically, it's a bit confusing why it was thrown in.
Thankfully, there is one strong hook that doesn't rely on a guest: Worthy. I'm not sure I can say they saved the best for last, but it's definitely the redeeming factor to the end of a rough final quarter. Insert your own sports analogies here.
There's certainly a ton to unpack lyrically but unfortunately that doesn't offset my experience with the record. I will say this much: When it comes to rap, this is definitely the kind of instrumentation and delivery I want. However, the filler tracks, weak hooks, and a few "cheap" rhymes (see: "With so much evil how can we believe you're good? But I finally understood when I saw that man nailed to wood") really weaken the album. Braille's parts tend to be less compelling, whereas Odd Thomas bears most of the weight. Production, however, is wonderful.
Overall, I'm pretty divided on this album. I do enjoy it, but I'm not sure how much replay it'll get. I don't regret buying it, and I do think it has piqued my interest more than their previous work. If you're a previously Beautiful Eulogy fan, you'll likely enjoy it. If you've been disinterested in the past, I suggest you at least check it out. Sovereign, Doxology, Mosaic, and Worthy certainly deserve to be heard.
Check out "Worthy" below and download it for free on the Humble Beast site.