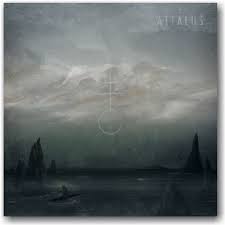 After hearing Post Tenebras Lux, alt-rock band Attalus quickly rooted themselves as a band close to my heart. That album touched on topics that I have often wrestled with many times over the years (and still do); the problem of evil, struggling with doubts, dealing with postmodern/naturalist arguments, and the relationship between faith and reason. It was a joy to follow the band on an authentic journey that took you through not only the emotional aspect of faith, but also the logic/apologetic side.
So when it was made known that the band was to create a new concept album that had a seafaring theme, I was thrilled. Indeed, that theme is made evident by the title Into the Sea. With this new venture the band was able sign with Facedown after completing a successful IndieGoGo campaign (of which I happily participated in.) Upon first downloading the album, I was first struck at the sheer magnitude of its length. Sixteen songs with many breaching five minutes, including one that eclipses the eight minute mark. It's truly a work of Homeric proportions.
From the opening sequence of "The Ancient Mariner," you really get the feeling of boarding a vessel and heading out for the high seas. Seagulls and ocean waves signify that you are about to set sail, as you begin the final preparations for whatever scenarios may come. It doesn't take much to fashion a link between these conceptual themes and apply them to our lives. The band does a great job of seamlessly integrating wonderfully constructed metaphors into something we can all relate to.
The intro quickly gives way to an immediate call to "wake up," for trouble is a coming with "The Ship is Going Down." A frantic song in which you can almost feel yourself getting tossed to and fro with the angry waves. Giving us the idea that how we deal with a storm in life, says a lot about our faith and relenting our strength to the One who can actually calm them. With the tune "Sirens," the band plays off the 'Odyssey' parallel. I must also mention a brilliant moment in this track, when the music halts and lead singer Seth Davey simply reads a poetic stanza with a completely somber delivery. Then like a big wave crashing along side of the starboard, the song leaps back to full throttle. It's stuff like that makes this band unique for sure.
Other highlights for me include the beautiful piano driven, "Man O Shipwreck." An encouraging track that calls on us to see the strength that is gained from our battle scars. Love the opening of "Albatross," that brings overlapping "acapella" screams which illuminate the battle that often takes place in our guilt plagued minds. Battling such shame and regret in our own strength, can certainly be the proverbial albatross around our necks if not handed over to Christ. But, thankfully the theme of the album keeps pushing us forward with tunes like "Coming Clean," "O The Depths" and "Voice from the Shore," you get a real sense of things turning around as the weary sailor starts to regain his foundation.
With "Safe" the band comes full mast by neatly tying the concept to our spiritual lives. They deliver an intimate, prayerful moment here that brings to shore how our lives will one day be transformed and make all those rough days 'on the sea'  all worth the struggles. The epic "Death Be Not Proud," speaks on the fact that death is not the end of the story and God will get the "final laugh." This tune brings such a joyful heaviness at times that rides on the back of pounded piano chords. Highlighting Jesus' own teachings of losing your life in order to truly find it. (Matt 10:39)
Overall: Attalus has taken great care in creating a lasting piece that will live on, likely providing continued discoveries for many listens to come. It's hard within one review to comprehensively cover every aspect of this album. There is so much here, and depending on the day, you might glean a different meaning from any particular song. I was a little disappointed that the band decided to discard the track "All Hands on Deck" (It was on the initial Preview EP), but the band stated that it might "show its face in the future." All things considered, this is a 'must have' record for this year. So, I would suggest taking some time and set your sails for a trip into the sea with Attalus, you will not regret it.
RIYL: My Epic, As Cities Burn, Least of These