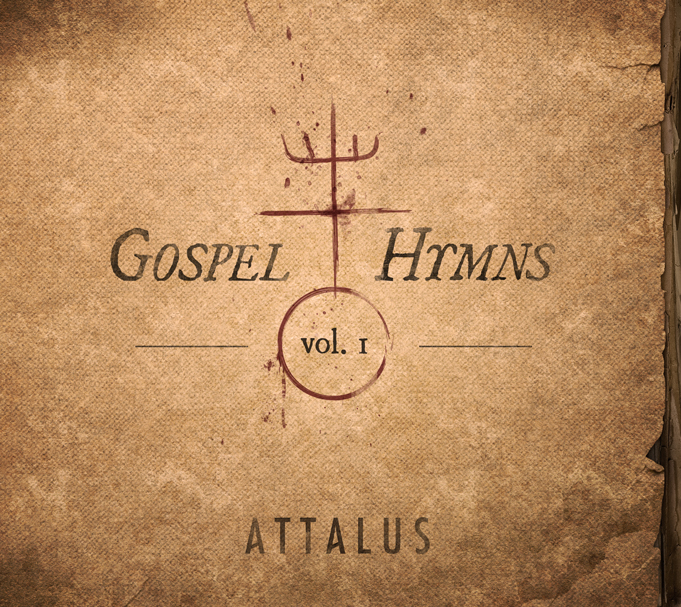 Band: Attalus
Title: Gospel Hymns Vol. 1
Label: None
Release Date: 03/22/13
Reviewer: Josh Hamm
Tracklisting:
Were You There
When I Survey
Come Thou Fount
I'll Fly Away
Broken Cisterns
We Stand Amazed
When I'm Standing In Your Presence
There Is A Redeemer
All Of Me
The Old Rugged Cross
It Is Well
Hallelujah
You know that feeling when you listen to something, and you really want to like it, because you've liked everything else this artist has put out, but you have this sickening feeling in your gut that this just isn't very good? Yeah, that's a feeling that I didn't experience for a moment while listening to this.
Gospel Hymns Vol. 1 is a powerful album. Attalus applies their distinct brand of alt-indie rock on some of the best songs in Christian tradition, as well as adding a few new ones, which hold their own against the older canon.  What I love about Attalus is that they have such a great blend of rock and pop while utilizing all of their assets: guitars, bass, percussion, and piano shine at any moment on a track, and the vocals are always vigorous and convincing at any time.
"Were You There" is a jazzy, rousing number that starts off the album on a high note, literally in a way, as the song progresses from a deeper sound in the vocals and guitar, to a bright ending (the vocal harmonies are golden) that exults in Jesus' triumph over the grave; it's perfect for the song to end on a joyous note. "When I Survey" has a piano pop ballad opener that unfolds into an upbeat rocker, there's more edge than you'd normally hear in this hymn, but while it's solid, it doesn't quite reach the heights of the rest. Maybe it's just because I don't particularly care for this hymn, but the song was lacking a certain oomph. Luckily Attalus has oomph in spades, and plenty of it shows up throughout the album.
For the next song, one of those classic hymns that virtually everyone knows, "Come Thou Fount," Attalus takes a fairly standard pop rock approach, but still sounds unmistakably distinct. The heart wrenching vocals paired with these lyrics are a sure-fire way to make this a favourite on the album. "I'll Fly Away" opens with a nice bluegrass, homespun approach before the band lays into it and attacks it with such a raucous joy that one cannot help but smile. And by the time that the a cappella with hand claps comes around, there's no resisting the urge to tap your toes along with it. Undoubtedly the most fun song, both to listen to as a song itself, and to listen to hear the band having a blast while playing it.
The next song is simply fantastic. "Broken Cisterns" is an original by Attalus, but I had to check to make sure, because it's got that much depth and musicianship to it, that I thought it must be a hymn. But no, it just goes to prove yet again that this album isn't a lazy "let's just cover some hymns so we don't have to write anything" album; Attalus has poured themselves into making this music, and it bleeds passion.
If you need to win someone over to Attalus, just place them this one song. Lyrically and musically it's one of the highpoint of their discography (I'd even reckon that it holds its own against the best of Post Tenebras Lux). The song changes tempos and keys and goes from a straightforward rocker to piano ballad and back again, it's dizzying to keep track. Loosely based on Jeremiah 2:13, which says "My people have committed two sins: They have forsaken me, the spring of living water, and have dug their own cisterns, broken cisterns that cannot hold water," the lyrics have a harsh approach to sin. They drive their point home hard with words like these: "I've been making your house a den of thieves / I've been worshipping as your spirit grieves/ I say as I sin more: 'let grace abound.'" It's not necessarily a personal song; it works as a communal confessional that every Christian can relate to and condemn at once.  It's anything but a downer though, as it calls also for redemption: "I'm thirsty for that spring / that can wash this sinner clean / so wash me again inside your river." Then it ends on a plea for brokenness: "Tear my high places apart / I hear your word and I fear it / O, God, I fear it."
"We Stand Amazed." Another original song, and one of the few slower, balladesque songs on the album, it stands out in many ways. At seven minutes it's the longest song on the album, and it's one of the few that has a softer, subtler approach to its message. I'm captivated by the vocals; not in their range or projection or anything like that, but in the enunciation and rhythm of the words – I'm hanging on every line and every syllable. But the lyrics themselves are absolutely incredible, I feel like just sharing every line. Here are some of the best "when the sorrows like billows roll/ and drown the music in our souls/ what hope relieves us,/ to see You Jesus"  and  "upon these broken instruments/ You wrote a song that won't grow old/ amazing love/, You set our hearts in tune/ so we sing only for You/ Your blood has paid the debt, Your life has conquered death,/ so when we feel enslaved to our regret,/ so when the devil tempts us to forget, You will take us back." These lyrics so well encapsulate the struggle between sorrow and joy in life, of hope and despair, of Jesus and the world.
"When I'm Standing In Your Presence" is also written by Attalus, and muses as to how it will be in heaven when we come face to face with God. There is one question on Seth's lips, "oh God why is a wretch like me Your child?" It's very similar in style and content to "We Stand Amazed," and it holds as one of the top songs as well, especially at the halfway point with a little guitar lick as the atmosphere builds, culminating in a hearty hallelujah.
I daresay "There Is A Redeemer" is the most modern hymn, recorded by Keith Green and written by his wife, Melody. As was pointed out on the IVM comments section of the lyric video for this song, the guitar intro is eerily similar to the soundtrack of the movie Book of Eli. Coincidence? Yes, and it sounds fantastic. After the slow start a quick set beat sets in that sounds like something Beautiful Eulogy could have used, before it breaks out into a fully fledged rock song: guitars blazing, bass riffing and drums pounding; and then it recedes again for the verse, only to let loose in the chorus again. It's a roller coaster of a song that is never predictable. The guitar work especially is impeccable, but the musicianship all around is superb.
"All Of Me" has a killer bass line and drums, relying heavily on rhythm; it's a classic Attalus song that is just as comfortable slow or franticly paced, with a powerhouse rock chorus.  They take a very traditional, old school approach with "The Old Rugged Cross," relying on vocal harmonies against a backdrop of electric guitar – one of the few songs where the vocals don't have to share the limelight with the musicianship. They take a similar approach with the ubiquitous "It Is Well," at least until the second half of the song, where Attalus's rock edge could no longer be contained.  It's a great arrangement that features Attalus's talent without completely altering the original song.
"Hallelujah" Opening on rich, reverb heavy guitar and softly sung hallelujahs in the background, the lead vocals come in with some reworked lyrics of "Amazing Grace," and some subtle piano, the song has a sense of urgency and passion without cranking the volume or speeding up the temp, and climaxes on a spoken word adaptation of the powerful selected verses from Romans 8.  It's a powerful song that denies any genre or label.
Overall: Attalus is not just a flash in the pan and Gospel Hymns Vol. 1 is not just capitalizing on the current trendiness of hymns; this is an compelling album that delivers on every level. Featuring not only classic hymns with interesting arrangements, but also originals that sound like authentic hymns and match anything from Attalus's impressive career; this is alternative rock at its best musically, and with genuinely great lyrics that plumb the depths of  worship.
RIYL: Thrice, SONS, House of Heroes, Emery, Cool Hand Luke, My Epic,
* Remember, 100% of the proceeds from this album are going to 7 Billion Reasons, a global non-profit organization that desires to help provide spiritual and physical support worldwide.
Buy the album: iTunes